Wow! I was almost convinced this blog was a goner!!! Work, work, work. No time to breathe, let alone blog. Pretty tragic, huh? As much as I love my work, I doubt if even I can survive another bout of being slammed like this! Seriously, something is quite wrong when the pictures just keep piling up ... to the point where I randomly stare at them and begin to wonder "When did I make that?? And how the hell do I make it again?!"
Yeeeeessshhhhh.
But life is creeping back to normalcy again. And it seems like I don't quite have writer's block - *phew*! Such a relief! I was kind of freaked out about not knowing how to quite start writing again. Absolutely abhor this feeling of being left behind - like the rest of the food blog world has moved on, you know? And I'm sitting here with my (proverbial) pen in hand, slowly emerging from work insanity, struggling to phrase a sentence or three.
Well, over three sentences have been phrased. Yay! So, we can safely move onto a reasonably fit recipe to celebrate a safe return from the dark side :) - a simple, light and delicious banana-orange loaf. I just mentioned this recipe to Srivalli and she went "Oh man! Another dessert! Wow!" Well, she's right! Apparently, I hanker for breads and desserts a lot more than I realize! Yet, I don't seem to write about these as often as I'd like to ... wait! Guess that's probably because I'm not quite posting as often as I'd like to :)
********

Ok, back to this celebratory loaf - I based this on a pretty straight-forward recipe from

Rosemary Wilkinson's The Ultimate Desserts Cookbook

. Like always, I spent several minutes drooling over the pictures before embarking on baking it :)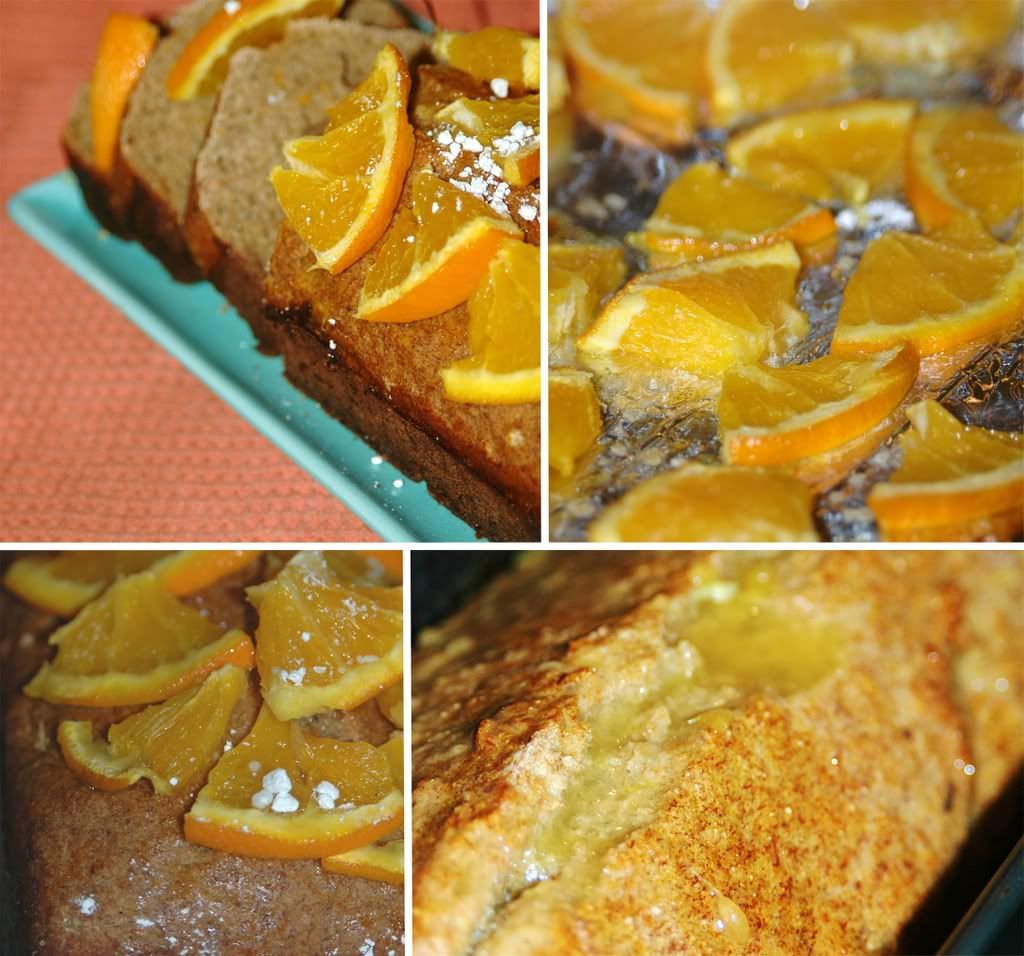 Banana Orange Loaf
Light, simple, oozing banana and citrus flavours!
Serving size: 1 loaf
3/4 cup whole wheat flour
3/4 cup unbleached flour
1 t baking powder
1 t ground mixed spices (allspice, cinnamon, nutmeg)
2 large
overripe
bananas
1 egg
2 T sunflower oil
2 T clear honey
finely grated rind and juice of one small orange
4 orange slices - quartered
2 t icing sugar
Preheat the oven to 350 F. Brush a loaf tin with sunflower oil and line the base with non-stick baking/wax paper.
Sift the flours with baking powder and the spices into a bowl.
Peel the bananas and mash them in a medium bowl. Beat in the egg, oil, honey, orange rind and orange juice. Fold this mixture into the dry ingredients.
Spoon this mixture into the baking tin and smooth the top. Bake for 40 minutes or till firm and golden brown on top, and an inserted toothpick comes out clean. Turn out and cool the cake on a wire rack.
Now comes the fun part :)
Sprinkle the orange slices with icing sugar and grill until golden and you get a funky baked citrus smell. Actually, I should amend the recipe here - grill double the number of slices mentioned in this recipe - only half the orange bits will end up on the cake. The other half? ... I guarantee those will go straight into your mouth :)
Decorate the cake with the orange slices (or whatever is left of them) :)
*********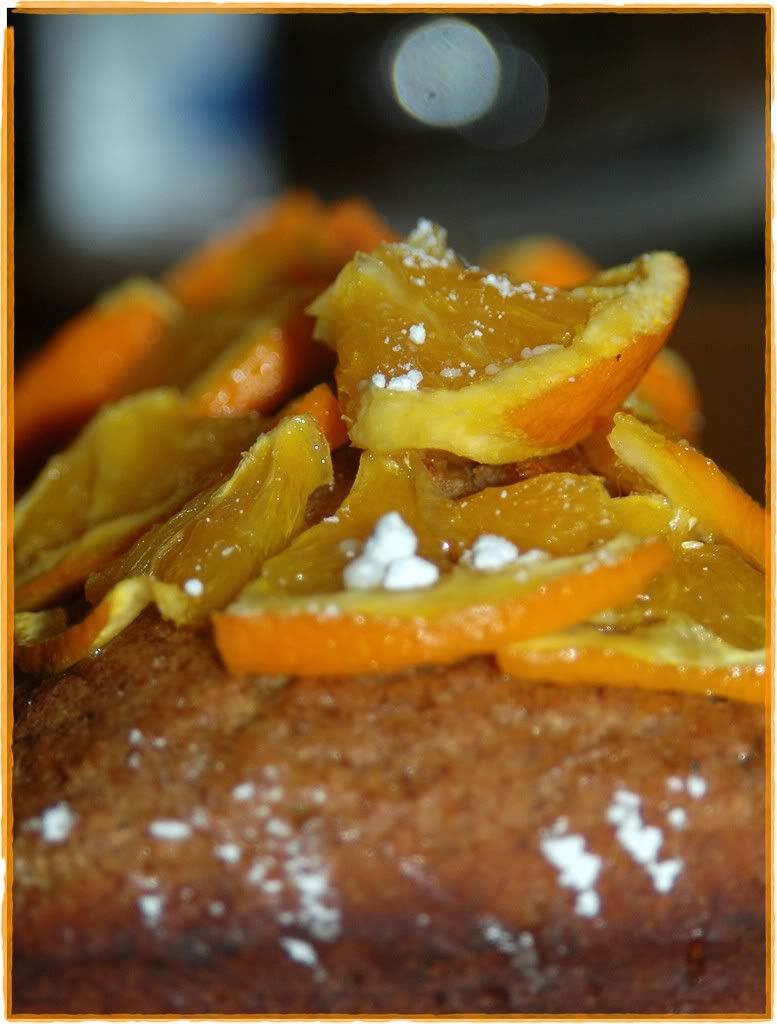 Opinion?
Yum! Perfect back-to-blogging celebration. This recipe is light on fat - all of 2 T of oil for the entire loaf! You could even skip the egg and use just egg whites - though I would throw in a spoon of applesauce to go with it.
The banana+orange flavours are delightful, I even doused my slice with a couple of spoons of orange juice before digging in. Also, the overripe bananas kicked ass - nothing like super moist banana flavour to warm the soul :)
**********

More such recipes:
And now I'm off to catch up on the zillion blog posts that I've missed over the last couple of weeks! And yes, I need to start responding to all those emails too!





IMPORTANT REMINDER:



:)

Don't forget to send in your Think Spice, Think Wasabi entries!

That's definitely my next post - a very offbeat nasal passage-scorching wasabi dish :)

And feel free to use this really neat logo that Sunita came up with. Sorry dear S, I meant to post about it earlier, but all this work mania threw me off kilter.