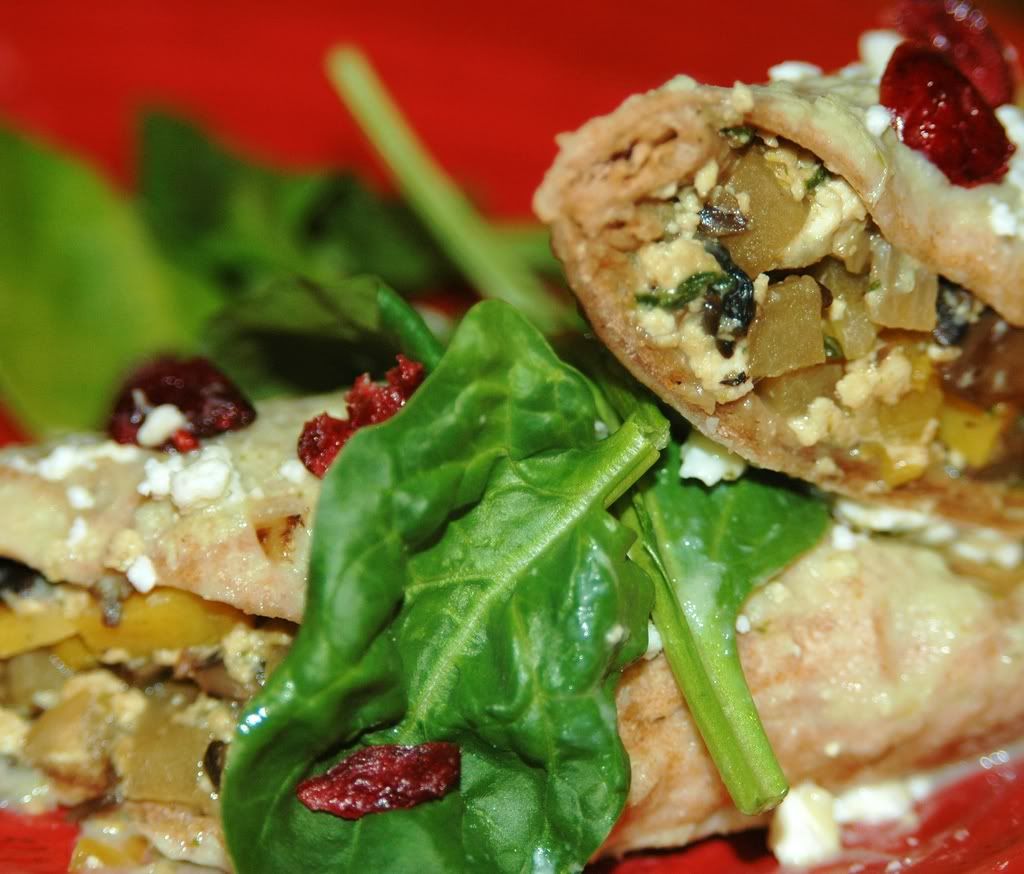 ... is such a happy place to be in. Warm, crispy-edged tortillas filled with all sorts of goodies, drizzled with pungent sauces, topped with cheese ... I could just pack up my bags and move there!

Atleast that's how I felt after experimenting with a couple of enchilada recipes from Deborah Madison's Vegetarian Cooking for Everyone. This book truly seems to have something for everyone - fresh, inviting salads, comforting soups, delicious stews and gratins, many a stir-fry ... the list goes on.

This is a recipe from yestermonth, I originally attempted to post it on June 5th, didn't quite happen. I tried to finish writing it on the 11th ... hmm, another failed attempt! And no, I don't really remember all my incomplete posts, just peeked into my drafts folder :)

So, here we are ... and I'm truly hoping I can remember how I reworked this recipe! The original recipe called for a variety of mushrooms and some squash. We were pretty low on mushrooms and loathe to head towards the store, so it was just time to improvise. Besides, we had a couple of acorn squashes waiting to be used up, can't quite go wrong with those! We finally settled on
a medley of lightly caramelized onions, mushrooms, diced acorn squash, crumbled home-made paneer and a slew of herbs from the garden. The paneer was actually more like chenna and not the usually firm kind, I chose to let it stay crumbled with a wee bit of extra moisture instead of forming a firm slab. Worked out perfect for this recipe.

The herbs that we threw into these enchiladas really kicked up the flavours - mildly sweet cinnamon basil, bergamot-scented orange mint, pungent chives, fennel - a whole bunch of goodness!

The metaphoric icing on the cake was the tomatillo sauce. We dithered a bit between a smoky adobo chilli sauce and a fresher green sauce, but finally settled on using a bunch of tomatillos that had been sitting in the fridge.


*********************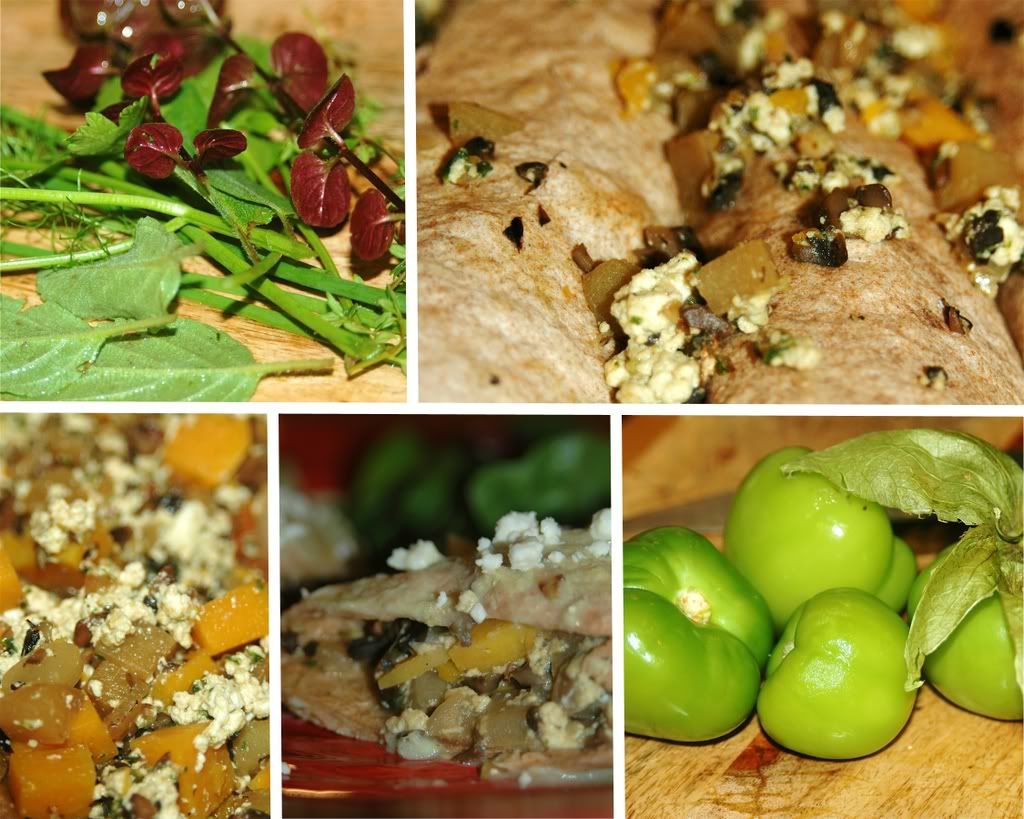 Squash'n'Paneer Enchiladas
With some sauteed mushrooms and caramelized onions to keep everyone happy!
Servings: 8-10
1 packet of whole grain tortillas (medium sized)
1 acorn squash - peeled and diced
1/2 red onion - chopped (not too fine)
3 cloves of garlic - minced
1.5 cups of crumbled paneer
1/2 cup of chopped crimini mushrooms
8-10 leaves of cinnamon basil
6-7 leaves of orange mint
a handful of chives leaves - chopped
4-5 sprigs of fennel leaves - chopped
a handful of italian parsley - chopped
1 T olive oil
1 t brown sugar
1 T cayenne pepper powder
Preheat the oven to

350 F

.
Heat the oil in a wok and saute the onions till they start to get translucent.
Throw in the brown sugar and saute a bit more (4-5 minutes) till the onions are caramelized.
Add the squash and mushrooms and saute for about 3-4 minutes.
Add a few tablespoons of water and simmer covered for another 2-3 minutes till the squash is partially cooked.
Take off the stove before adding the paneer bits along with the herbs, cayenne powder and salt.
Take a dollop of this veggie mixture and roll it in a tortilla. Make sure that you roll it really tight and fold the edges in if needed.
Place this in a greased baking tray.
Roll and fill the rest of the tortillas and stack them alongside one another in the baking tray.
*******************

Servings: 2 cups
5-6 chubby tomatillos - husks removed and quartered
1/2 vidalia onion - chopped
1 cup cilantro leaves
1 t grated lime zest
1 jalapeno pepper - chopped
Bring a couple of cups of water to boil in a saucepan.
Add the onions, tomatillo and jalapeno to the saucepan.
Simmer for 10-15 minutes, until you basically kill the bright green colour of the tomatillos.
Transfer the vegetables to a food processor or blender, add the cilantro and puree.
Stir in the lime zest and season with salt.
Pour the sauce over the rolled enchiladas.
Sprinkle any remaining veggie filling over the enchiladas.
Set the baking pan in the oven for about 8-10 minutes.
*********************

NOTE:
Watch out! It is hot! Don't scald your tongue trying to gobble up the enchiladas! :)
*********************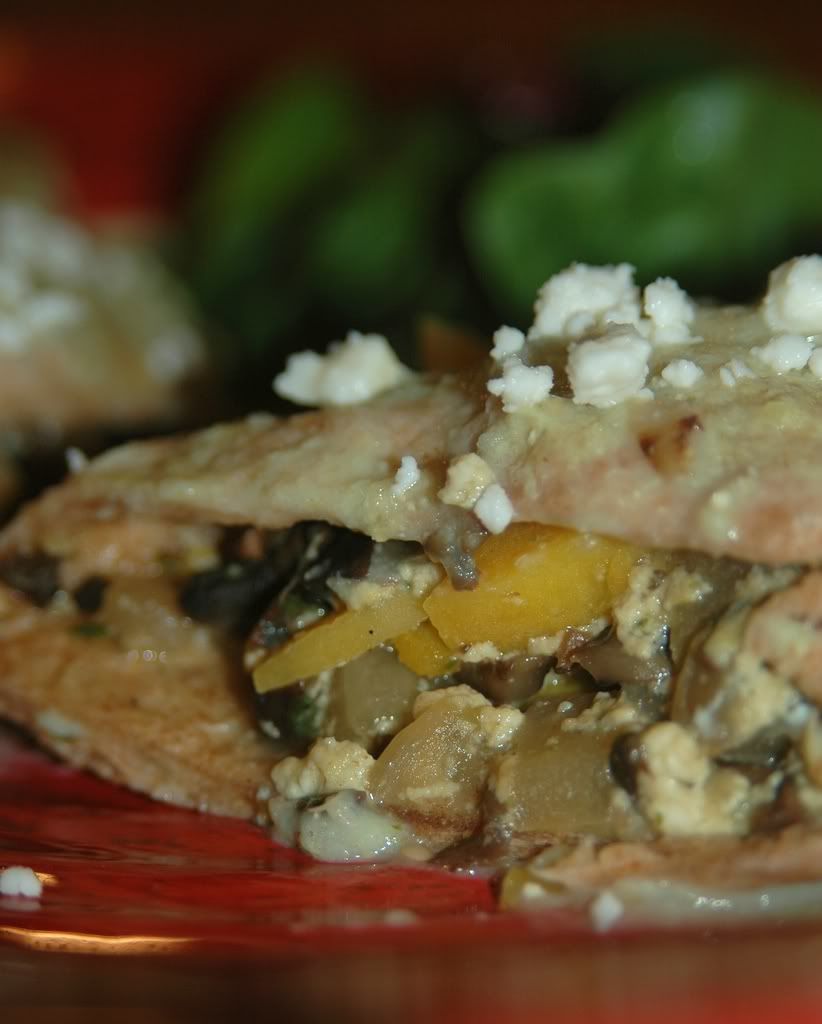 Opinion?
Fabulous. Truly. I think I dreamed of attending Deborah Madison's cooking classes the night I made these! Yummy squash'n'paneer filling, delicate herb flavours, tangy-spicy tomatillo sauce, what more could one ask for?
***************

Similar recipes here and beyond
*
Spicy Nutty Enchiladas

*
Bean-Chilli Enchiladas
@
One Hot Stove
*
Paneer and Mushroom Enchiladas
@
Sunita's World
***************

Off this goes to Andrea for her awesome Grow Your Own event - every herb that went into this recipe came from my garden. W00t!