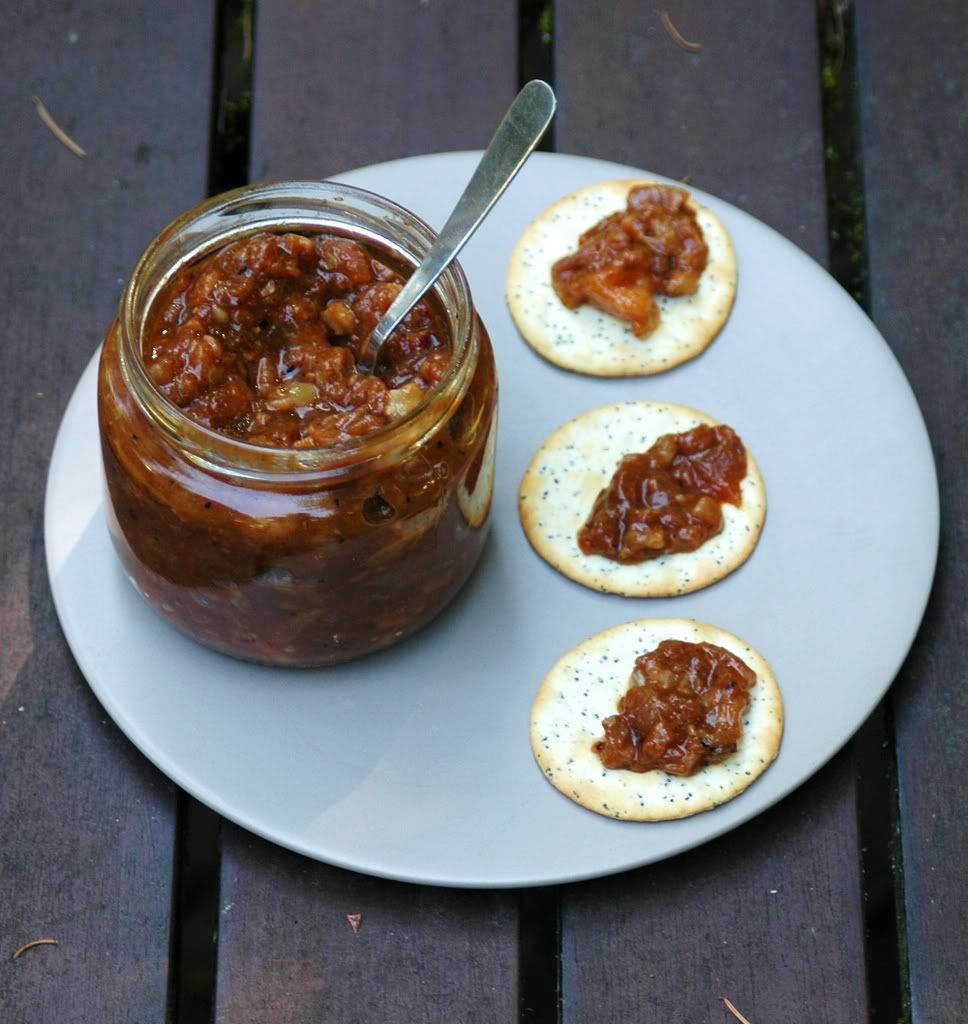 Today was blisteringly hot here ... so much so that one of my first thoughts of the day was of a thick, creamy, icy milkshake! And yet, I spent large parts of the day cooking - which actually ended being a fabulously cathartic experience - making up for all those insane work days that kept me away from cooking and blogging :)

A long, long time ago I promised to make a surprise chutney for our friend Daria - she's the one of the walnut ranch fame, we're still living off her awesome Franquette and Hartley walnuts that she brought back from California a few months ago. Poking around 400 sauces, dips, dresssings, blaahhh, blaahh, blaahhhh ... unearthed a pear and walnut chutney recipe that I figured Daria would be pretty happy with :)


"There are only ten minutes in the life of a pear when it is
perfect
to eat."
~ Ralph Waldo Emerson

The original recipe asked for firm windfall pears that I substituted with some firm, green D'Anjou pears. I also chose to throw in a gala apple and a handful of kumquats - the latter was a great substitute for the orange juice that the original recipe called for - not only did it add a refreshing citrus bent to the chutney, but totally added to the texture too.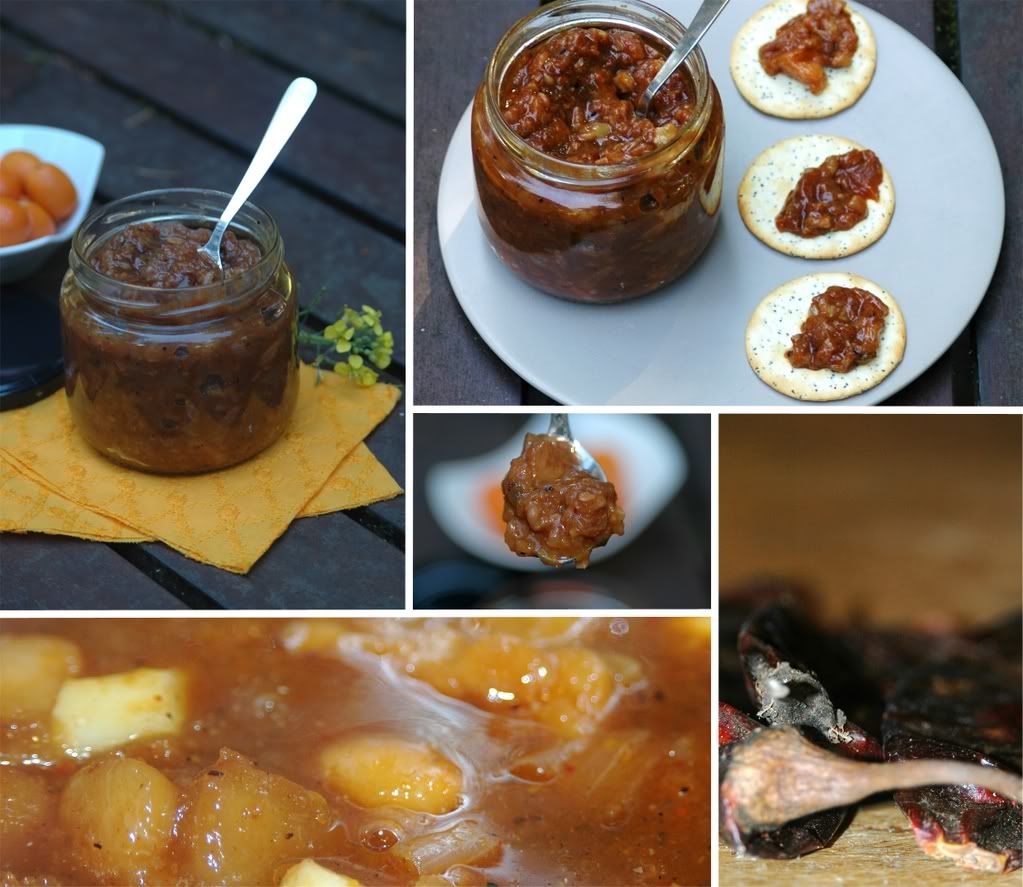 Nutty Pear Kumquat Chutney
Chunky, funky and chockful of flavours! :)
Servings: Makes about 1 lb
3 firm D'Anjou pears
1 gala apple
1/2 sweet yellow onion
10-12 kumquats
1/2 cup white balsamic vinegar
1/2 cup dry sherry
1/2 cup cheap, old red wine :)
1/4 cup brown sugar
1/3 cup succanat (you could just use more brown sugar or go with demerara or muscovado instead)
1 cup walnuts - chopped
1 t ground cinnamon
1 t salt
1 guajillo chilli
Peel and core the fruit and chop them into 1" chunks. Peel and quarter the onions, then chop them up into 1cm bits.
Place the chopped onion and fruit in a preserving pan with the vinegar, sherry and wine.
Slowly bring the ingredients to a boil, then reduce the heat and simmer for 30+ minutes, until the apples, pears and onions are tender, stirring the mixture occasionally.
Brown the guajillo chilli over open fire till blackened. Grind up the kumquats along with the chilli to a coarse puree.
Add this puree along with the sugar to the simmering mixture. Gently heat till the sugar is dissolved, then simmer for about 30 minutes till the chutney is thick and no excess liquid remains. Stir frequently towards the end of cooking to prevent the chutney from sticking to the bottom of the pan.
*sigh*! I know! Lots of simmering here, but trust me, it'll all work out well :)
Gently toast the walnuts for a few minutes until they get a warm brown colour. Stir the nuts into the chutney along with the cinnamon.
Spoon the chutney into warmed canning jars, cover and seal. Store in a cool, dark place and leave to mature for atleast a couple of weeks.
Hmm ... somehow, we decided a couple of hours was about as good as a couple of weeks and dug into this today itself :) Totally worth it!!!


********************

Opinion?
Sweet, spicy, tart ... an awesome olio of flavours -felt like it hit every taste bud and exuded a great aroma too! Obviously, the chutney was great on crackers, but I can't wait to try this with some pilaf or tabbouleh.


***********************

Related posts and recipes: