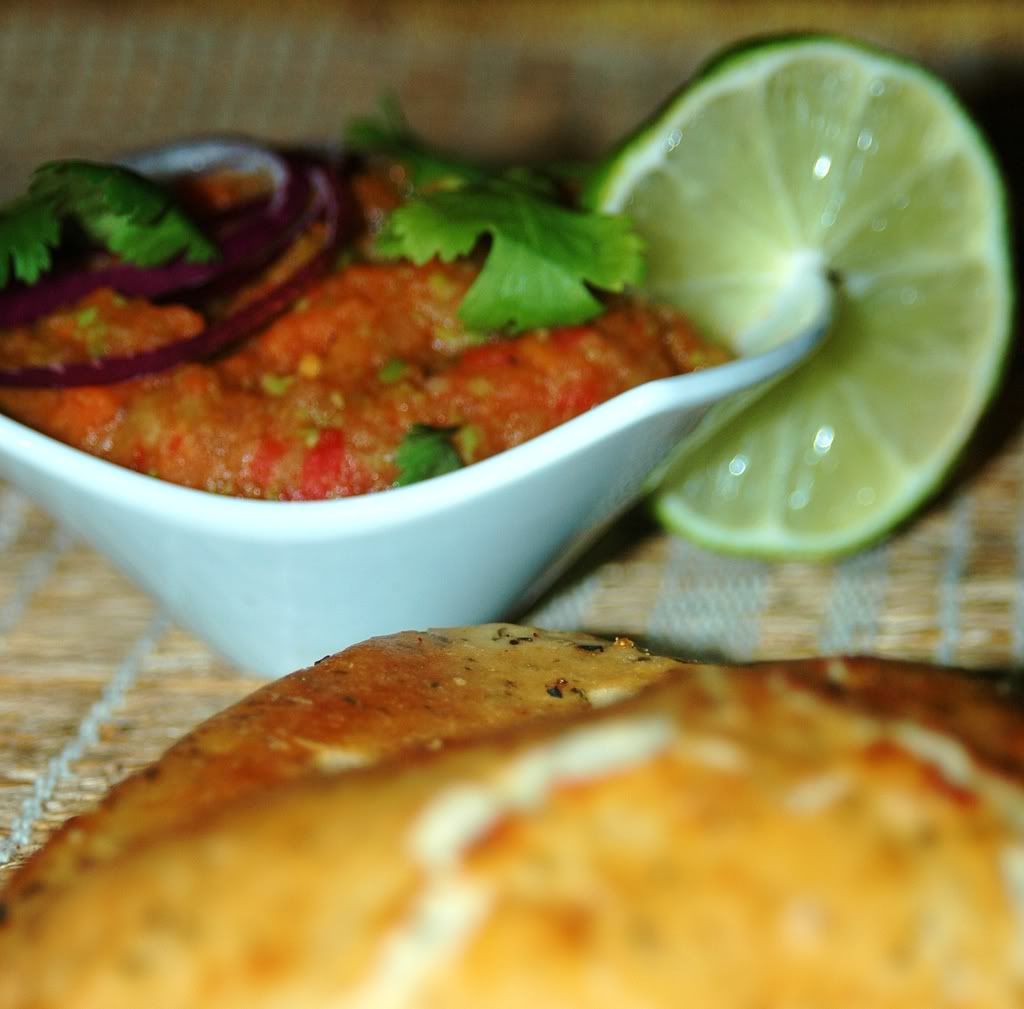 Bollywood ...

Crazy hindi movies ... guy and gal running around trees ... melodrama with moms and moms-in-law ... crazy villain dude coming after defenseless heroine ... hero flexing his skimpy muscles as he pounces on the villain and his cronies and beats them to pulp ... guy and gal dancing on a train ... the plots go on and on ... and on! :)

The most popular question ever encountered about desi movies:

"So, are all Bollywood movies musicals?"

No! Atleast, I think not :) I mean, bollywood movies have oodles of songs, and folks break out into dance at every opportunity ... but they aren't "musicals", just doesn't seem right to brand them such ... guess they're just insanity-filled movies with tons of music? Does that even make any sense? :)

Anyway, Meeta set off ripples of excitement when she picked Bollywood Cooking as the theme for the current edition of Monthly Mingle. Who doesn't want to think of crazy indian movies and delicious food at the same time?

So, what food could be quintessential Bollywood? Chaat is the first thing that came to mind! "Chaat" literally means "to taste or to lick", so how about some chatpata chaat to honour Bollywood? And what food epitomizes Bombay more than Pav Bhaji? It is probably only rivaled by Vada Pav - and after eating that on the streets of Bombay, there is no way in hell I'm attempting to replicate it. Some things are best preserved in memory, and vada pav is one such thing ... until I can troll those dusty Bombay streets for some'o'that vada love!

So ... what is Pav Bhaji? Simply put, a motley assortment of veggies mashed together on a flat tava and cooked up with tomato puree, some spices, a wonk of butter? Throw in some pan-fried bread, sliced up onions, slivers of lime ... and you're in heaven!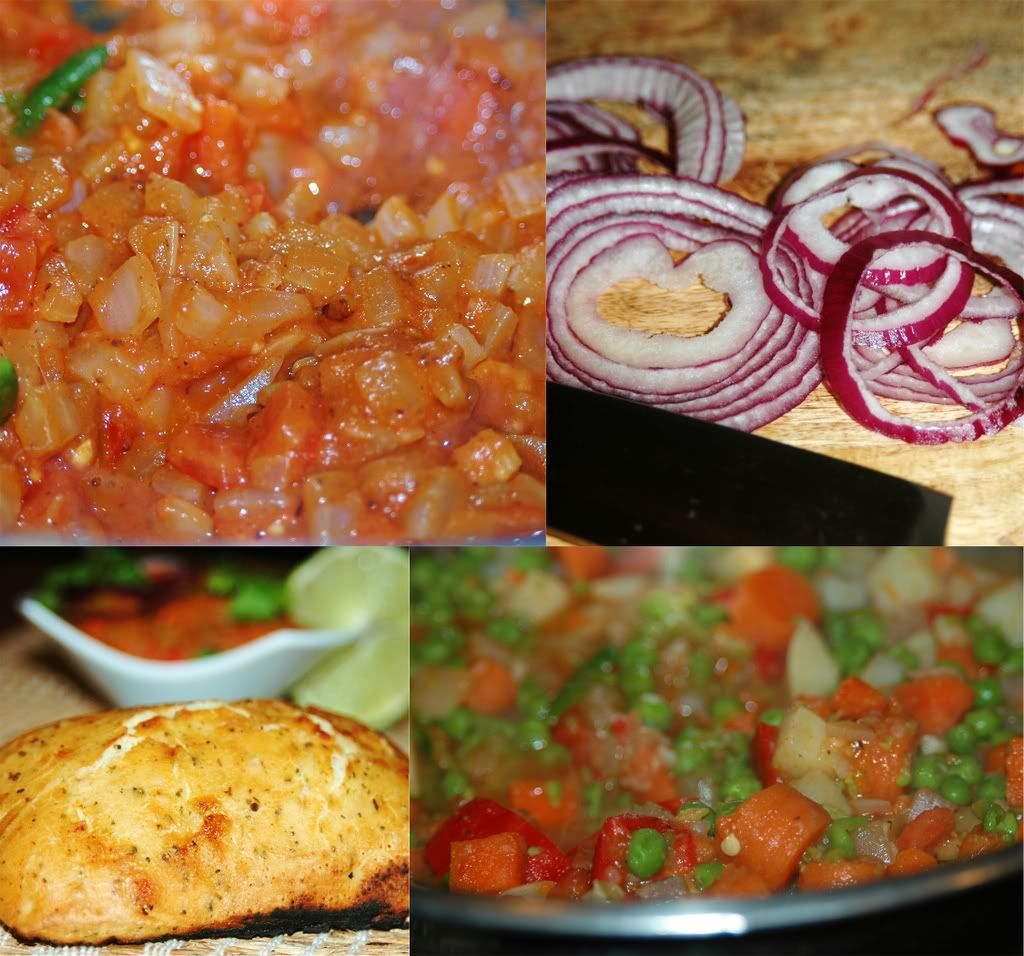 ****

According to Wikipedia:
The origin of this dish is traced to the heyday of the textile mills in Mumbai. The mill workers used to have a short break for lunch. A full lunch which was not rushed probably needed more time than what was available. A light lunch was also preferred given that physical work followed immediately. A vendor understood this and came up with this dish using items or parts of them available on the menu. The role of Indian bread or rice was taken up by pav and the curries that usually go with Indian bread or rice were amalgamated into just one spicy concoction-the 'bhaji'. Thus was born– the celebrated pav-bhaji!

Initally, it remained as the food of the mill-workers. The dish was then patronized extensively by the upcoming Mumbai underworld. This resulted in the dish finding its way into restaurants and spreading over Central Mumbai and other areas. The pav bhaji was made famous by the various roles played by Bollywood heroes as pav bhaji vendors, notable amongst them being the one played by Sanjay Dutt in the movie Vaastav.
Ooo ... an obvious Bollywood connection! I couldn't ask for more than that :)
****

Anyway, PB recipes are a dime a dozen - often guarded jealously to protect the "secret" ingredients. But then again, it is one of the most flexible chaat recipes - most random assortments of veggies usually do the trick. Obviously, the flat tava on the open fire adds the ultimate flavour ... along with the flitting flies and the street smells!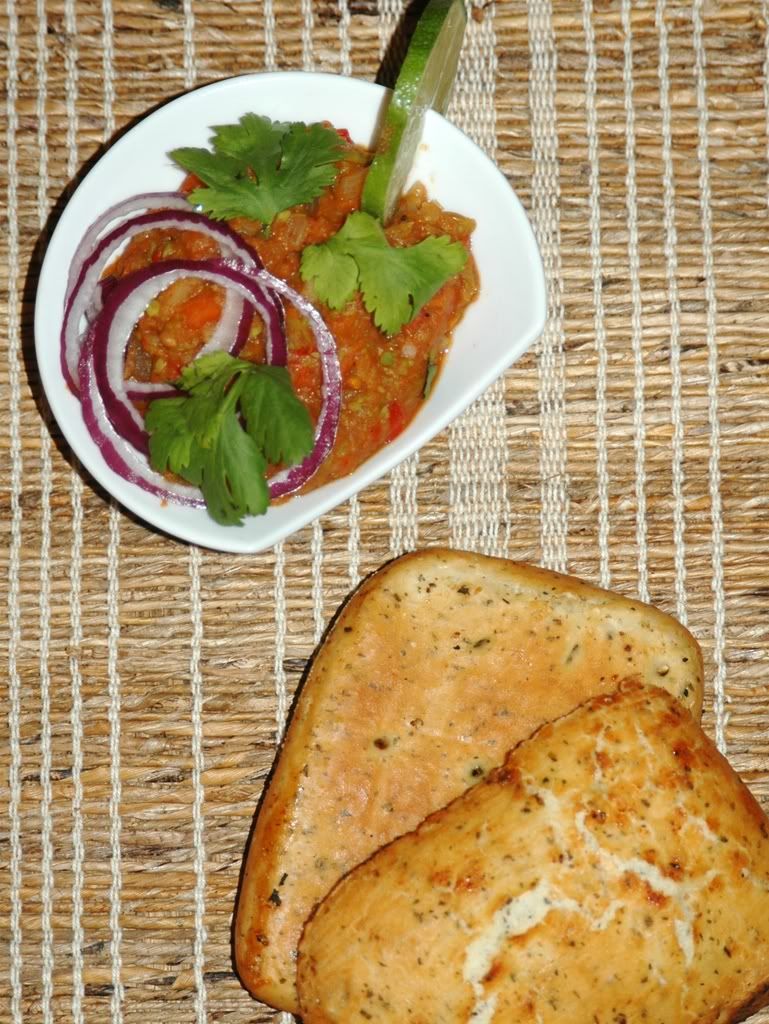 Chatpata Pav Bhaji
Bollywood ishtyle! :)
Servings: 4
1 small vidalia onion - finely chopped
5 cloves garlic - minced
1" ginger - minced
3 green chillies - sliced long
2 cups frozen peas
2 carrots - chopped
2 medium yukon gold potatoes - chopped
1 red bell pepper - chopped
1 tomato - chopped fine
5-6 T San Marzano tomato puree
2 T pav bhaji masala
1 t sumac powder
1 t red chilli powder
3 T lime juice
2 T butter
salt to taste
Garnish
Slices of limes
Thin rings of red onions
Cilantro
Steam the veggies (potatoes, carrots, peas and bell peppers) till well-cooked (Alternatively, you can throw them into a pressure cooker)
In the meantime, heat 1 T of butter in a shallow wok and saute the onions till they start to brown.
Throw in the ginger, garlic and green chillies and saute some more.
Add 3 T of the tomato puree and cook for a couple more minutes.
Add the sumac powder and red chilli powder along with the chopped tomatoes and simmer for 2-3 minutes.
Once the veggies are cooked, add them to the wok and stir.
Mash the vegetables with a potato masher or a hand blender.
Add the pav bhaji masala and remaining tomato puree and cook covered for 2-3 minutes.
Add 1 T butter and stir for a few more minutes.
Seriously, the longer the veggies simmer together, the better the flavours blend. And if you can get your hands on a giant flat tava, go for it! :)
Season with salt and take off the stove.
Stir in the lime juice after a couple of minutes.
We served the bhaji with slices of lightly buttered herbed bread browned over open fire.
****

Notes:
* We just happened to have our homemade pav bhaji masala on hand, I'll remember to post the recipe for it later this week.
* Most PB recipes call for cauliflower, but we skipped it this time around. And we didn't really miss it.
* San Marzano tomato puree honestly kicks ass - the ultimate plum tomato flavour, if you can get your hands on it, don't settle for anything else!
****

Opinion?

Mmm ... *so* close to the real thing. I closed my eyes and I could see Junior Dutt-saheb dishing out plates of PB on Juhu beach (I have no idea if he really did that in the movie!) :)
Off this goes to Meeta for MM. This is *so* not a glamorous or elegant dish by any means, but it seems so evocative of the sights, sounds and smells of Bollywood. Besides, I can't imagine this hunk ever declining a plate of Pav Bhaji!
P.S.: I finally get to pay homage to the very first song in my running mix :)