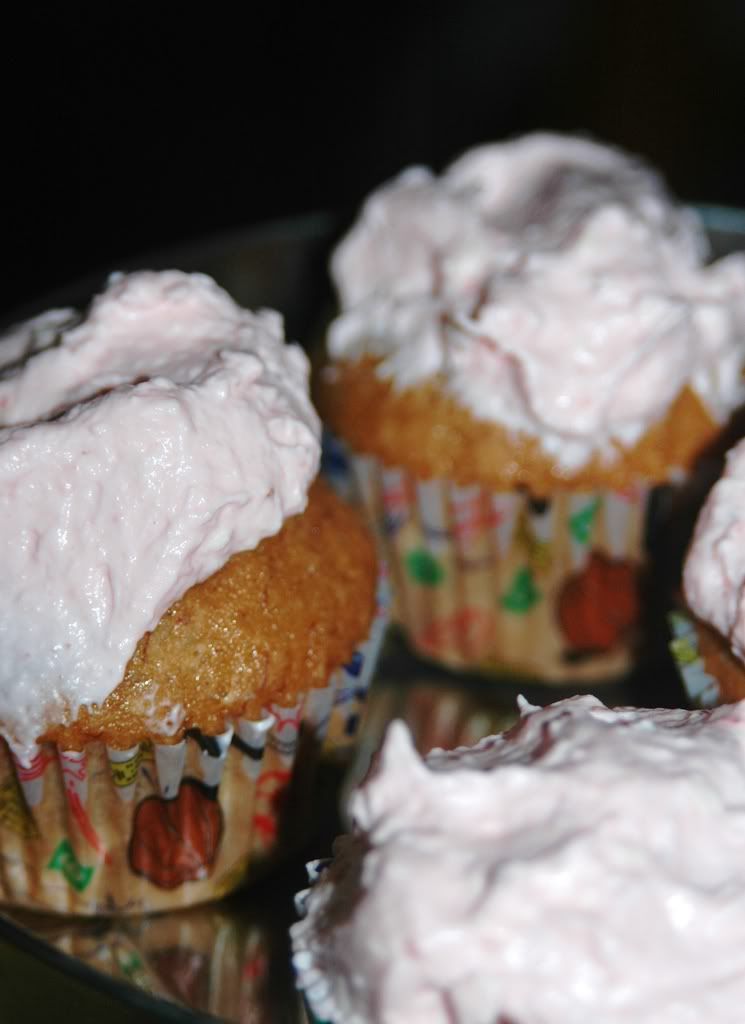 Several weeks ago, I signed up to be a coach for the spring season with this awesome organization called Girls On The Run. This is a program for preteen girls (aged 8-11) that chooses to combine exciting workouts with games, exercises and discussions. In their own words:

"Girls on the Run aims to develop the whole girl— her physical, mental, social, emotional and spiritual self—supporting the mission to educate and prepare girls for a lifetime of self-respect and healthy living. The Girls on the Run approach also encourages the girls to be open with their families, their peers, and themselves."

It has been about 5 weeks since the spring session started and coaching has been a lot of fun, not to mention entertaining. It is quite a challenge for 3 coaches to manage a gang of 18 high-energy girls! A few of us new coaches entered the first session with quite some trepidation, but walked away at the end amazed by the energy and positive spirits these girls are teeming with. Lately, I've noticed that they've put a spring in my step, I'm usually skipping away at the end of the session :)

And the best part of all this is that the girls are working towards a goal - they will be running the Komen Race for the Cure in June - a 5 K race. This is really exciting for most of them who run around all the time, but haven't done an organized race before.

And on that note, this is a shoutout to all you gals out there! We're looking for running buddies for our girls. The commitment required is pretty easy - you basically get paired with one of the girls and you do 2 5K runs with the girl - a practice one and the real Komen run. Having a running buddy really motivates the girls to go that extra step, plus it totally boosts their confidence. So, if you're even remotely interested, you should check this out! :)

Anyway, yesterday was the GOTR annual auction and I had offered to bake goodies for the volunteers. After going back and forth across several delicious recipes picked from all those awesome blogs out there, we ended up going with a cupcake recipe off ChockyLit's blog - can't quite go wrong with that, huh? :)

If you haven't checked out the Cupcake Blog (gasp!), you should head there right away.

SURGEON GENERAL'S WARNING:
The Cupcake Blog can induce insane amounts of sugar cravings. You might even hallucinate and reach into your browser hoping to snag a few crumbs!

Cheryl's original recipe called for bananas, peanuts and jackfruit in the cupcakes with a cream cheese frosting. We weren't able to get our hands on jackfruit, so we just settled for mashed bananas. Also, we used almonds instead of peanuts in the batter. And for the topping, we cut back on the sugar and went with a strawberry puree seasoning.

We've always enjoyed baking, but this was just way too much of fun! We went on this marathon baking spree - almost 50 cupcakes! The Pupp is apparently a born baker and Daria is the perfect taster :) Turned out to be a fabulous evening of baking!

Original recipe can be found here.


Banana Almond Cupcakes with Strawberry Cream Cheese Frosting
Chockylit, you rule!

Servings: 24 (we made 2 such batches)
3 cups all-purpose flour
1 t baking powder
1/2 t salt
1 t cinnamon
2 cups sugar
3 large eggs
3/4 cup of oil
1/2 cup coconut milk (we went for a light version)
1.5 t vanilla
3 bananas - mashed
2/3 cup almonds - coarsely chopped
Whisk together the flour, sugar, baking powder, salt and cinnamon in a bowl (we used the magical KitchenAid mixer).
In another bowl, beat the eggs and then add the oil, coconut milk and vanilla.
Add this egg mixture to the flour mixture and mix till blended.
Now toss in the bananas and almonds and mix to combine.
Scoop the batter into cupcake papers till about 2/3s filled.
NOTE:
Chockylit recommends using an icecream scooper to do this. We couldn't find one (?!!) and used spoons instead - was a royal pain :) Also, we ended up using muffin pans/papers - I honestly don't know if that even makes a difference!
Bake at 350 F for 20 minutes or till a toothpick comes out clean.
Cream Cheese Frosting
8 oz cream cheese
1/2 stick butter
1+ cup of confectioners' sugar
1/2 cup strawberry puree
Let the butter sit for a couple of hours till it softens and is at room temperature.
Beat the butter, sugar and cream cheese till well blended and all lumps are removed.
Add the strawberry puree and beat some more till it is combined.
Continue to beat till you get the consistency you want (feel free to add more sugar if you have an insanely sweet tooth).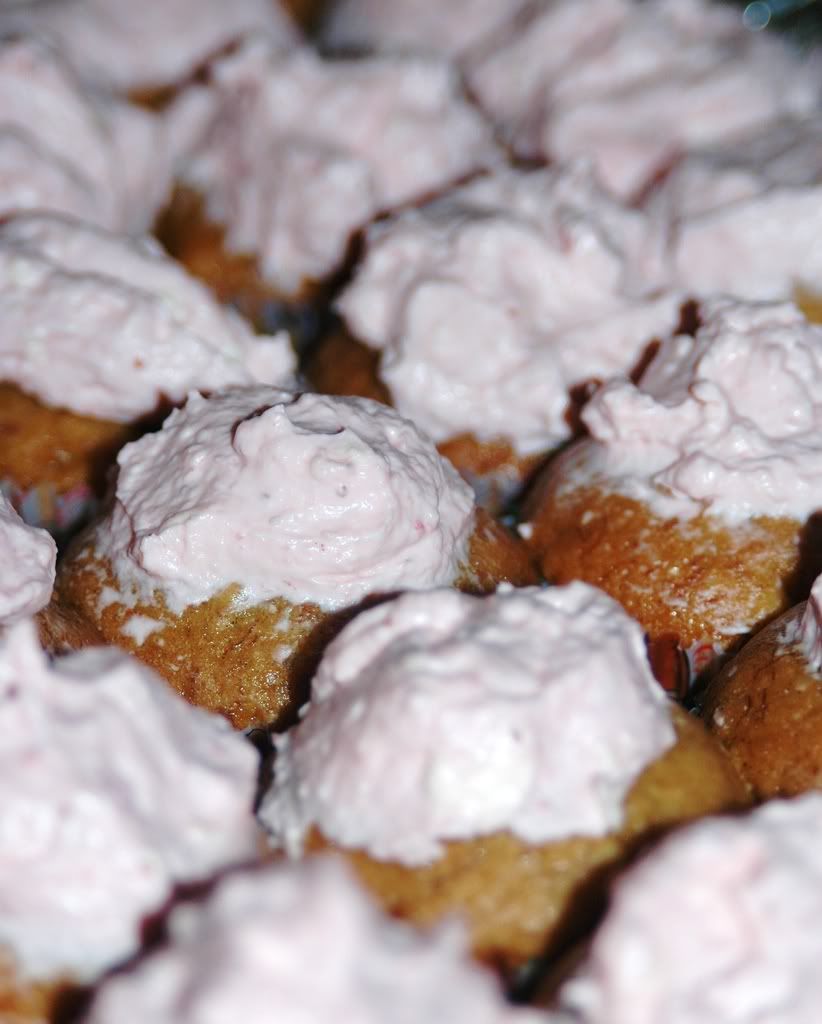 Opinion?
O.M.G. How can cupcakes taste *so* good? I almost got sick just licking the batter! It took serious effort to keep our hands off the cupcakes and save them for the auction. We found them a bit too sweet and will probably cut back on the sugar next time around.

Also, I did not end up beating the frosting enough, so it was a little limp and wonky when I tried to shape it onto the cupcakes. Besides, a spoon doesn't substitute for a piping bag! Let's just call this my avant-garde frosting attempt!

And yes, these pix are kind of lame, but that was the best I could do in 70 seconds :)

Cheryl, you rock - you truly are the cupcake queen!