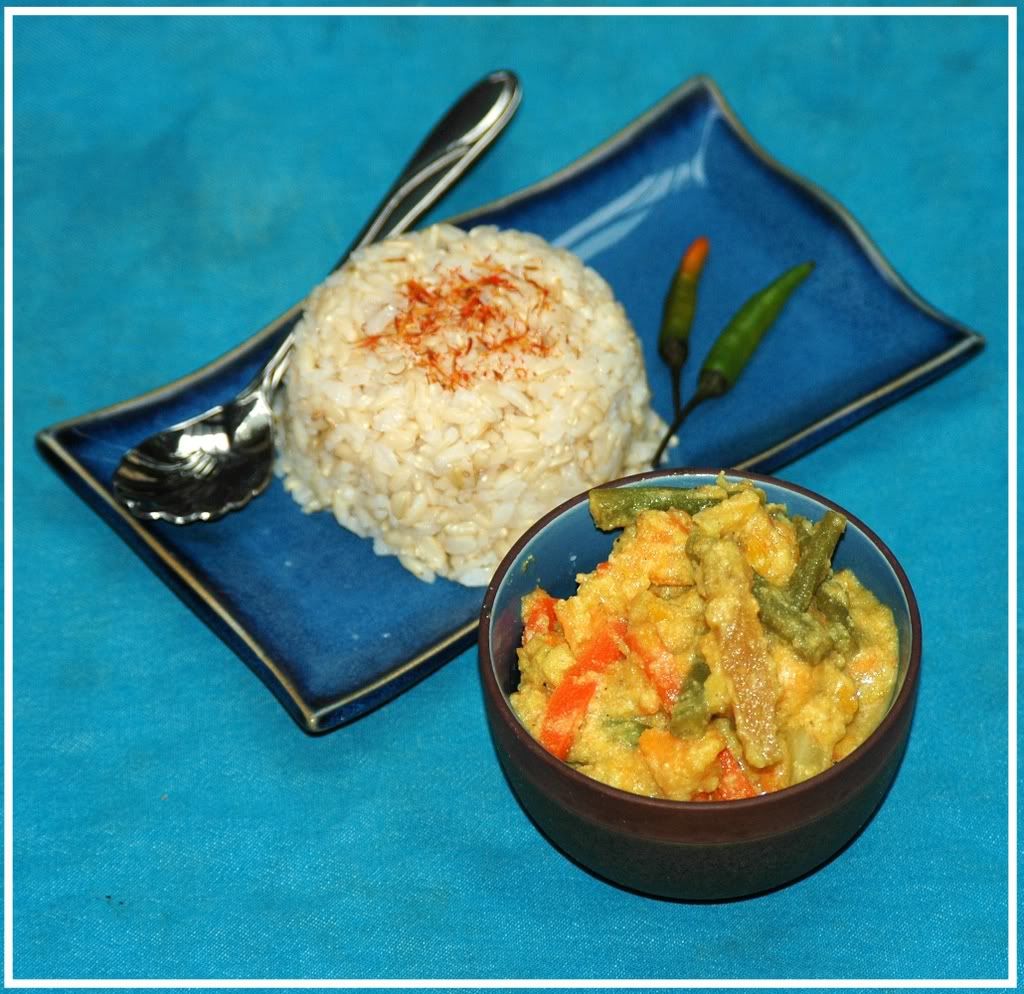 Aviyal:

[Wikipedia] a dish that has a unique place in typical Kerala cuisine. It is a thick mixture of a lot of vegetables, curd and coconut. It is seasoned with coconut oil and curry leaves.

A search for aviyal revealed a zillion similar, yet subtly different recipes. I didn't quite realize the ubiquity of this motley assortment of vegetables! Hell, there is even a aviyal.com site - just a placeholder, but exists nevertheless!

And here is the icing on the cake: a mallu rock band called Avial! I couldn't understand a word of this song except for 'Nada Nada' - walk, walk? Not right now, I'm comfortably ensconced on my couch! But the song does rock :) All you mallu folks out there: translation please?

So, last night's dinner involved Aviyal - the neatest thing about this dish is how adaptable it is. Yes, most traditional versions call for raw banana, drumsticks, potatoes, some yams ... but then again, variations almost seem welcome here - the slight twist in flavour induced by a different vegetable is always exciting! That was one of the fun things about eating aviyal when we were kids - it made for the perfect guessing game :)

This most recent aviyal version chose to skip the bananas. I can hear those traditionalists screaming"Sacrilege!" :) Well, it was a warm evening and I really wanted something lighter - the olio of vegetables included some golden beets, carrots, chayote squash, butternut squash, fava beans and green beans. This along with a dollop of some chewy brown rice made for a perfectly happy meal.



Aviyal Recipe for May 2008
Well, this recipe could hold for atleast a month, right? :)
Servings: 4
Vegetables:
1 chayote squash - peeled

1/2 butternut squash - peeled and deseeded

12-15 fresh green beans

1 cup fava beans (shelled or frozen)
2 carrots
1 golden beet


Gravy:
1/2 cup coconut flakes

4 thai green chillies

1" ginger

2-3 black peppercorns

1 t cumin seeds

1 t turmeric powder

Lightly sour curd/yogurt - 1 cup

salt for seasoning


Garnish:
2-3 bay leaves (I'm yet to drag myself to the indian store to get some curry leaves - are they even back in the stores?)

1 t coconut oil


Cut the squashes, green beans, carrots and beet into long thin fingers.
Toss these veggies into a stockpot, add about a cup of water and boil them till almost cooked - this should take under 10 minutes.

If using fresh or frozen fava beans, blanch them before tossing them into the stockpot. Cook for a couple of minutes once they're in.
If using dried beans, cook them in a pot of water till done before throwing them into this mixture.


Grind all the gravy ingredients, adding water as needed.
Throw this paste into the pot with the veggies and boil for a few minutes.

Heat the coconut oil (low) and saute the bay leaves till lightly browned.
Garnish the aviyal with these leaves.
Opinion?


*zing*! Those thai green chillies packed a wallop! The aviyal turned out really flavourful, the coconut and spices danced quite happily with the veggies. I might be hooked onto this Aviyal-Lite - didn't miss the bananas or potatoes at all!