Over the last couple of weeks, we made a variety of appetizers that turned out to be insanely simple and totally delightful. Delicious enough that every time I looked at the pictures, I went "Ahhh!" and then balked at the idea of writing a post about each of these :)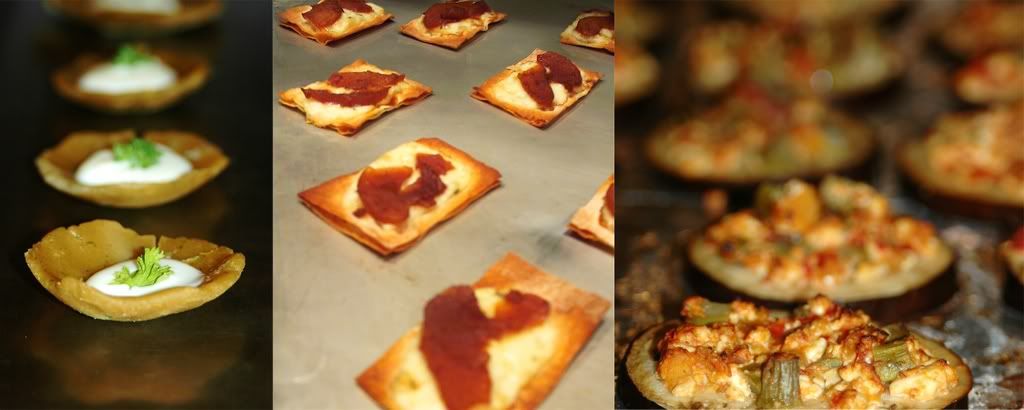 So, the idea of this Mélange series was born. We often end up making an assortment of nibbles/dips/desserts, usually for a party, but these usually don't get written about. This consolidated post seems like a good idea for bunching together some of these long overdue posts.

So, without much further ado, I'll start babbling about several nibbles that were insanely easy to assemble and totally kicked ass!


Lavash topped with Brie and Pear Chutney
Lavash is a soft thin yeast bread of Armenian origin - really simple flavours derived from a combination of flour, water and salt. It makes for fabulous wraps and rolls, and even with dips. And last week, we discovered that it makes for a crispy baked base with a variety of toppings.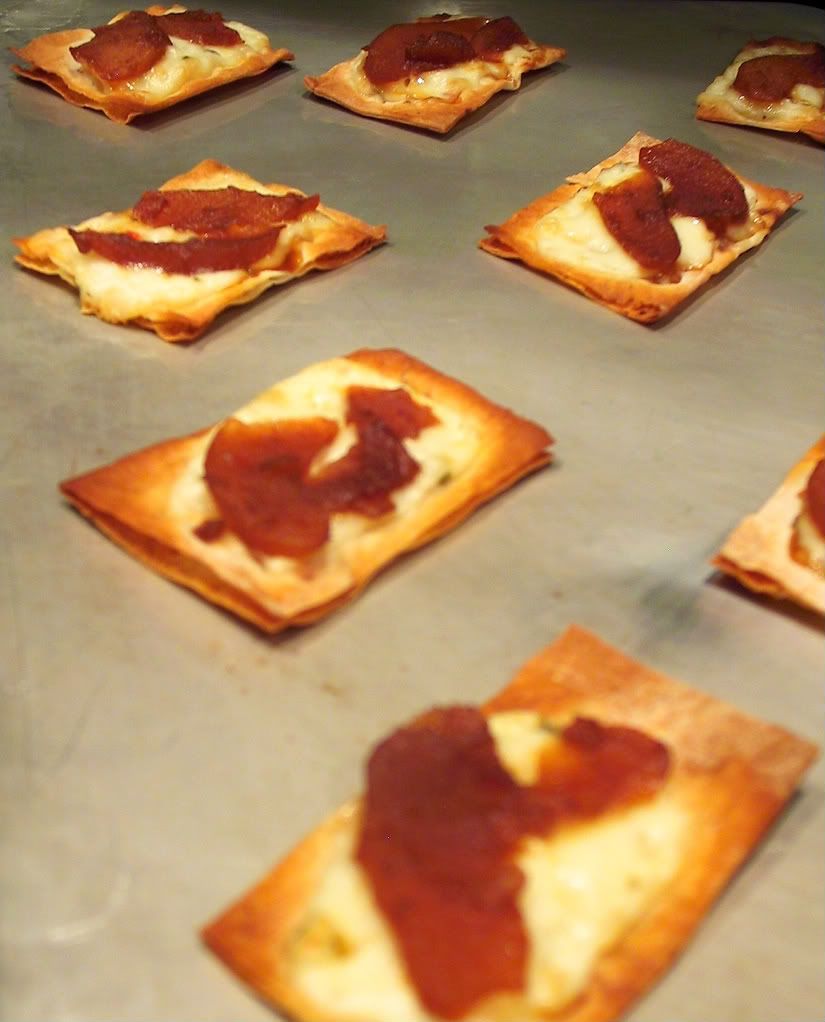 Servings: 12 pieces
1 sheet of lavash bread
Several thin slices of brie
Pear preserve (recipe follows)
Fire up the oven to 350 F.
Cut up the lavash sheet into 12 pieces - these can often be torn by hand into small pieces.
Top each piece of bread with a slice of brie and a dollop of pear preserve.
Bake for 3-4 minutes till the brie is melted and the edges of the bread are crispy.
Servings: fills a pint-sized canning jar
2 pears - peeled, cored and sliced
1/2 cup brown sugar
1 cup water
1/2 lemon - sliced
1 stick of cinnamon
3 cloves
1 green cardamom
Heat the water in a saucepan and melt the sugar in it.
Add the pears and lemon slices along with the spices.
Simmer till the pears just start to get tender and the syrup thickens around the pear slices.
Pour the pears and the syrup into a canning jar, let it cool before sealing the jar.


Opinion?
The first time we made this snack, we used our friend Daria's pear chutney and some pepper jack cheese over lavash bread. The pear chutney was fabulous, but the jack cheese wasn't quite right. The next time around, we went with some brie and my version of the pear preserve. The combination worked much better, but I still like Daria's version of the pear chutney better - especially because it had sat around enough for the flavours to totally blend - insanely delicious!
***

This goes to
Raaga
at
Chef At Work
for
AFAM-March
(brainchild of Maheshwari from
Beyond the Usual
) - the current theme is Pears. Thanks, Raaga - for organizing this edition.
Eggplant Bruschetta with marinated vegetables


This recipe was born when we wanted to make some bruschetta-style nibbles, but had no bread to work with! But we did have a giant eggplant - obviously we often mistake one of these for a giant loaf of bread, right? :) Weeellll, not really, but we could go for a lo-cal bruschetta if we found a way to use these!
Servings: 15-20 pieces
1 large eggplant
8 oz Reduced fat feta cheese - crumbled
10 stalks of pickled asparagus
1 marinated red bell pepper
1 marinated yellow bell pepper
freshly ground pepper
2 T apple cider vinegar
1 T olive oil
Fire up the oven to 400 F.
Slice the eggplant into 1/3" thick slices and place then on a greased baking tray.
Brush the eggplant slices with a mixture of the olive oil and vinegar.
Cut the asparagus into 1/2" pieces and mix it with the crumbled feta cheese in a bowl.
Chop the bell peppers into small pieces and throw them into the mixing bowl.
Season with the pepper (and salt if needed).
Top each of the eggplant slices with a generous dollop of the veggie mixture.
Bake for 6-8 minutes till the eggplant is cooked (but still firm) and the cheese is melted.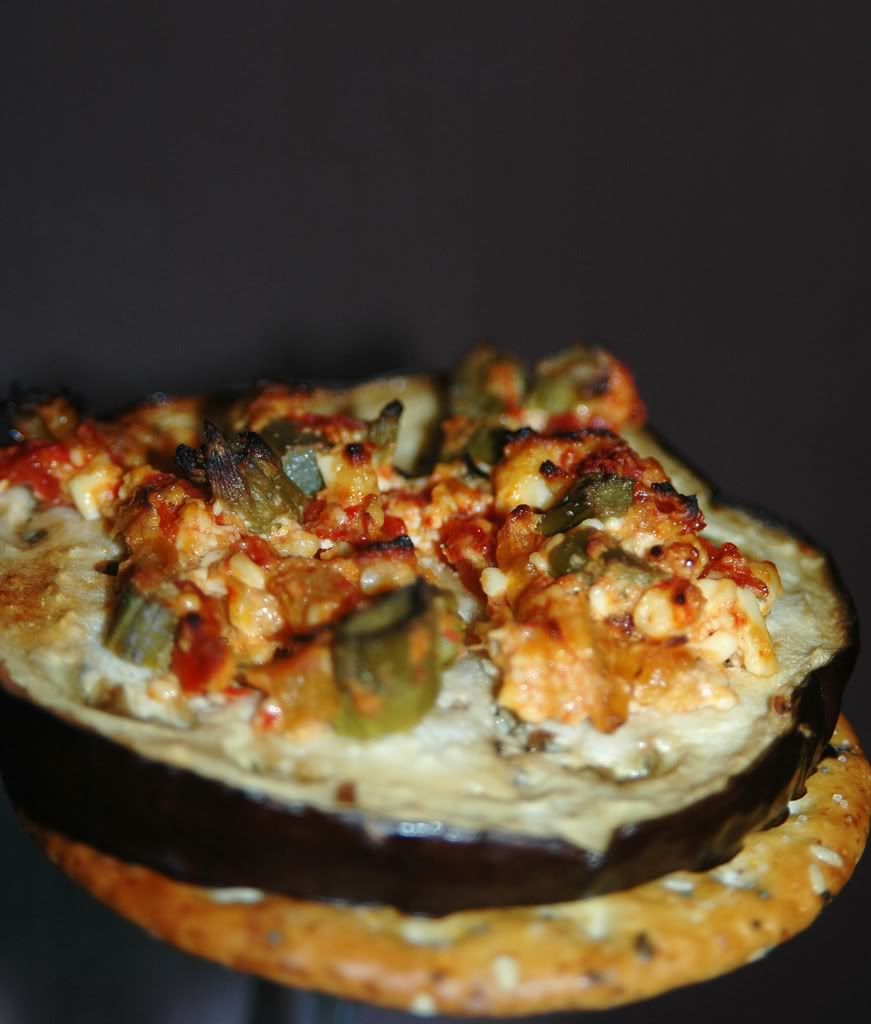 Opinion?

Eggplants rock. Seriously. I'm often leery of Mr.Big Eggplant, but this was a perfect use for it. The tartness of the marinated vegetables and the juices of the eggplant blended quite nicely with the cheese flavour. And these slices disappeared in *no* time at all :)
***

We do not celebrate nombu (another of those days where the guys get all the attention while the girls slave their asses off), but that does not stop us from working any recipes associated with nombu. Especially the salty nombu adai kind :) We attempted a variation here by skipping the coconut and garnish, instead adding some curly parsley. And we topped each adai with a few drops of thick european yogurt.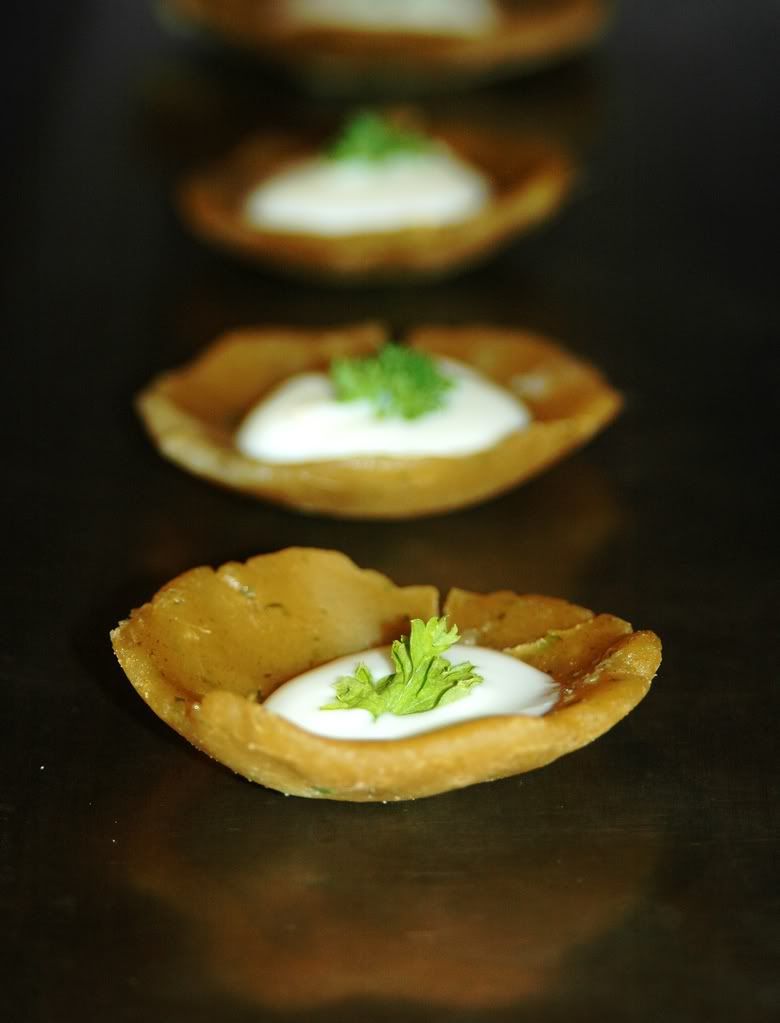 Servings: 16
1 cup rice flour
1 cup water
1/2 t ghee (clarified butter)
3 green chillies
1" ginger
1/2 cup packed curly parsley
1 t hing (asafoetida)
salt for seasoning
Roast the rice flour for 5-6 minutes till it start smelling, but before it starts turning brown.
Add water, 1 T at a time to the flour, mixing thoroughly to avoid any lumps.
Grind the green chillies, ginger and parsley into a coarse paste.
Add this paste along with the hing, salt and ghee to the flour mixture, gently kneading the dough till the seasonings are all mixed in.
Grease a set of idli plates with oil spray.
Take a small handful of the dough and flatten it to fit into one of the idli moulds.
Repeat this till all the plates are filled with adais.
Steam for 6-8 minutes till the adais are cooked.
Serve topped with some yogurt and a sprig of parsley.
Opinion?
These rocked! They were way better than we expected them to turn out. And we're becoming more obsessed with parsley by the day! Guess we added more green chillies than we realized, these adais had some serious zing to them. And given that we haven't really done much with rice lately, we were a bit worried that these adais might feel heavy on the palate. Nope! Surprisingly, they seemed light and flavourful - a happy healthy snack.