It truly feels like life has come to a standstill.

So much so that I don't expect even blogging to give me any respite. Vodka was diagnosed with mast cell tumors (yes, again!) early last week. He was diagnosed with one of these last year, but it was successfully removed. And it seemed like that was the end of story. A happy ending. But the tumors are back. And there are several small lumps. As well as a large one that has probably penetrated his lymph gland. The next week is going to be filled with visits to various doctors - the oncologist, a holistic vet, a nutritionist ... Basically whatever it takes to try making the kid healthy again.

We're all trying to hold positive thoughts. And right now, the cute monkee deserves every happy wish he can get, so gather all that goodwill and send it his way, please? :)

I'll keep posting about how things go, especially all my learnings about animal nutrition - I've amassed more knowledge in a week than I knew in 9 years. And I'm hoping some of this can be put to good use - hopefully Vodka can be nursed back to health, even if all those tumors can't be eliminated, we're hoping his body will learn to live with them and control them instead of the other way around. And hopefully, all that we learn in the course of his treatment will help other pooch parents out there - in terms of diet-related treatment and preventive options.

That said, here's a pic to bring a smile to anyone's face. Aunt Nupur and Dale sent Vokkee these awesome rawhide chews a few months ago. And he totally revelled in noshing them :)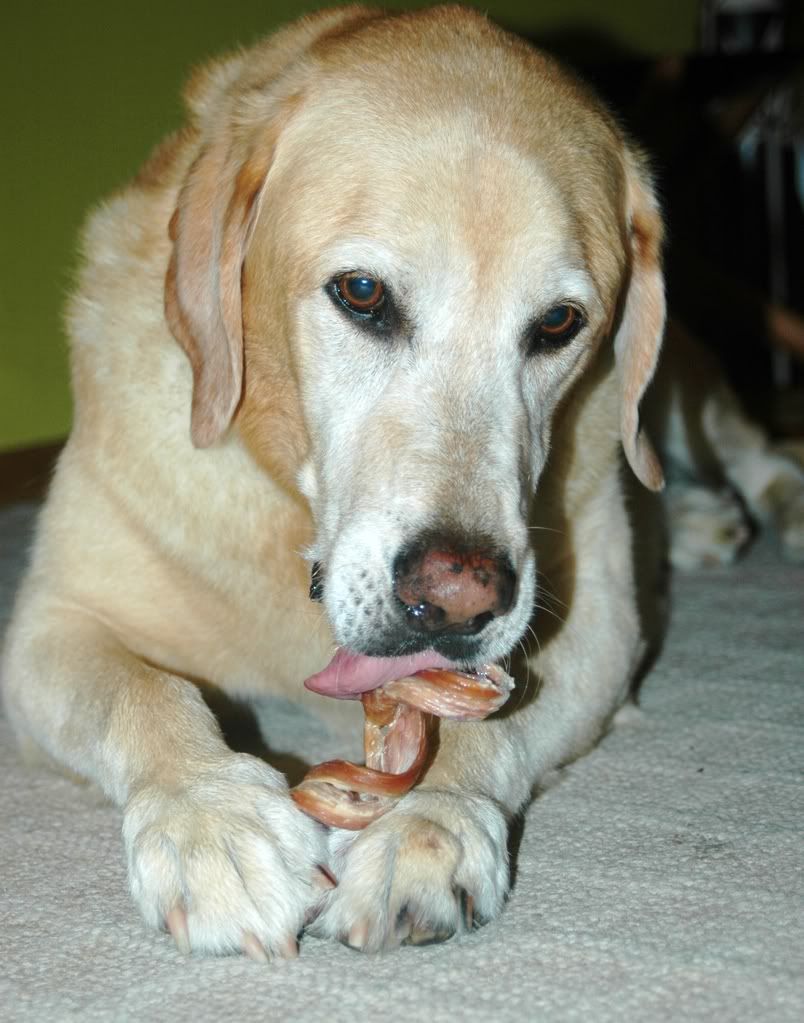 ********************

And, maybe, now that I started writing, I'll even post a recipe to keep the theme of this blog going :)
The last couple of weeks have been insanely hot and even humid here in the Pacific Northwest. So much so that I've been craving icecream even more than ever! It was time to hit an eastside favourite - Thenos Dairy - that serves Vivian's Icecream. Not only do all their flavours kick some serious butt, they have this insanely awesome cantaloupe icecream! It is a seasonal favourite and sells out in no time at all. So, if you're in the 'hood, I would strongly recommend that you hit this icecream joint on SR-202 - trust me, you won't regret it! Weeeeellllllll ... you might regret the waistline, but not the gastronomic pleasure :)
A recent trip to the farmers' market resulted in a bounty of cherries - well, it was one of the last crops of
Sweethearts
, so that's my excuse for the cherry overload :)
A hot evening + mountains of cherries + maple icecream = a super decadent dessert :)
Poking around that insanely overused Ultimate Desserts book revealed a recipe for a cherry compote. The original recipe called for orange rind and almond extract. I went with a more summerly flavour by using orange blossom water instead. And tossed in a handful of sliced almonds for a good, nutty measure :)
Nutty Cherry Compote
Top that melty icecream or eat it straight! :)
Servings: 6 (if served as a topping)
1/2 cup of dry red wine
1/4 cup succanat (I used this instead of brown sugar)
1 T orange blossom water
1/2 cup sliced almonds
1-1.5 lbs Sweetheart cherries (am sure other varietals would work well too)
Several dollops of Vivian's super awesome maple icecream :)
Remove the pitts from the cherries - I didn't bother to preserve the full cherries and just chopped them up into halves while removing the pits :)
Combine all the ingredients EXCEPT the cherries, almonds and icecream in a saucepan with 1/2 cup of water.
Stir over medium heat till the succanat completely dissolves.
Turn up the heat and boil the liquid till it becomes somewhat thicker and syrupy.
Now throw in the cherries and bring back to boil.
Reduce the heat a bit and simmer for about 10 minutes.
You might end up with some foam, which you can easily skim off the surface.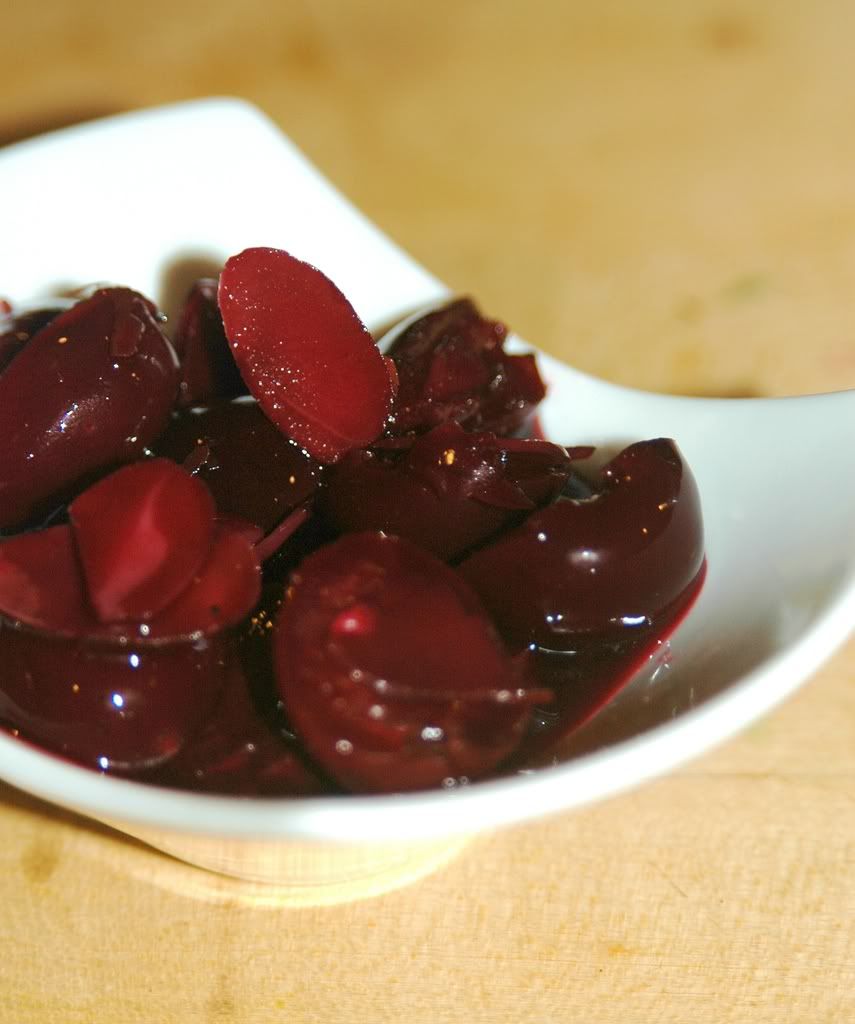 Serving suggestions:

* Once cooled to lukewarm, spoon over a dollop of icecream.
* On a hot, humid day, chill the compote and serve it over some yummy icecream or with whipped cream :)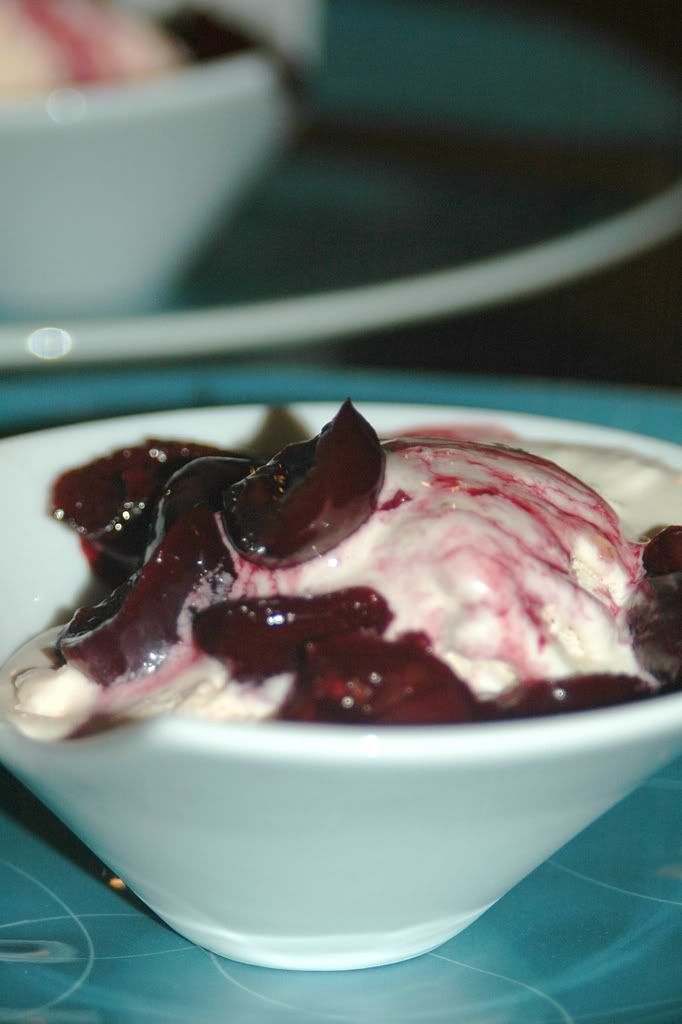 Opinion?
Serious cherry heaven. Next time around, I want to try this with a liqueur like Sambuca or Mangalore instead - am sure that's going to be pretty awesome too!

This goes to Sunshine Mom of Tongue Ticklers for her Food In Colour event. The theme for August is Red.