Orechetty.

Orechiet.

Oreychett.

Oreccchhhiiiieettiieee.

"Little ears"

:)

I'm definitely going to nail that before we go to Italy :) Until then, guess I'll just go with 'Li'l Ears'!

So, this is another recipe from the backlog - I made this several weeks ago as a quick fix for dinner. I'd only cooked li'l ears a couple of times before and was pleasantly surprised by how easily the pasta picked up flavours and yet didn't get gooey. Guess they're pretty thick ears! :)



The highlight of this recipe was the garlic chives from the veggie patch - they lent a fabulously fresh flavour and aroma to the dish. Garlic rocks! So do chives. So together, they can only kick ass, right? A coarse pesto of sort with these chives, some parsley and pine nuts lent a gamut of flavours. And the cauliflower ... seriously, I'm falling in love with it all over again. The cauliflower picked up all the flavours and still stayed a bit crunchy - guess this was one of those few times when I lucked out and blanched the cauliflower *just* enough!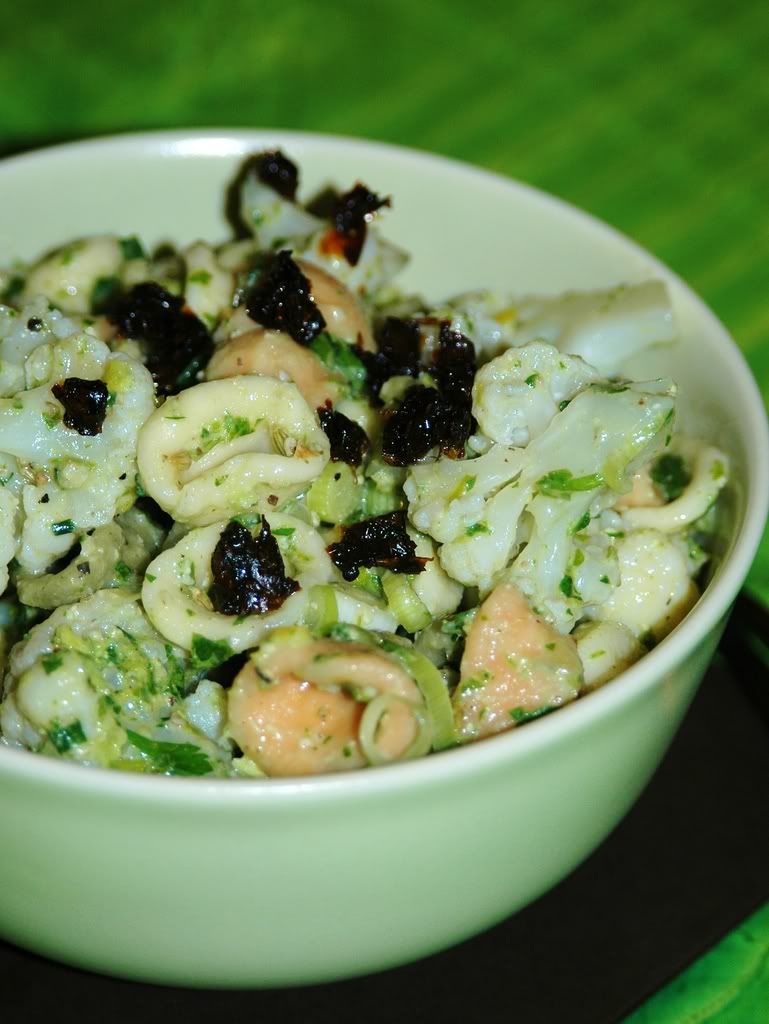 Li'l Ears and Cauliflower with Chives-Parsley Pesto
Eat a ear or 3, please?
Servings: 3-4 moderate servings or 2 super-hungry servings
4 cups of cooked orecchiette
(I honestly don't remember how long these have to be cooked, all I recall is that I used this fabulously chewy tri-colour orecchiette from Whole Foods - tomato, spinach and no-flavour)
1 T olive oil
a generous handful of garlic chives
another generous handful of italian parsley
2 serrano peppers
15-20 pine nuts
(you could substitute with walnuts here)
1 t sea salt
1 t olive oil
8-10 sundried tomatoes - chopped
(if these are the dry variety, soak them in warm water for 5-10 minutes before chopping them up)
3 scallions with the stalks - chopped
1/2 head of a medium cauliflower - cut into large florets
Heat a pot of water with a T of salt to a roiling boil. Place the cauliflower florets in the hot water, cover and boil till tender (but not mushy) for about 7-9 minutes.
[ Another option here is to just steam the cauliflower - you can place the florets on a steaming rack in a pan over boiling water, cover tightly and steam for 7-10 minutes]
Use a pestle to create a coarse, chunky paste of the pine nuts (or walnuts), parsley and chives, serrano peppers and salt (you could just grind them up instead). Stream in the olive oil slowly and continue crushing the pesto till the oil is soaked in.
Heat the oil in a saucepan and saute the scallions lightly.
Stir in the pesto along with the sun-dried tomatoes and saute for a couple of minutes.
Now throw in the cauliflower and the pasta and stir for a couple more minutes.
Season with salt, maybe garnish with more chives? Or even throw some freshly grated parmesan on top?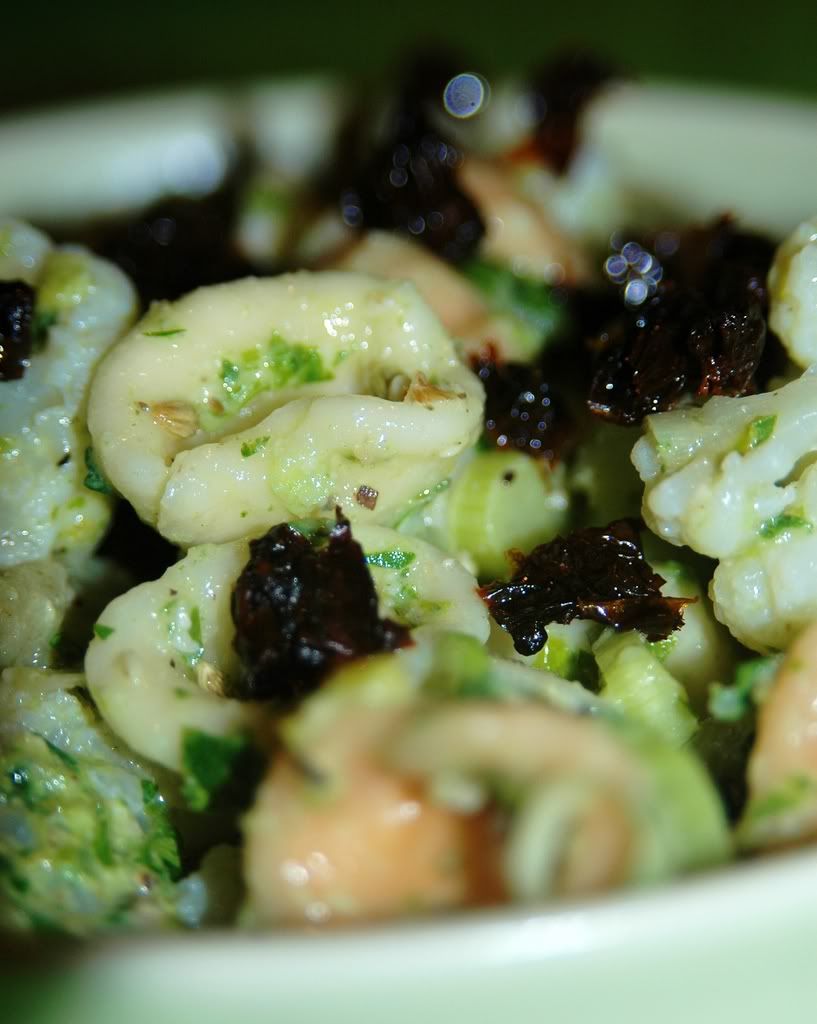 Opinion?
Happy, tasty, easy-fix pasta. And replete with home-grown herbs. Yum!
Off this goes to Jessica of
Finny Knits
who is hosting this round of
Grow Your Own
(started by
Andrea
).
Ooo ... this is a bonus! I can even send this to Michelle at
Greedy Gourmet
for this week's edition of Presto Pasta Nights (that popular pasta event started by Ruth (
Once Upon a Feast
) :)