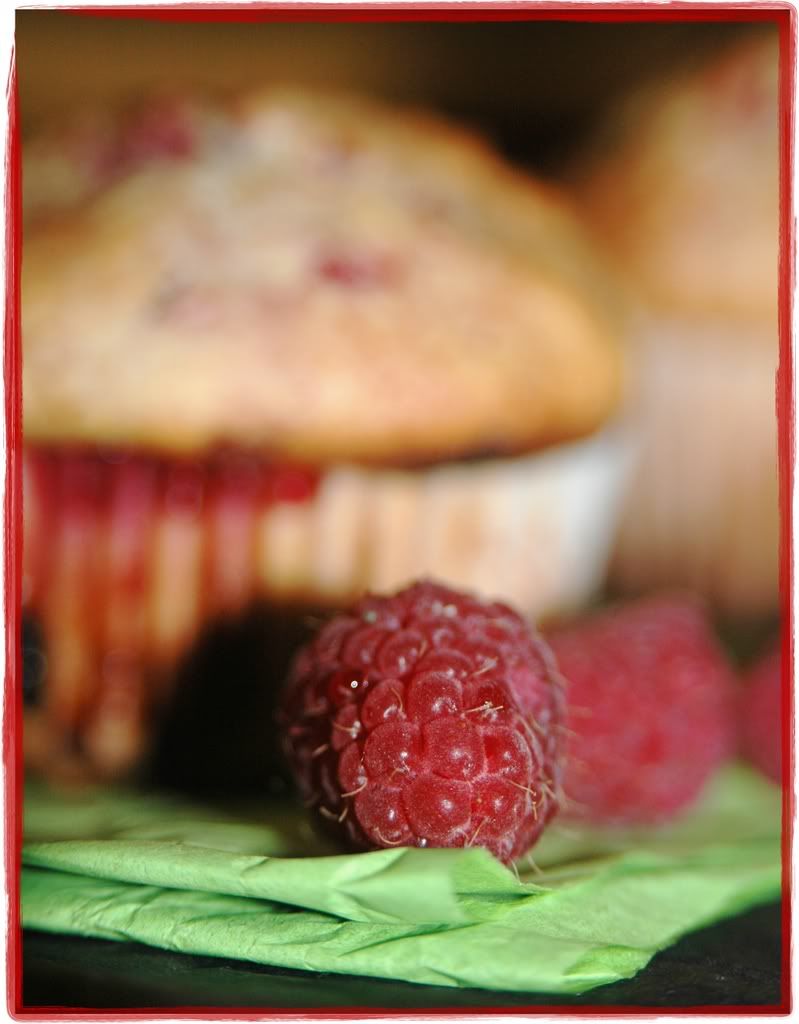 Raspberries.

They stain my fingers red. And my teeth. And often, my face is covered in streaks of red as I desperately stuff my face.

And yes, they make me happy. Very happy. They make Vodka super happy too - he can lick all the raspberry juice off my face. *so* much of fun, eh? :)

Today was definitely a raspberry day. I probably ate a couple of those baskets from the farmers' market. The berry appetite was sated, but I still wanted to do something with the rest of them. And I've been trying to come up with several lowfat variants of muffins anyway, so this seemed like a perfect opportunity to try a recipe out. Besides, nothing like a load of juicy berries to make up for any shortcomings in my "lowfattitude". Hey, can I trademark that word?

So, in the spirit of some fabulous lowfattitude, I skipped the eggs, used some fatfree cottage cheese to lend some creaminess to the muffins and added a bit of cinnamon for extra flavour.

If you're using frozen berries instead of fresh ones, thaw and drain them before tossing them into the batter.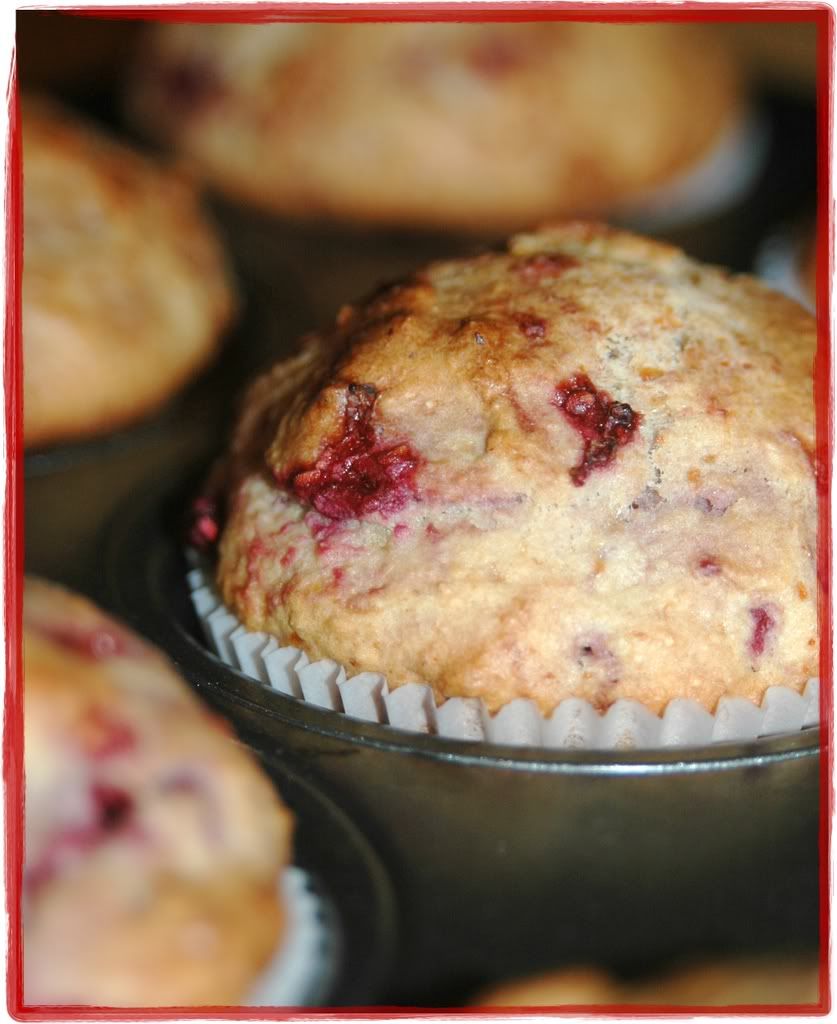 Rasberry Cottage Cheese Muffins
Stuffin'. A muffin. Into my mouth :)
Servings: 12 regular sized muffins
2 cups white whole wheat flour (I used King Arthur's organic flour - seriously kicks ass!)
2 t baking powder
1/2 t salt
1/2 cup cottage cheese (fat free)
1/4 cup buttermilk
1/2 cup nonfat milk
2 T butter
1 T Earth Balance (whipped spread)
1/2 cup brown sugar
1 t cinnamon
1-2 cups raspberries
2 t vanilla soy sorbet (lowfat)
Preheat the oven to 375 F. Line a 12-cup muffin tray with paper cups.
Cream the butter, whipped spread and sugar in a bowl till well blended and smooth.
Add the cottage cheese and buttermilk and mix a bit more.
Stir in the cinnamon along with the vanilla sorbet and beat for 2-3 minutes till thick and creamy.
Sift the flour, baking powder and salt into a bowl. Mix the flour mixture into the butter/sugar mix, about 1/2 cup at a time.
Once the ingredients are well blended, stir in the raspberries, trying not to break them too much. They will probably break up, but it is pretty heavenly to bit into a piece of raspberry in a muffin, so try to keep that option alive as much as you can :)
Spoon the batter into the lined muffin tray and smoothen the surfaces. Bake for 30 minutes at 375 F.
Stick a toothpick into the muffins to make sure they're baked before taking them out of the oven. Once removed, let them cool in the tray for 10 minutes before removing the muffins and setting them on a cooling rack. Once they're at room temperature, stick them into an airtight container. Or eat them up :)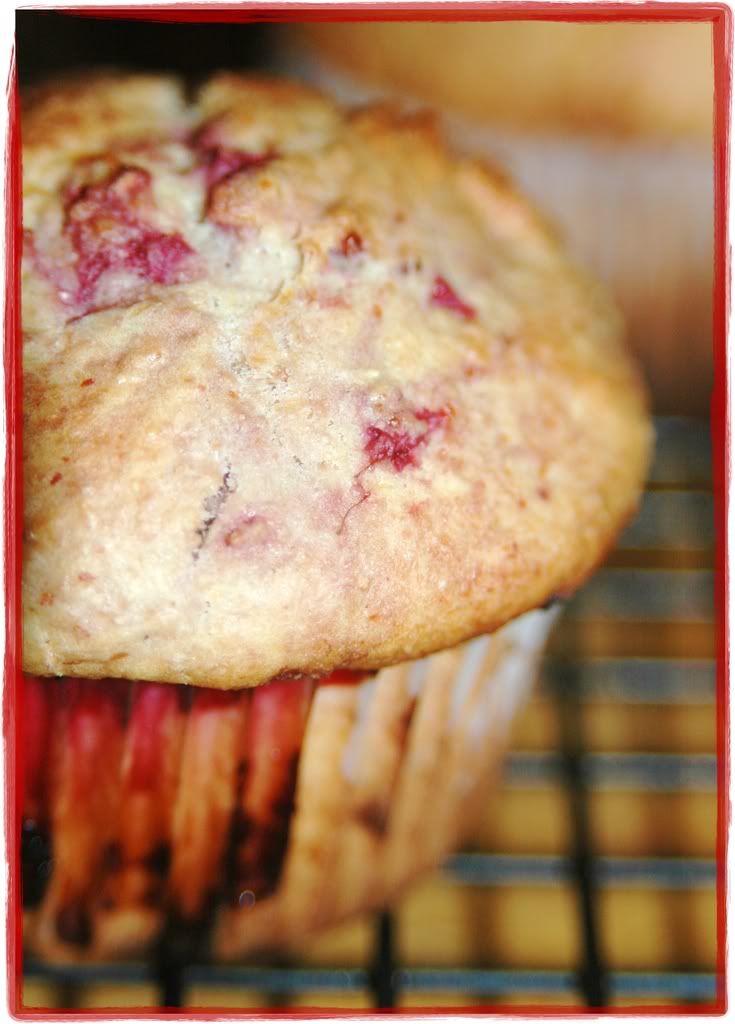 Opinion
Chewy

- yummy wheat flour - earthy and delicious!
Moist

- raspberries and cottage cheese worked wonders.
Juicy

- courtesy of the raspberries - *so* good!
As someone says ... "
Yom!
" :)
*****************

Happy Vodka loves those berries! :)
[Photo Courtesy: Stephanie & Shawn of Dog-E-Central]