One of these days, I'll get started on my Daring Bakers Challenge the day after the topic is announced - I mean it! I've only done 2 of these so far, but apparently I live on the edge even when it comes to cooking. Seriously, I'm a last-minute adrenaline junkie - proved unequivocally by the fact that I just finished my DBC about 30 minutes ago!

Lemon Meringue Pie ...

Hmm ... I wasn't sure what I thought of this when I first saw the topic. I love lemons, but most of the lemon desserts I lean towards are a lot lighter - lemon bars, light whipped lemon curd ... and this whole meringue thing sounded a bit daunting. But I got all excited about making tartlets, that's always fun - a bite-sized or one person dessert is usually fun to put together. But then I couldn't find any tartlet pans and today is a heavy snow day ... so that plan was abandoned and I went back to baking a regular pie instead.

Jen of The Canadian Baker picked the recipe for this challenge - the more I read it, the more appetizing it sounded. And a little daunting too! Especially since it has been a while since I baked a pie - many many months, actually!

As I read the recipe more, I started having a few doubts. The pie crust recipe sounded different from the ones I'm used to, but the instructions were really clear, guess I couldn't go wrong with that. The other thing that I was iffy about was the meringue - I'm not a big meringue fan by any means - it just doesn't do much for me. I'd rather top my lemon curd with caramel or some chopped nuts, those flavours appeal a lot more to me.

So, I started my baking in the eleventh hour :) The recipe was really easy to follow, the instructions straightforward. Thanks, Jen for sending this recipe our way!

Jen's only requirement was that the pie remain lemony. I pretty much followed the recipe to a tee, something I almost never do :)

Additions/Modifications:



We could make one pie or tartlets (in a tin or free-form)


We could compliment your pie with a sauce.


We could use a piping bag to apply the meringue if you like.


Decoration allowed - lemon zest or fruit are totally acceptable.


Changes are allowed to accommodate for altitude or for health/allergy reasons.

I made just one large pie, I still have some dough leftover that I might work into tartlets later this week. I read several posts about disappointing crusts, so I watched out for that while working the dough. I ended up baking the crust for an extra 3-4 minutes - that seemed to do the trick to avoid a soggy, chewy crust. This one seems reasonably flaky though I might stick with a couple of other crust recipes for future pies.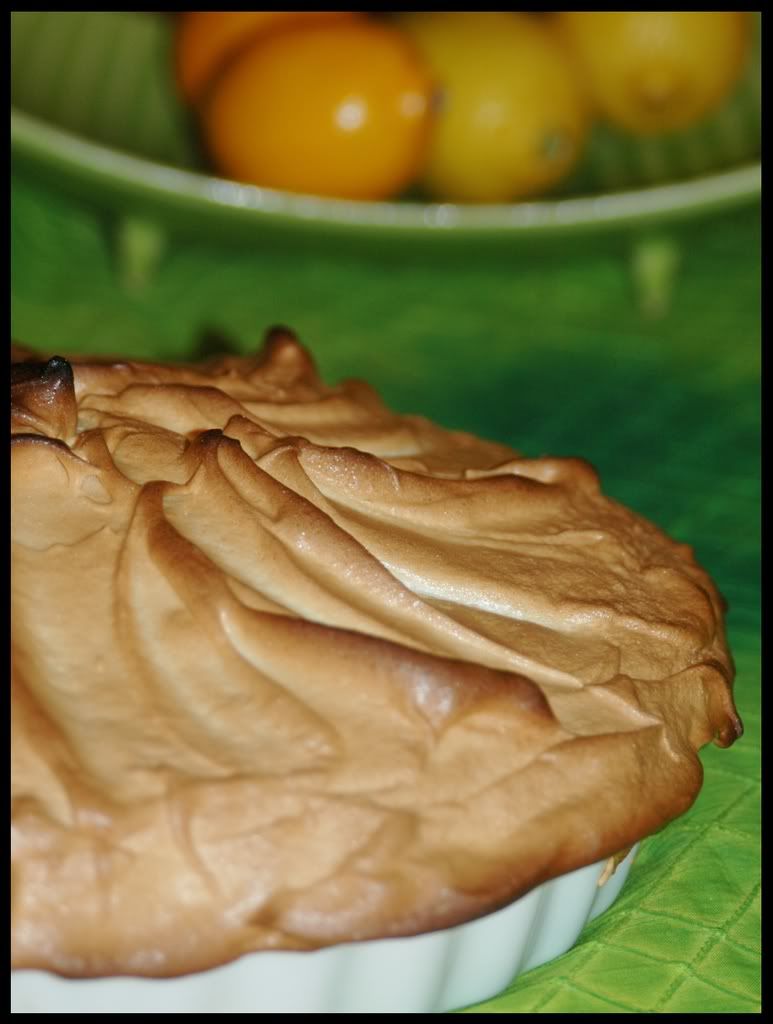 Servings
one 10" pie
Ingredients:
Crust
:
¾ cup (180 mL) cold butter; cut into ½-inch (1.2 cm) pieces
2 cups (475 mL) all-purpose flour
¼ cup (60 mL) granulated sugar
¼ tsp (1.2 mL) salt
⅓ cup (80 mL) ice water
Filling:
2 cups (475 mL) water
1 cup (240 mL) granulated sugar
½ cup (120 mL) cornstarch
5 egg yolks, beaten
¼ cup (60 mL) butter
¾ cup (180 mL) fresh lemon juice
1 tbsp (15 mL) lemon zest
1 tsp (5 mL) vanilla extract
Meringue:
5 egg whites, room temperature
½ tsp (2.5 mL) cream of tartar
¼ tsp (1.2 mL) salt
½ tsp (2.5 mL) vanilla extract
¾ cup (180 mL) granulated sugar
Making the crust:
Make sure all ingredients are as cold as possible. Using a food processor or pastry cutter and a large bowl, combine the butter, flour, sugar and salt. Process or cut in until the mixture resembles coarse meal and begins to clump together. Sprinkle with water, let rest 30 seconds and then either process very briefly or cut in with about 15 strokes of the pastry cutter, just until the dough begins to stick together and come away from the sides of the bowl. Turn onto a lightly floured work surface and press together to form a disk. Wrap in plastic and chill for at least 20 minutes.
Allow the dough to warm slightly to room temperature if it is too hard to roll. On a lightly floured board (or countertop) roll the disk to a thickness of ⅛ inch (.3 cm). Cut a circle about 2 inches (5 cm) larger than the pie plate and transfer the pastry into the plate by folding it in half or by rolling it onto the rolling pin. Turn the pastry under, leaving an edge that hangs over the plate about ½ inch (1.2 cm). Flute decoratively. Chill for 30 minutes.
Preheat oven to 350ºF (180ºC). Line the crust with foil and fill with metal pie weights or dried beans. Bake for 20 to 25 minutes. Carefully remove the foil and continue baking for 10 to 15 minutes, until golden. Cool completely before filling.
Making the filling:
Bring the water to a boil in a large, heavy saucepan. Remove from the heat and let rest 5 minutes. Whisk the sugar and cornstarch together. Add the mixture gradually to the hot water, whisking until completely incorporated.
Return to the heat and cook over medium heat, whisking constantly until the mixture comes to a boil. The mixture will be very thick. Add about 1 cup (240 mL) of the hot mixture to the beaten egg yolks, whisking until smooth. Whisking vigorously, add the warmed yolks to the pot and continue cooking, stirring constantly, until mixture comes to a boil. Remove from the heat and stir in butter until incorporated. Add the lemon juice, zest and vanilla, stirring until combined. Pour into the prepared crust. Cover with plastic wrap to prevent a skin from forming on the surface, and cool to room temperature.
Making the meringue:
Preheat the oven to 375ºF (190ºC). Using an electric mixer beat the egg whites with the cream of tartar, salt and vanilla extract until soft peaks form. Add the sugar gradually, beating until it forms stiff, glossy peaks. Pile onto the cooled pie, bringing the meringue all the way over to the edge of the crust to seal it completely. Bake for 15 to 20 minutes, or until golden. Cool on a rack. Serve within 6 hours to avoid a soggy crust.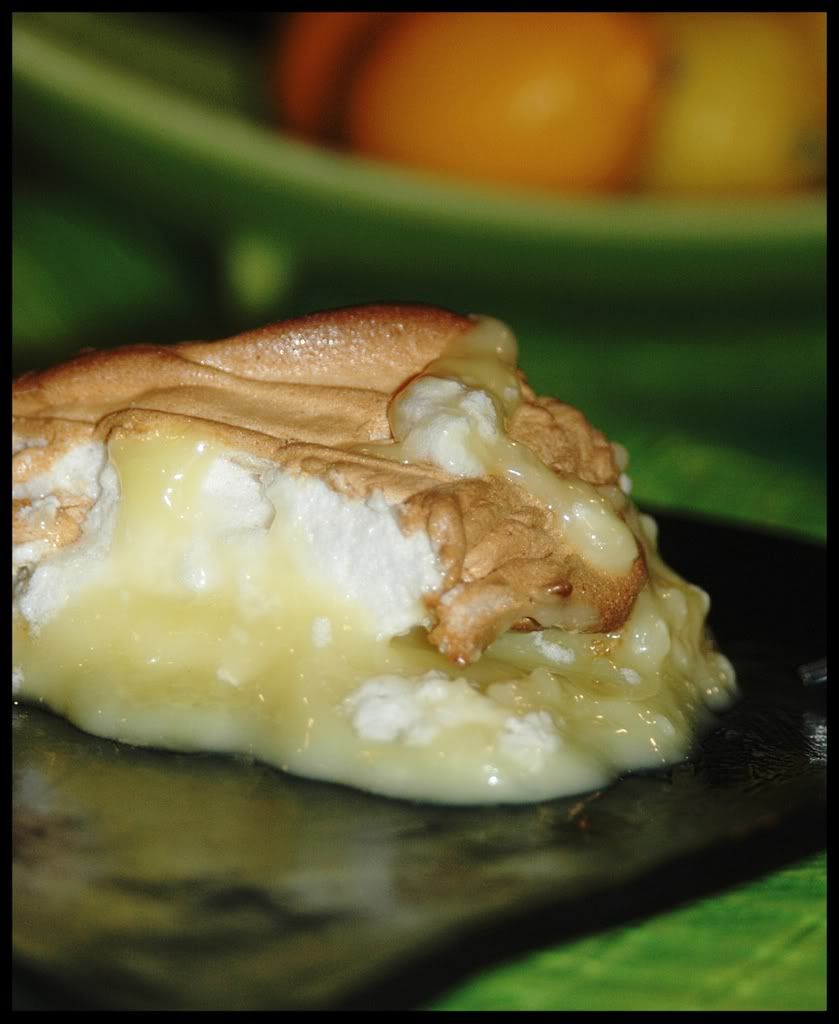 Opinion?
The pie turned out great! The crust is perfect (I nosh as I type :)), I think letting it cool to room temperature before adding the filling made a huge difference. The pie did get mushy as it sat around, but the crust stayed reasonably crisp. And the meringue turned out great. Still, too much of meringue for me, but as a one-off dessert, I like it :) The lemon filling is fabulous - really rich and decadent, but incredibly satisfying and tangy. And I'm really glad I used Meyer lemons, the sweet-tart flavour is perfect.
Is this going to be a repeat?
The lemon pie definitely is - more likely as tartlets, think I'll skip the meringue next time around. Also, I like my usual pie crust recipes better than this one.
The world of DBC!
There are over 450 daring bakers out there now. Can you imagine how many pounds of lemon meringue pie that equates to?! *wow* Please check out our blogroll - there are so awesome attempts out there.
Many thanks to Jen for this recipe - given how I waited till the last minute to finish this challenge, the recipe was totally on my side all the way! :)