Yeesh! Seems like I'm cooking a lot more than I have time to blog about - hate it when that happens and I don't get to write about what I made before it slips my mind. That is actually one of the things I love about blogging - I can keep track of my recipes, the variations I incorporate and the new ones that I whip up and often seem incapable of remembering for more than a couple of days! It often seems like my memory retention of a recipe is inversely exponentially proportional to how well something turns out! Crazy, huh? :)

Anyway, sometime last week, I was craving desi flavours, but wanted to try out something I hadn't made before. With constraints like not wanting to hit the store and started to get hungry, I started poking around my collection of postcard cookbooks - these are what I call the 4"x6" desi cookbooks (by Nita Mehta) that focus on specific cuisines and have a plethora of regional recipes. The instructions are not always cogent, but they are quite workable and end up being a great learning experience of regional indian cuisines.

It is always fun to encounter desi recipes from different regions - with very different names and sometimes containing diverse ingredients that end up looking and tasting quite similar to each other. Think about Punjabi kadhi and the south indian mor kozhambu - very different, yet very similar. As I perused the Rajasthani postcard cookbook, I found another recipe that belongs with these two - Dahi Shorba. It is touted as a yogurt soup with mouthwatering spices and sounded like part of the perfect meal. To complement this, I went with a simple curry of snake gourd - I'm used to eating this in a koottu, but figured a curry heavy with some boiled channa dal might do the trick.



Dahi Shorba
Spicy yogurt soup


Servings: 1
1 cup homemade dahi (or any thick yogurt)

1 t besan flour

1/4 cup water

1/2 t red chilli powder

1/2 t turmeric (haldi powder)

1/4 t amchoor powder
1/2 t salt

1/2 t sesame oil

1/2 t mustard seeds (rai)

1/4 t asafoetida

4-5 curry leaves

1/2 t grated ginger

chopped cilantro for garnishing


Mix the curd, besan, water, red chilli powder, turmeric, amchoor and salt.
Beat this mixture well and run through cheesecloth or a fine sieve.
Heat the oil in a saucepan, add the mustard seeds.
Once it splutters, add the asafoetida, curry leaves and ginger.
Add the besan-curd mix into the saucepan, stir till it boils and continue to simmer for 2-3 minutes.

Garnish with the chopped cilantro.
Servings: 2


2 short snake gourds - deseeded and cut into small pieces
1 large green chilli - cut into small pieces

1 t mustard seeds

1 t urad dal

2 T channa dal - soaked for 10 minutes in boiling water

1 T dried coconut flakes

salt to taste

1/2 asafoetida (hing)

1 t sesame oil


Heat the oil in a wok, add the mustard seeds.
Once the seeds splutter, add the urad dal, asafoetida and green chilli pieces.
Drain the water from the channa dal and add it along with the coconut.
Cover and cook on low for 6-7 minutes.
Season with salt.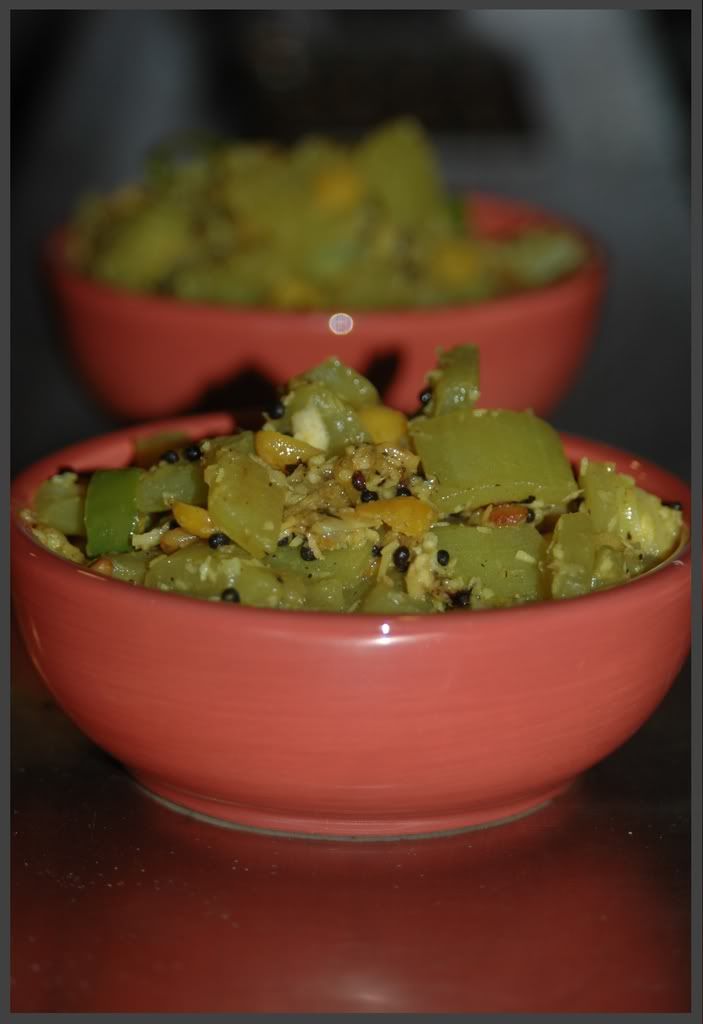 Opinion?


The dahi shorba was fabulous - had flavours similar to kadhi, but felt much lighter. Can't wait to make this again!
The snake gourd was yummy - like always! I think I prefer the koottu version, but this turned out to be a healthy and tasty alternative. Plus it went well with the shorba! *yay*
I'm sending these off to Claudia from
Fool for Food
as my WHB entry for this week.
WHB
(
Kalyn's
brainchild ) is a fabulous weekly event focusing on vegetables, herbs, flowers and plants.