Homemade burgers have got to be one of the most cooking fun projects ever. Not only do they make for a tasty alternative way to work with varieties of beans, it is so cathartic to make those "burger-dough" rounds and flatten them into patties. Hmm ... burger dough - is there an official word for that? :)

Black bean burgers have always been a favourite - all the more since I've managed to perfect that recipe to a science! This time around, I wanted to work with kidney beans - so incredibly earthy, chewy and flavourful. And I was contemplating making these patties vegan - just a little olive oil, maybe use soy flour instead of indulging in bread crumbs as a binding agent.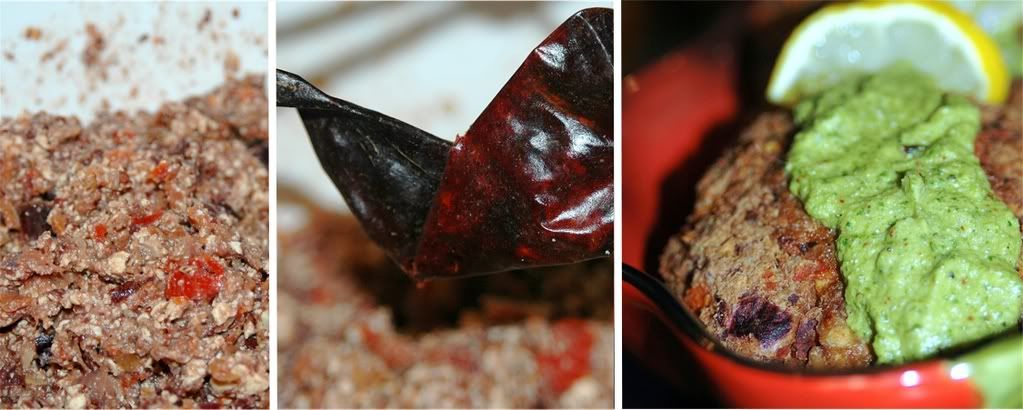 Every once in a while, impromptu cooking works to perfection - no recipe to work off of, we just start throwing stuff together and things fall into place. Ingredients mingle and dance, flavours stand out, all happy goodness! Love it when that happens! Don't you? :)

As the burgers started coming together, I started wondering about making some kind of dressing to go with it -maybe an aoili? I realized I had a slew of sunchokes from PO that I was yet to try out in anything but a salad - was there anything I could do with it?

The first time I saw sunchokes, I couldn't help but wonder "What are these crazy things? They kind of look like round wonks of ginger, but they're not. They smell super earthy. And they look *nothing* like artichokes! Hmmm ...." Well, a dig into Joy of Cooking told me more about them:

The Jerusalem artichoke, also known as a sunchoke is the tuber of a native sunflower. And it has no relation whatsoever to Jerusalem, the tuber was originally named Girasole by the europeans who discovered it. The current name is some kind of folk pollution of Girasole which is the italian word for sunflower. Yay for vegetable etymology! :)

Ok, back to our dressing - it kind of evolved naturally - with a mix of sunchokes and garlic, a dash of vinegar, some hot sauce, feta cheese ...


3-Chilli Burgers with Sunchoke-Garlic Chutney
3 kinds of chillies? Wooooo!
***

Servings: 10-12
1 can of kidney beans - drained
1 onion - chopped
1 red bell pepper - chopped
2 carrots - chopped
1/4 cup walnuts
1/2 block (200 gms) of tofu - finely shredded (we use
Nasoya
extra firm tofu)
2-3 T soy flour
1 guajillo chilli
1 dried indian red chilli
1 chili padi (thai bird's eye chilli pepper)
1 t olive oil
1 t cumin seeds
salt for seasoning
Heat the oven to 350 F.
Heat the oil in a wok and add the cumin seeds.
Once they splutter, throw in the onions and saute till browned.
Now add the bell peppers, carrots and walnuts and saute for 1-2 minutes.
Add the kidney beans after rinsing and discarding the water and saute for another minute.
Run the veggies+beans through a food processor to make a coarse, chunky mixture.
Mix in the shredded tofu.
Roast the 3 chillies till they start to brown - grind them into a coarse, sticky powder.
Mix this powder along with salt into the bean mixture.
NOTE:

You might want to check the spice level as you add this chilli powder. We like it super hot, you may not :)
Add the soy flour, 1 T at a time, mixing constantly till the mixture looks firm enough to be made into patties.
Lightly grease a baking tray lined with foil.
Make a ball of a handful of the "burger dough" at a time and flatten it into a thick patty and place it on the baking tray.
(This mixture freezes really well too, in case you don't want to make it all into patties right away)
Bake the patties at 350 F for about 12-14 minutes till they feel firm.
***

Sunchoke Chutney
sunchokes ... garlic ... parsley ... feta ... mmm!
4-5 sunchokes - peeled and chopped
5-6 garlic cloves - peeled
1 green chilli - chopped
2 T red wine vinegar
1 cup curly parsley

1/4 cup feta cheese (we used a reduced fat version)
Cook the sunchokes, garlic and green chilli in a covered saucepan with the red wine vinegar for 3-4 minutes.
Once cooled, grind the vegetables along with the parsley to a fine paste.
Mix in the feta cheese and season with salt, maybe even a dash of chilli powder.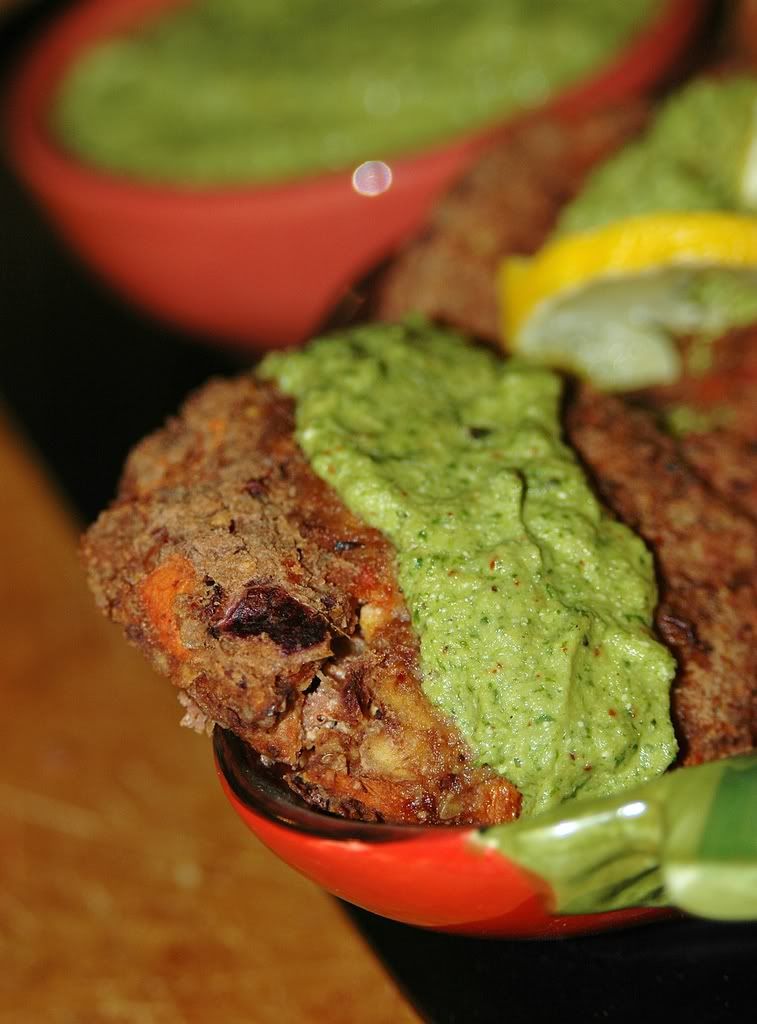 What did we think?
These burgers rock! So simple, yet so tasty! I think they're my current favourite now - yes! I choose them over the black bean ones!
As for the sunchoke chutney - it was fabulous - one of the best dips *ever*! Creamy, earthy, a vague artichoke flavour, love it.
***

More burger recipes:
Black Bean Burgers
Spicy Kidney Bean Burgers
@ Jugalbandi
Pav Bhaji Burgers
@ One Hot Stove
Chipotle Bean Burgers
@ We [heart] Food