Cold and wet outside.

Winds gusting.

Snow in the mountains.

Mmm ... something warm and earthy starts sounding good. Hot soothing liquid, full of flavour and spice.

This pretty much sums the mood that often prevailed over the last couple of weeks - this craving for "warm+spicy+soothing" led to several chili cookouts :)

So, is vegetarian chili an oxymoron?

Isn't chili the quintessential texan dish that is meant to have just beef, chiles and spices. Not mounds of chopped up vegetables. No peppers, not even beans! CASI apparently has really strict regulations about what goes into a chili and what doesn't.


The meat is the medium, but the chile is the message.
- Cheryl and Bill Jamison, Texas Home Cooking
And to paraphrase Didi Emmons: With vegetarian chili, we're just changing the medium, not the message!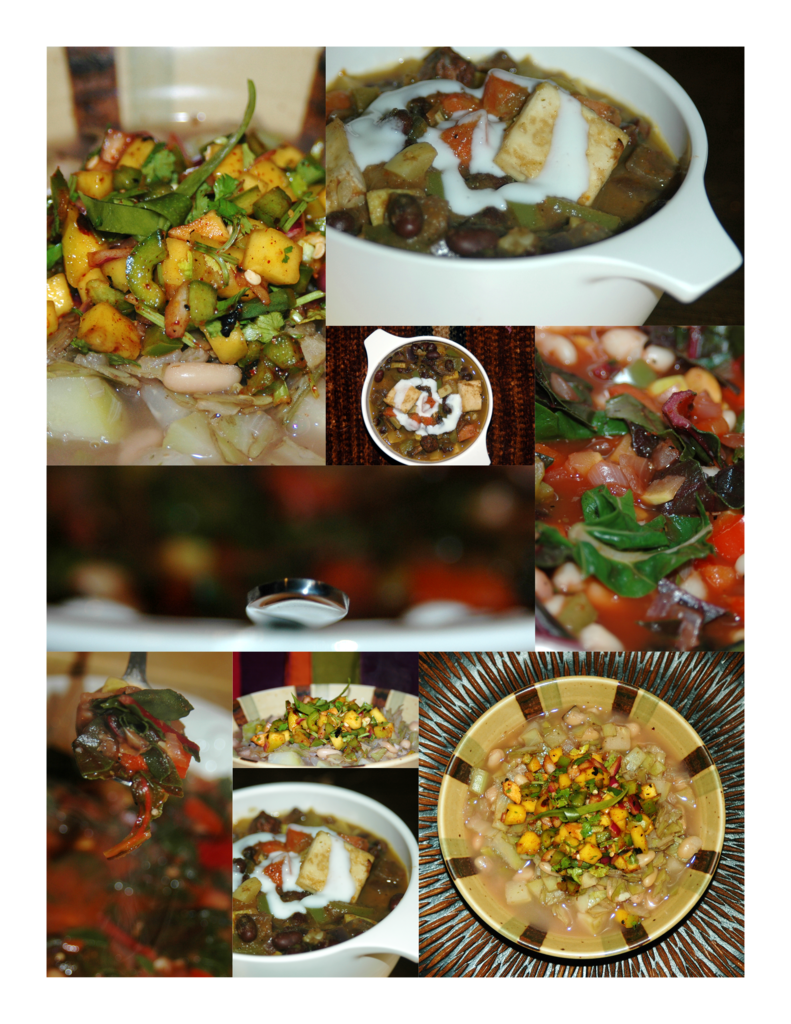 You say chile, I say chilli ...
Hmm ... I'm in a quandary of sorts as I type this post. There is chili - that fiery bowl of goodness. And there is chile - the peppers that define the chili. And there are chillies - what we use to refer to all the members of the Capsicum family. So many variations!
Anyway,
chile peppers truly rock! They're not just about heat, but about flavour. Every chile has its own unique taste, the flavour even varies depending on whether the chile is ripe or raw or dried or not. And they have fabulous aromas to boot! For the most part, atleast for veggie chili afficionados as well as non-traditionalists, just the plethora of chile flavours and smells seems to hit the spot. And once we start combining varities, the flavour level totally skyrockets. And we can't help but believe "Chile makes the chili, not the meat!" :)
White Bean Chili with Spicy Mango Salsa
Chili 1 (adapted from Didi Emmons' Vegetarian Planet)
Servings: 4
White Bean Chili

2 cups of dried navy beans
1 t olive oil
1.5 cups chopped onions
6 cloves of garlic - minced
3 cups chopped green cabbage
1 rutabaga - diced
1 t dried oregano
salt and pepper to taste
Soak the beans in cold water overnight.
In a large pot, cover the beans with water and bring to a boil. Cook 1+ hours till the beans are tender. A great alternative is to throw the beans into a crockpot and cook on low for a few hours.
Drain the beans and reserve about 3 cups of the liquid (add water if necessary to make up 3 cups).
In a heavy saucepan, heat the olive oil and add the onions.
Saute for about 5 minutes till softened.
Throw in the garlic and cabbage and saute for another 5 minutes.
Now add the reserved bean liquid along with the rutabaga, salt and oregano. Cook for 15+ minutes till the vegetables are tender.
Mix in the beans along with freshly ground pepper.
Spicy Mango Salsa
1 large guajillo pepper
1 pinch of freshly ground ancho pepper
1/2 semi-ripe mango -diced
1/2 green bell pepper - finely chopped
1/2 red onion - finely chopped
1/4 cup lime juice
1/3 cup chopped cilantro
salt to taste
Mix all the veggies and spices in a large bowl.
Using tongs, hold the guajillo pepper over a medium flame until it gets charred.
Once cooled, pound the chile using a pestle and add the powder to the salsa.
Season with salt.
Serve the chili in large bowls, topped with a few spoons of the fiery salsa.
Opinion?
*good*! The salsa was my favourite part of it all :) I think the chili itself could have used a little more flavour/spice, but then again, I'm the one who buys a new bottle of hot sauce pretty much every second week! :)
***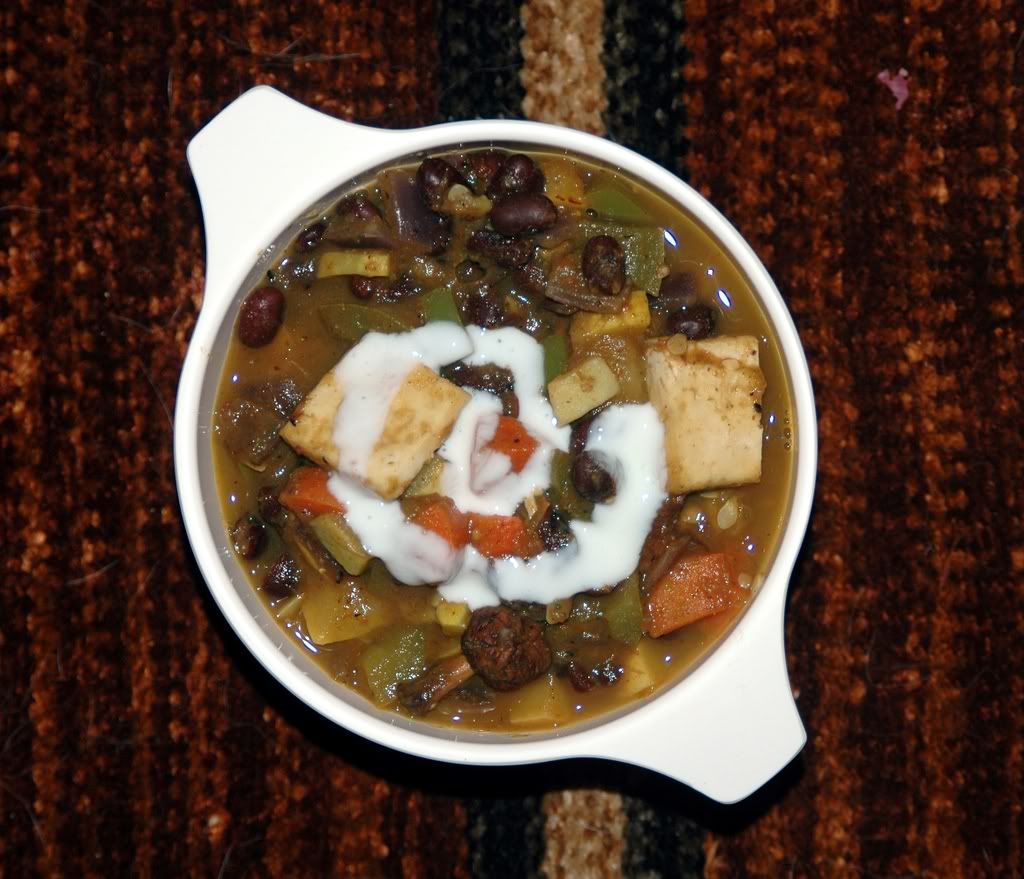 Chili Verde (of sorts!)
Chili 2 - (adapted from Joy of Cooking by Rombauer & Becker)
Servings: 3-4
1/2 onion - chopped
1 cup chopped carrots
1 cup chopped yellow squash
1 cup chopped bell pepper
3 cloves of garlic - minced
3-4 fresh chile peppers - I used these long not-super-spicy chillies I found at the indian store
4 T chopped cilantro
1/2 semi-ripe mango - chopped into chunks
15-20 cherry tomatoes
1 can black beans (drained)
1 block of tofu - diced
1 T coriander+cumin powder
1 t olive oil
salt to taste
Grind the chile peppers, mango, tomatoes and cilantro into a puree.
Heat the oil in a saucepan and saute the onions and garlic for a few minutes.
Add the carrots and saute for 2-3 more minutes.
Throw in the bell peppers and squash and saute for another 3-4 minutes.
Add the coriander and cumin powders along with the black beans and stir.
Pour in the puree and cook covered for 10-12 minutes.
In the meantime, spray the tofu bits with some olive oil and toast till the edges get crispy.
Throw the tofu into the chili and stir for a few more minutes.
Season with salt and maybe some red pepper flakes if you want more zing!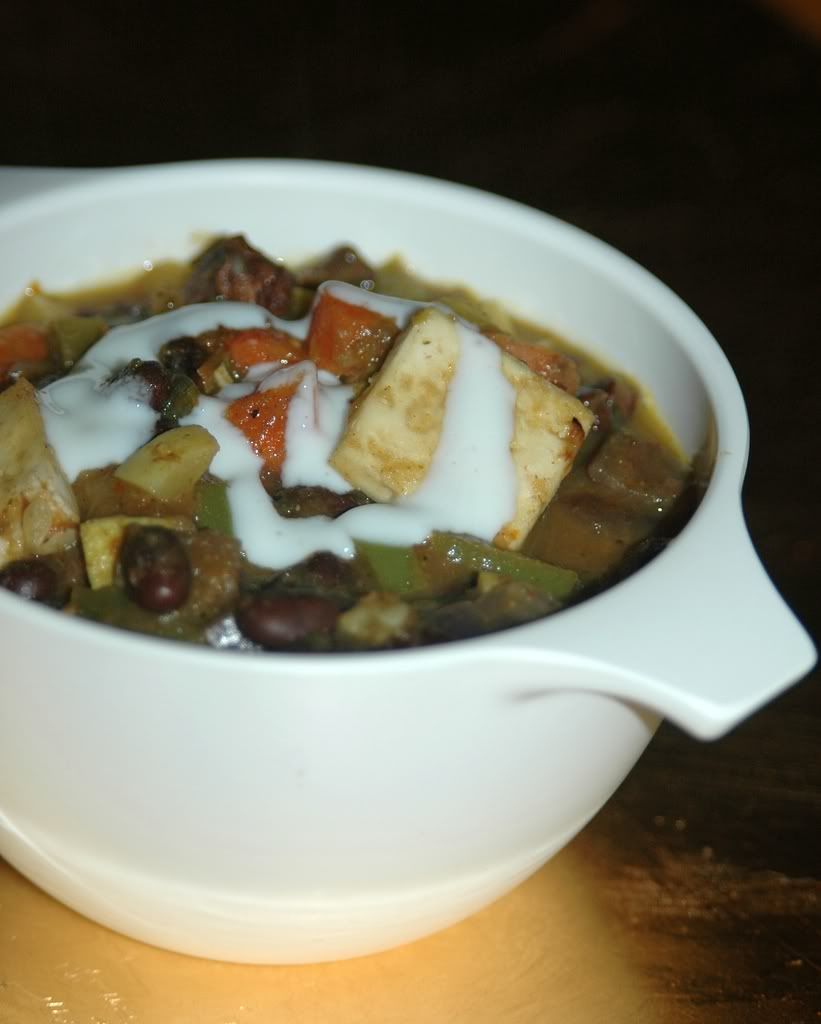 Opinion?

Hmm ... this was good too! I think the tofu was a little overwhelming - maybe I added too much. I'll definitely try this again and scale back on the soy love. Otherwise, the flavours were great - the spicy mango+tomato+cilantro was really good - totally worth a reuse as a gravy for other veggies.
***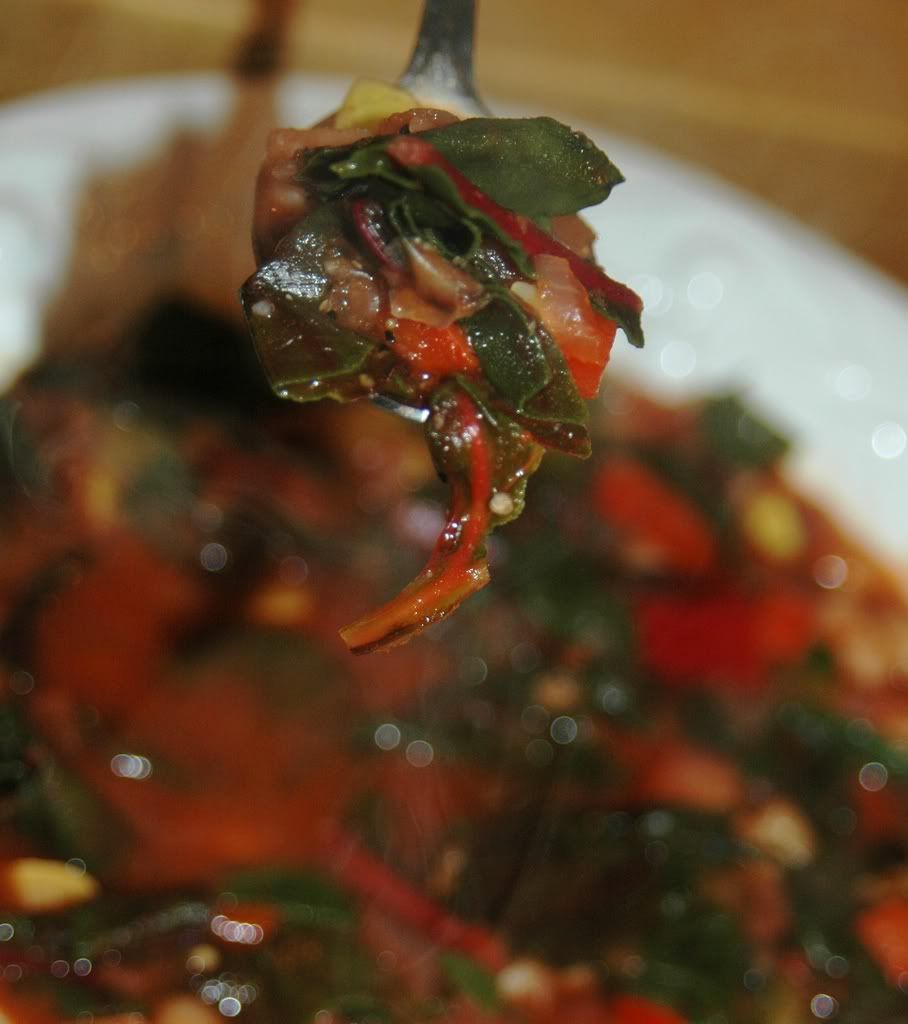 Veggie Chili with Rainbow Chard
Chili 3 (the recipe was pretty much whipped out of my behind!)
Servings: 2
1/2 cup red onions - chopped
4 cloves garlic - minced
1 can cannellini beans
3 vine tomatoes - blanched and pureed
1 bunch of rainbow chard - chopped/shredded
1/2 red bell pepper - chopped
1" ginger - grated
1 t olive oil
1 t cumin powder
1 large ancho chile
1 arbol chile
salt to taste
In a large saucepan, heat the oil and saute the onions.
Once they get translucent, add the ginger and garlic and saute for a couple more minutes.
Add the bell pepper and saute for 2-3 minutes.
Now throw in the chard along with the tomato puree and cook covered on low for 10+ minutes.
While the veggies are cooking, char the ancho and arbol chiles over a medium flame till they get charred.
Grind the charred chiles into a fine powder and add to the veggies.
Stir in the cumin powder and season with salt.
Serve with a dollop of sour cream or just garnished with chopped cilantro.
Opinion?
Yum! I think this was my favourite chili - the perfect consistency, flavours well blended and lots of chard goodness!
***

Wow! This is serious legume overdose! Which means this post gets shipped off to Susan, the well-seasoned cook for My Legume Love Affair. Yum!