Earthy, pungent, nutty, meaty, garlicky ... the range of adjectives go on! Yes, we're talking about mushrooms here - that whole world of dark, dingy fungi that taste *so* good!

I've never been a big fan of mushroom soups - most of them seem so creamy and heavy, a few spoonfuls and I'm sated. But Vegetables and Vegetarian Cooking made me think again. As I was flipping the pages, this homemade mushroom soup recipe caught my eye. It looked pretty light and flavourful, so I had to go for it. With a couple of variations of course!

The original recipe called for white mushrooms as well as shiitake - I skipped the white mushrooms since I wanted my favourite shiitake to dominate the flavour of the soup. Also, instead of using rice, I went for a bunch of grated toasted tofu instead - this served as the perfect base for the soup! And yes, I skipped the celery -wouldn't be caught dead eating it!



Homemade Mushroom Soup
A whole lotta shiitake love!
Servings: 2
1 cup sliced shiitake mushrooms
1 t safflower oil
1/2 white onion - chopped
2.5 cups of water or vegetable stock
1 T soy sauce
1 cup tofu
1/2 cup milk (optional)
freshly ground black pepper
salt to taste
Garnish
chopped fresh cilantro
sliced almonds
Grate the tofu, place it in a baking pan, spray with oil spray and broil till the tofu gets browned.
Put the mushrooms in a large saucepan with the oil and onions.
Heat until sizzling, then cover and simmer for 7-8 minutes, shaking the pan occasionally.
Add the stock or water, soy sauce, broiled tofu and seasoning.
Cover and simmer gently for 10-12 minutes, until the vegetables are cooked.
Run a blender through the soup mixture and coarsely process it leaving small chunks behind.
Stir in the milk (if desired), reheat until boiling and taste for seasoning.
Serve hot, sprinkled with some cilantro and chopped almonds.

We ate this with a light salad of spicy rocket, apples and walnuts in a sesame-soy-orange dressing.
Variation
An alternative is to strain and reserve the soup liquid and process the chunks in a food processor before adding it back into the saucepan - this will make for a much smoother soup.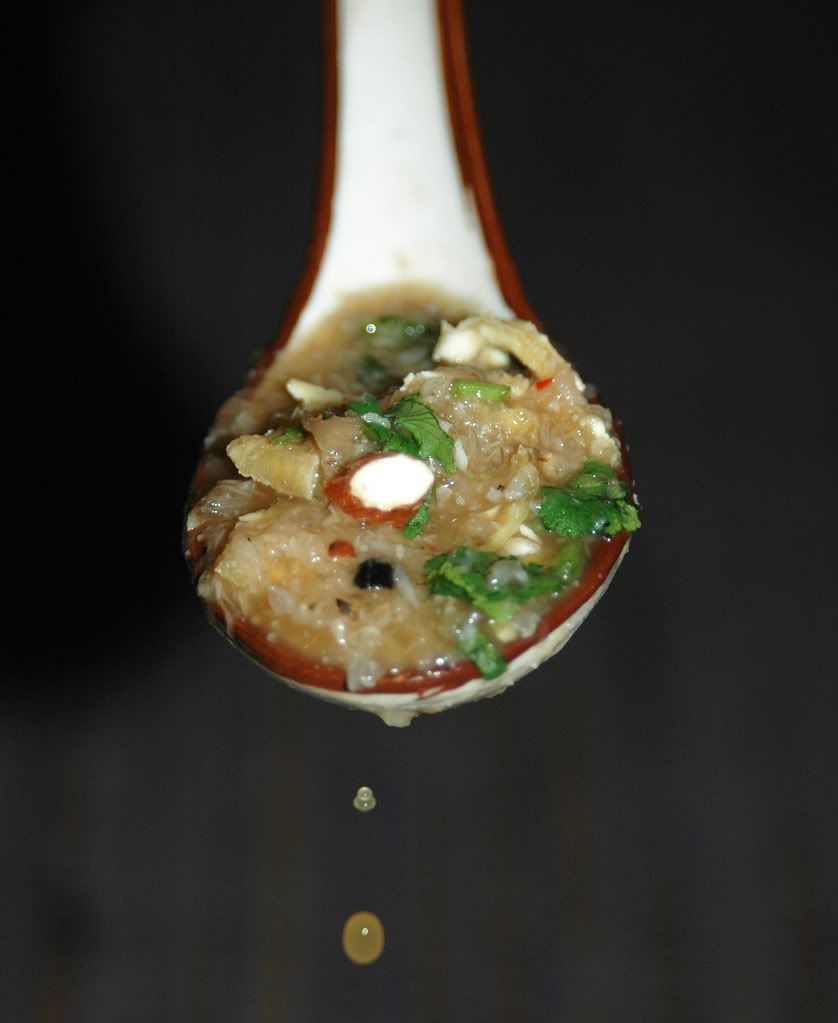 Was it any good?
Mmmm ... mushroom love all over again! And the tofu was really a killer idea - the slightly charred tofu perfectly complemented the delicate flavour of the shiitakes.
Related posts:
Mushroom Sabji
Mushroom and Asparagus Pulao