What do you do when your fridge seems to be bordering on empty and you're too hard-pressed for time to contemplate going shopping?

(1) Call a friend or sibling and shamelessly pile on for dinner
(2) Run to the first restaurant you can think of
(3) Order delivery
(4) Force yourself to drag your lazy ass to the grocery store
(5) Close your eyes, make a wish and check the contents of your fridge again :)

Guess which one I picked? Yep, #5 it was! I closed my eyes and willed my fridge to become a cornucopia! I opened my eyes and dug around the fridge again ... well, it didn't quite become a horn of plenty, but I did remember to check my freezer this time. Lo! An assortment of frozen greens left over from an overabundant PO delivery! Weeeeee!!! Could I ask for more?

So, the fabulous freezer of plenty had 3 varieties of greens - kale, collard and beet. Hmm ... a green soup? And I found one plump juicy heirloom tomato waiting to be eaten ...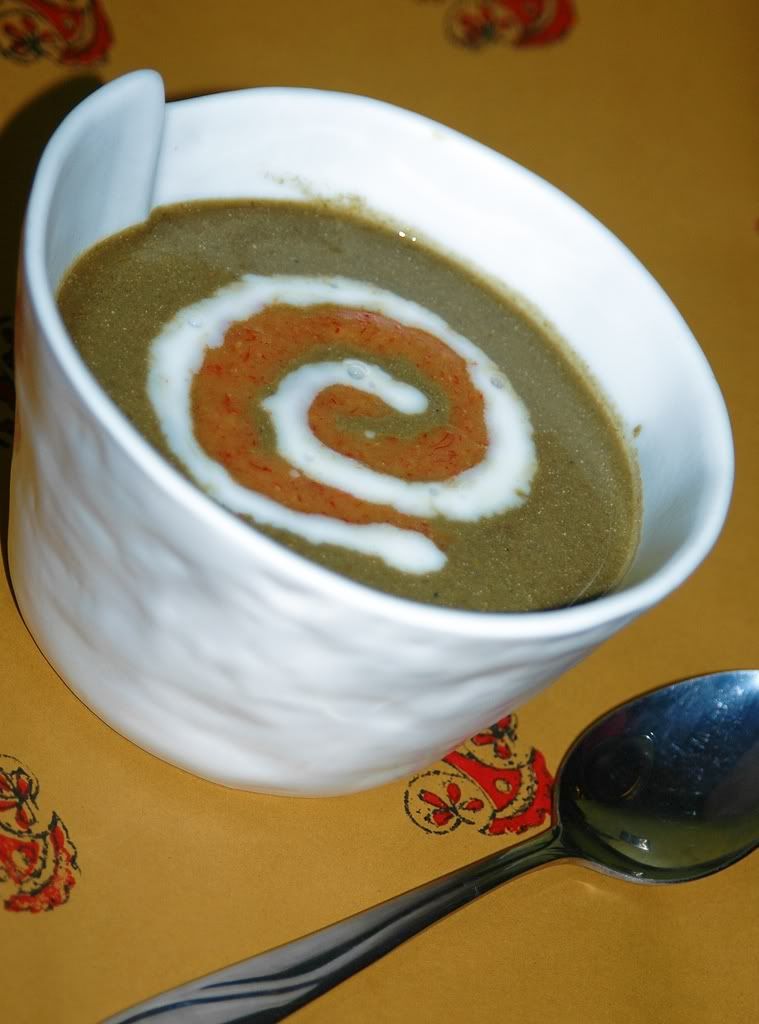 Swirly 3-Greens Soup
A red swirl ... a white swirl ...



Servings: 2

Soup

1 cup chopped collard greens
1 cup chopped beet greens
1 cup chopped kale
1/2 granny smith apple - chopped
1/2 cup dry curd cottage cheese (I used Sunshine)
1 t olive oil
1 t cumin seeds
1 t cayenne powder
salt

Heat the oil in a saucepan and roast the cumin seeds till browned.
Add the chopped greens and apple bits along with 1/2 cup of water.
Cook covered on medium-low for 8-10 minutes till the vegetables are softened.
Once cooled, puree the mixture along with the dry curds, adding enough water to get the right consistency.
Bring the mixture back to the stove, add the salt and cayenne and simmer for another 1-2 minutes.

Swirly drizzle

1 small heirloom tomato
3 cloves garlic
1 T persian saffron
1 T lemon juice

Coarsely grind the ingredients to make the red drizzle. I used a spoon of buttermilk for the white drizzle.

To serve, ladle the soup into a bowl and top with the tomato and yogurt drizzles.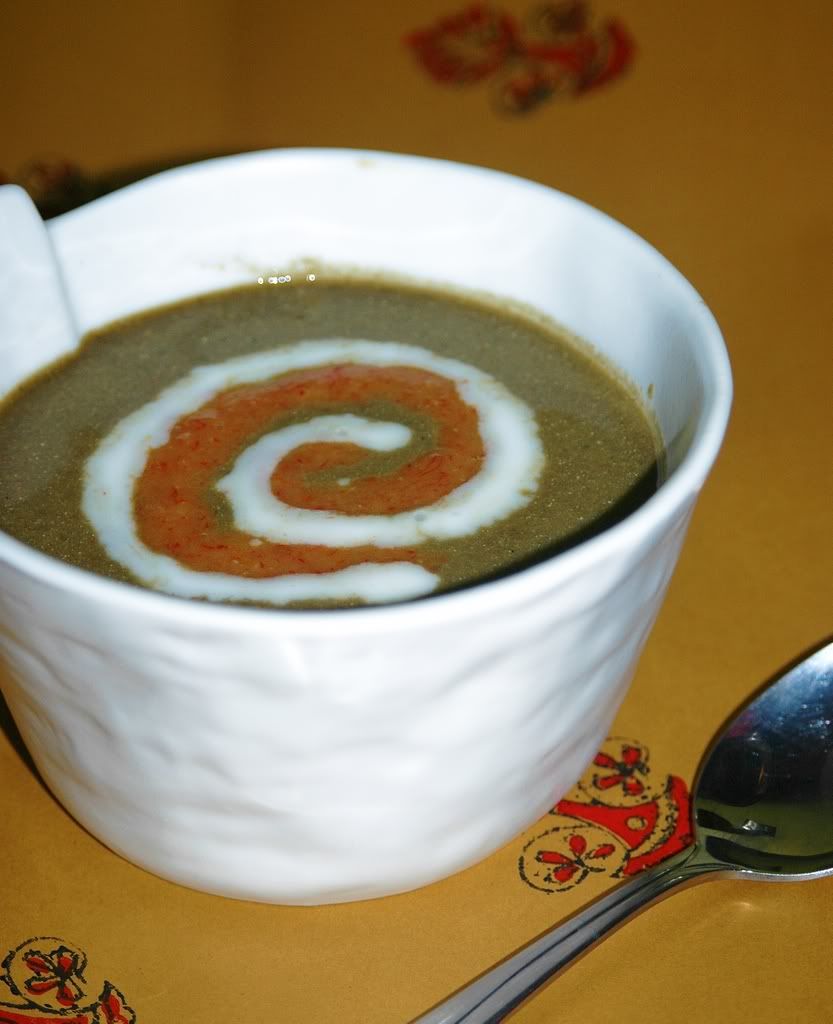 Happy?

*very*! This worked out way better than I expected! Lots of yummy green flavours, pungent seasoning, and a load of protein - those dry curds are pretty awesome!

This goes off to Zorra from Kochtopf for WHB (that fabulous Kalyn creation!)