This whole idea of trying out recipes from fellow bloggers is really fun - I've been indulging in this a lot more lately, sometimes trying to follow the recipe as closely as possible, other times I add my twist - as is what I often do with most recipes :) Either way, it is always really exciting to try something suggested by a fellow blogger, see how it turns out and be able to talk about our successes and misadventures.

So, when Chris suggested that I should check out Taste & Create started by Nicole, I was intrigued. This event basically pairs up food bloggers who proceed to try out a recipe (any recipe) from each other's blogs. The first time I checked out the list of bloggers who were interested in trying this out, I realized there were *tons* of folks out there who I had never visited. Obviously, we all reach a saturation point in terms of how many blogs we can check out, how many posts we can read, how many comments we can submit, even how many recipes we can try out! But the whole random pairing aspect of this event seems pretty neat - the way I look at it, I might be hooked up with a blogger whose food tastes vary vastly from mine, but an event like this could entice me to expand my horizons and try out something I wouldn't have stumbled upon otherwise. Or maybe I would just find a totally new twist to something I've made many times over!

Well, the latter is what happened in my first Taste & Create experience. I was partnered with Katie who blogs at Other People's Food - sounds like her blog is tailor made for the Taste & Create experience :) Katie seems to be awfully versatile at picking really interesting recipes from fellow bloggers and trying them out - something I've been attempting to do a lot more of lately. Thanks Katie, for being an awesome blog-discoverer :)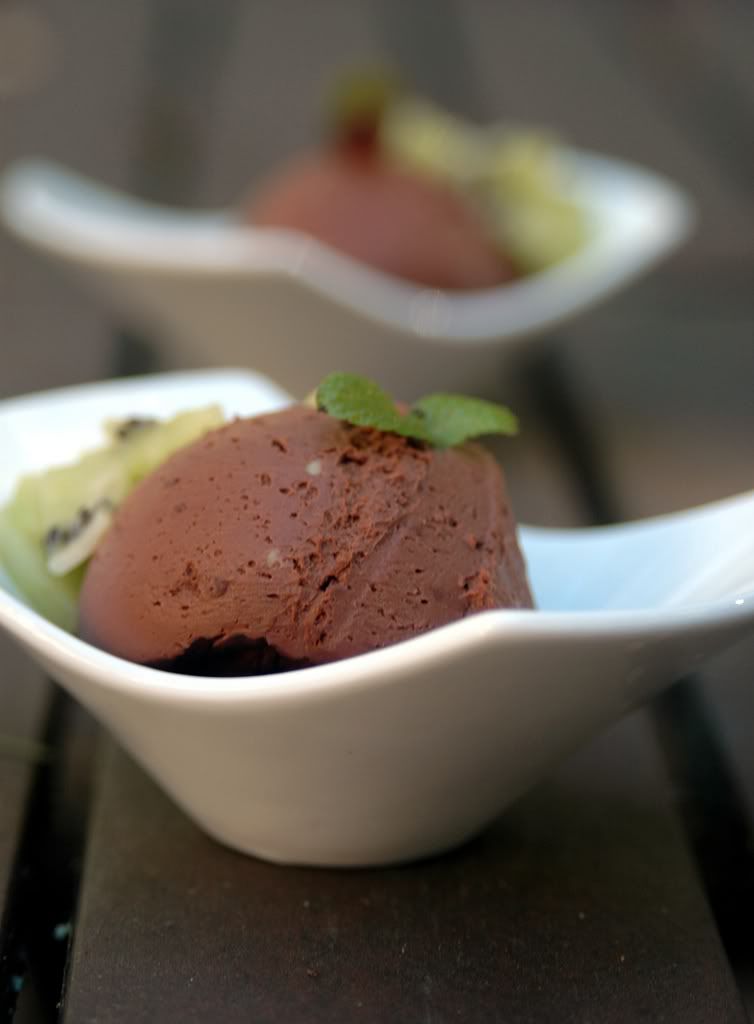 As I was being sorely tempted by all the delicious fish recipes on Katie's site, I stumbled on this post about chocolate tofu pudding. Chocolate + tofu? Sounds a bit insane! The recipe calls for using silken tofu - something I've started experimenting with in soups and sauces, it even works as a great option for making a light version of a flaky pastry shell - more about that in the week to come.

So, I went ahead and tried out Katie's recipe - I ended up using molasses instead of maple syrup and stuck with dark chocolate chips instead of a combination of semi-sweet and dark. Simple, elegant, easy.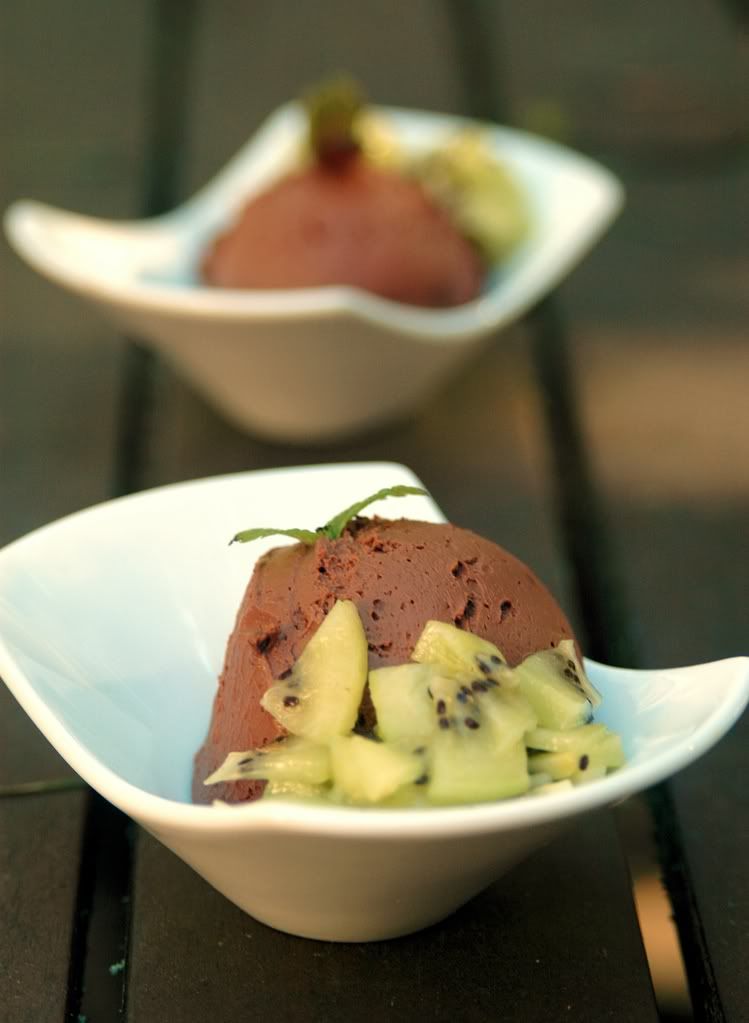 Chocolate Tofu Pudding
Silken chocolate? Can it get any better?!
Servings: 2
1/2 container of silken tofu (200 gms)
2/3 cup of dark chocolate chips (Guittard is divine, Ghirardelli works too)
1 t molasses (I used this instead of maple syrup)
1 t vanilla extract
Heat the chocolate in a double boiler till completely melted.
Stir in the molasses and vanilla extract till smooth.
I noticed that the molasses increased the thickness of the chocolate dramatically and it took a ton of effort to keep stirring it to keep it smooth! Totally unexpected side effect :)
Beat the silken tofu to a smooth paste and stir it into the chocolate mixture.
I noticed that the tofu still seemed a bit chunky after stirring it into the chocolate, so I ended up running the mixture through a blender again before pouring it out into ramekins.
Chill for atleast an hour.
Whoa! The pudding ended up being super thick and creamy! I'm assuming the molasses had a lot to do with this. Sweet! :)
Serving suggestion:
Ladle a scoop or two of the pudding into a bowl along with a side of chopped kiwis. Garnish with a sprig of orange mint.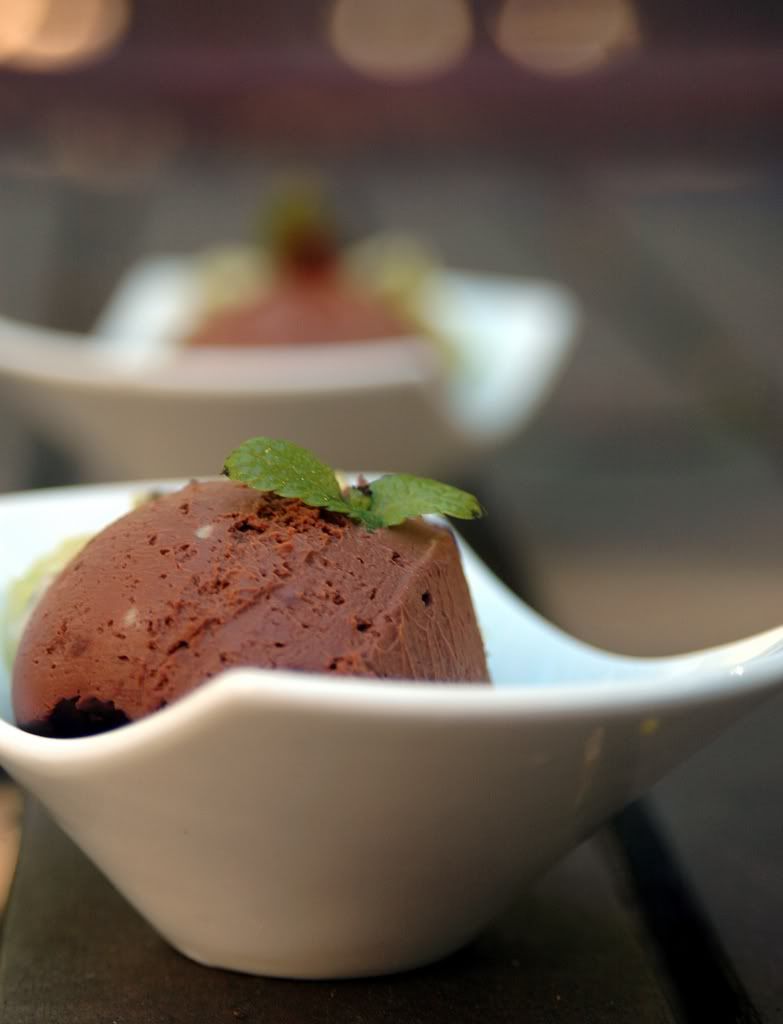 Opinion?
Oh.My.God.
This was fabulous! Creamy, smooth and fabulously decadent! And to think that I added no fat other than what the chocolate had - this whole silken tofu + molasses mojo makes me super happy! I can't wait to play around more with these.

Thanks Katie & Nicole for a really fun Taste & Create experience!