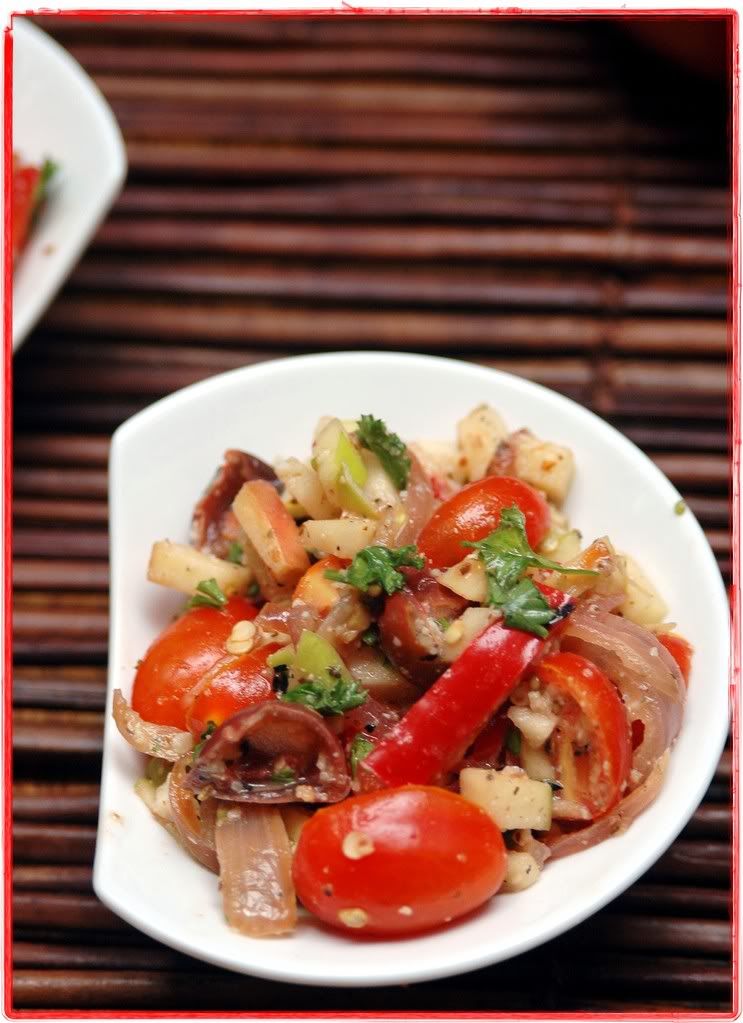 No, I'm *not* talking about any fabulous device from that AAPL :)

A couple of days ago, I stumbled upon An Apple A Day hosted by Rosella. Her story is incredibly poignant - after having a stroke at 30, she seems to be doing well now and totally enjoying writing about her life and travails on her blog. And this event is extra special to her - she wants March 3rd, the day she had a stroke last year to be a celebration of healthy living and eating. It isn't any surprise that she chose to focus her event on apples along with a variety of other ingredients.



Even if I knew that tomorrow the world would go to pieces, I would still plant my apple tree.
- Martin Luther

King
And I'll be totally fine with that - can't quite imagine life without apples - guess that's one of the best things about living in Washington :)
Apples, to no surprise, are way up there in terms of being a tasty source of goodness. They're full of soluble and insoluble fiber, the skin has a ton of Vitamin C, the pulp contains
phenolic
compounds ... and they're super delicious to boot!
It didn't take much effort to find a fun recipe showcasing apples and a couple of other ingredients from Rosella's list. I was initially thinking of a dessert, but figured a salad was a much healthier idea. This Moroccan salad seemed like the perfect option, brimming with sweet and tart flavours and some spice.
Servings: 2 as an entree, 4 as an appetizer
1 Granny Smith apple - coarsely chopped
1/2 Gala apple - coarsely chopped
6-8 black cherry tomatoes - halved
20 sugar plum tomatoes - halved
1/2 red onion
1/2 red bell pepper
3-4 pepperoncinis - drained and chopped
10-12 almonds - coarsely chopped or ground
3 cloves garlic - crushed
2 T lemon juice
1 T chopped fresh curly parsley
1 t dried mint
1/2 t dried thyme
3 T red wine vinegar
1 t olive oil
salt
freshly ground pepper
Toss the tomatoes and apples with the lemon juice in a mixing bowl and let it sit for about 10-15 minutes.
Heat the oil in a wok and saute the onions.
Once browned, add the garlic and bell peppers and saute for another 3-4 minutes.
Add the contents of the wok into the mixing bowl and toss with the tomatoes+apples.
Add the chopped banana pepper and almonds and toss again.
Season with parsley, mint, thyme, salt and pepper.
Add the vinegar, 1 T at a time, checking the flavours before adding more.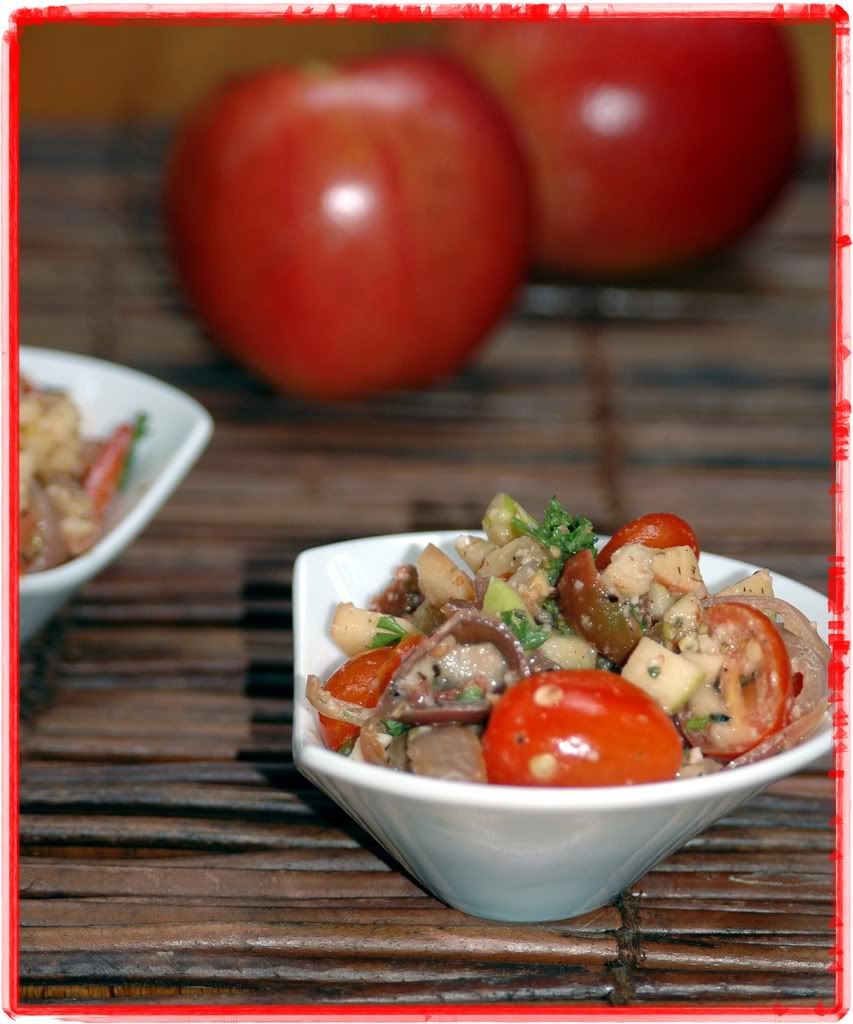 Opinion?
*yum*! Those moroccans know how to fix a mean apple salad. This was fabulous. And is fabulous (as I struggle to type while feeding my face) :)
Off this goes to Rosella - hope you feel better and may the good times roll!