The sandwich world can sometimes be a bare desert for vegetarians - often one, maybe two items on a menu at a sandwich joint might be veggie friendly. Can be such a pisser! Until we see one of those silver linings on the meat-filled sandwich cloud - those fabulous vietnamese sandwiches. Mouthfuls of crunchy, flavourful goodness. *sigh*

Tonight called for a quick fix. A quick, delicious fix. A quick, delicious and healthy fix. Hmm ... how about a Banh Mi Chay? That fabulous vietnamese sandwich. Wait, did I say that already?!

Well, like always, any meal calls for variations, right? This one was no exception. I realized I only had this absolutely fabulous multi-grain bread to work with, no hoagie roll - which is what the banh mi usually comes in. That's cool, multi-grain makes me happy, am sure them vietnamese folks wouldn't be too insulted if I used it! And I figured it would be fun to add a few more twists here - maybe some marinated parnsnips? And spinach instead of lettuce or cilantro? And how about some habanero mustard instead of mayo?



Banh Mi Chay of the day
A new look for the vietnamese favourite!
Servings: 2
4 slices of multi-grain bread
1/2 carrot - sliced into thin long strips
1/2 parsnip - sliced into thin long strips
160 gms of extra firm tofu (2/5 of a block)
a couple of handfuls of baby spinach
Marinade for tofu:
1 T sambal oelek (I make my own, but you can buy this at any store)
2 T soy sauce
2 T muscato vinegar
1 T coconut flakes
1 T minced garlic
Marinade for veggies:
1 T habanero mustard
2 T water
1 t soy sauce
1 T white vinegar
1 t horseradish paste
Slice the tofu into long thick strips about 1/2" thick.
Mix the tofu marinade ingredients, except for the coconut flakes.
Place the tofu in a baking tray, pour the marinade all over it and dust with the coconut flakes.
Broil the tofu till it gets browned.
Mix the marinade for the veggies and soak the carrots and parsnips in it for about 1/2 hour.
Toast the bread before assembling the sandwich.
Layer a handful of the spinach, then the tofu, followed by the veggies on a slice of bread.
Serve it open-face or top the veggies with a second slice of bread.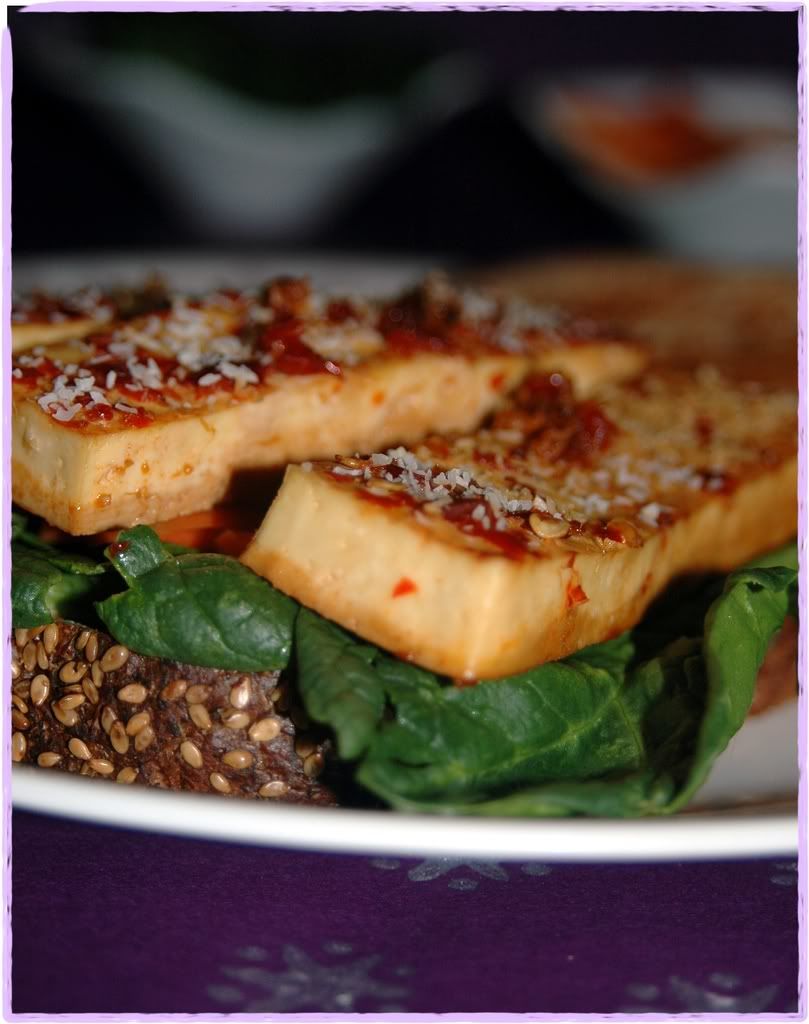 Opinion?
*yum*! This was seriously the quickest, easiest and tastiest sandwich I've had in a while. The coconut totally added a crispy kick to the tofu and marinade, the spinach was crisp and fresh, the parsnips added an earthy flavour - made for the perfect french countryside salad sandwich :)