If there was such a place, would it filled with fresh spinach, amaranth, rocket and many other greens? With crisp pears and apples, a plethora of nuts, varieties of olive oil, grapeseed oil, some truffle for fragrance? Maybe juicy meyer lemons and blood oranges? How about marinated beets and eggplant? *sigh* ...

Ok, I'm back! But it was so good to be romping around in that field of greens :)

I'm pretty sure I sound like I'm off the rocker, but this was just another of my crazy food dreams! I woke up with a smile and a serious hankering for some yummy salad. Which finally brings me to the subject of this post - a salad. Surprised, anyone?

Every once in a while, we want a salad that is a little more substantial than just greens with a variety of garnishes - especially if that is going to be lunch following a workout. After puttering around the fridge and assessing possible salad options, my eyes fell upon an eggplant. Hmm ... was I ready to risk it?


"How can people say they don't eat eggplant when God loves the color
and the French love the name? I don't understand."
- Jeff Smith (The Frugal Gourmet)
I grew up a picky brinjal eater - we only got the small ones in India and we referred to them as brinjals. Brrriiinnjjaaaalll ... hmm ... somehow that sounds waaay more interesting than eggplant, don't you think? Anyway, I only used to like the little ones stuffed and crispy. But I've learned to embrace the giant variety that we get here, but I still have my reservations about it being chunked up into a salad!!
After staring at Mr.Big Brinjal for a while, I finally decided to go for it - diced eggplants marinated for a few hours in a lemon-muscat vinegar dressing. That can't be too bad, right?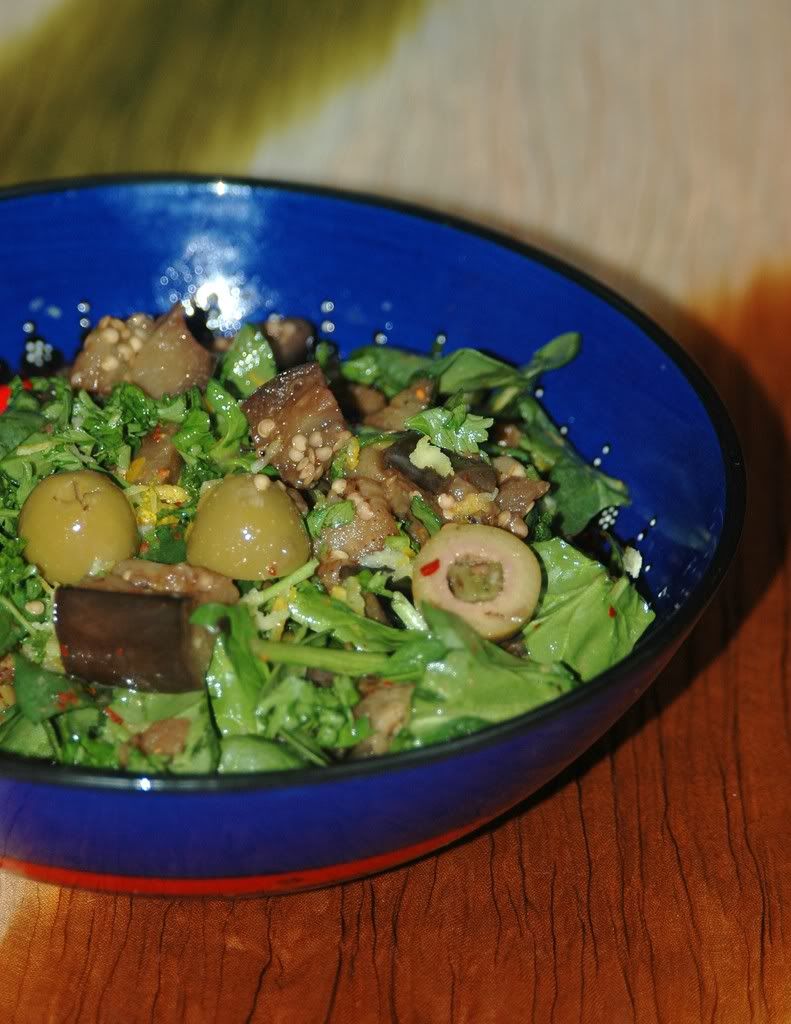 Lemony Eggplant and Spinach Salad
Ooo ... and it has olives too :)
Servings: 2
1 large eggplant - cut into 1" cubes
2 handfuls of baby spinach leaves - washed and patted dry
1 T olive oil
1 T red moscato vinegar

grated rind and juice of 1 Meyer lemon
10-12 green olives - halved (I used those awesome jalapeno stuffed ones)
2 T chopped curly parsley
salt and freshly ground black pepper
1 t red pepper flakes
Heat the oil in a wok and cook the aubergine for about 7-8 minutes, tossing frequently until golden brown. Add the vinegar and saute for a couple more minutes.

For the dressing, mix the lemon juice and rind, olives, parsley and seasoning.
Toss the aubergine cubes with the spinach and dressing till the aubergine pieces are coated with the dressing.
Add the red pepper flakes if you want a little more zing in your salad.
Opinion?
I bow to you, Mr.Big Eggplant - you can totally be the ultimate absorber of flavours! And that Meyer lemon kicks some serious ass!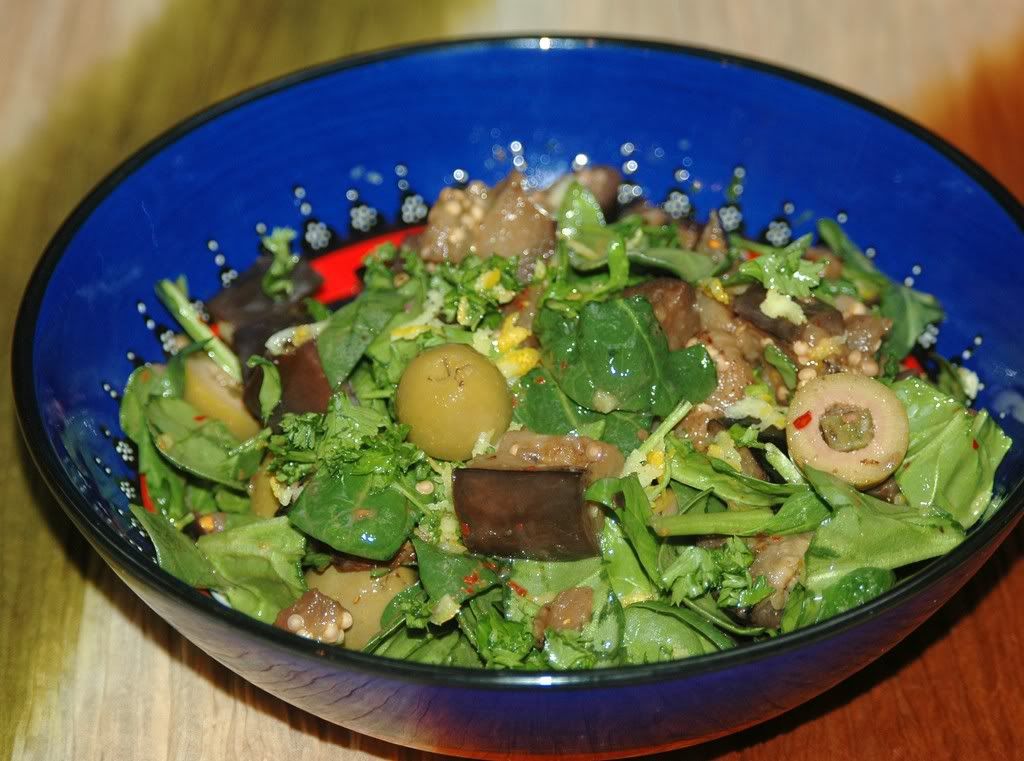 ***

Cook's Tips:
You could potentially shallow fry the eggplant in a little more oil, but I'm not a big fan of that.
The longer the eggplant soaks up the marinade, the better it tastes. This can totally be made a couple of days ahead and refrigerated. Just make sure that you return it to room temperature before serving - can't quite imagine cold eggplant *ick*

***

More salad recipes: