Wow! This is the longest blogging break ever. Long enough that I started going into withdrawal! Guess that's what happens when work mania takes over. Long hours, little sleep, and not enough cooking - that does not bode well for me!

Guess given how the drafts are piling up, it is time for another Mélange post. This time about a certified favourite subject - soups. We love soups - chunky, pureéd, spicy, hearty ... just bring it! And these bowls of goodness end up being even more appetizing on those cold snowy or rainy days - nothing like a cup'o'soup to warm the soul, huh?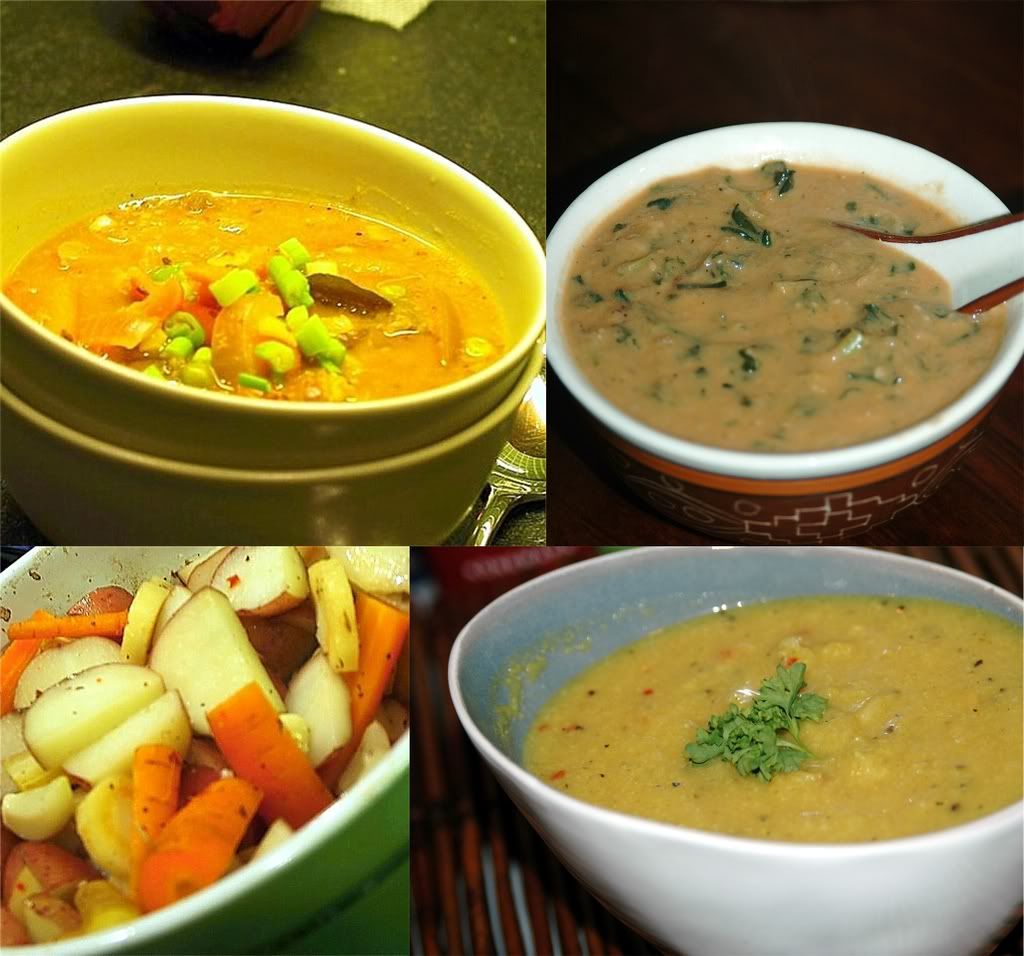 I'm actually having to rack my brains about these recipes as I start to type them up - we made them a few weeks ago and I never did get a chance to write about any of them. Guess that's just one more reason why this whole blogging mania is so awesome - the e-trail that I can use to look up recipes!

All 3 soups featured here are relatively chunky or thick - guess that was a sign of wanting to warm the insides on a cold evening! And all of them have a zing - be it cayenne or green chillies or a healthy dose of garlic. So, if you're hankering for a read about some spicy healthy goodness, you're home!


***


I'm sure cauliflower soups and bisques are a favourite in most households - who can resist the creamy, yet light flavours of this insanely cute looking vegetable? Yes, call me crazy, but I really think the cauliflower is a hottie in the world of vegetables! And this simple soup totally showcased the cauliflower - one of those recipes that completely relies on the quality of the vegetable rather than trying to force a plethora of flavours on it.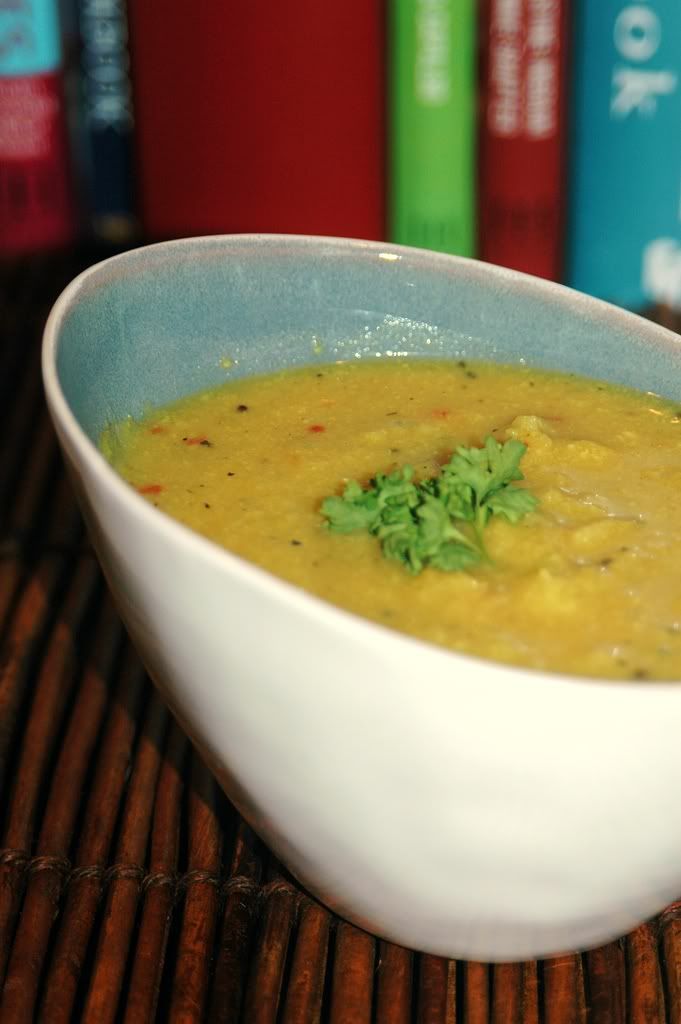 Servings: 4
1 small cauliflower - chopped
1 onion - chopped
1 T safflower oil
1 garlic clove - crushed
1 T grated ginger
2 t turmeric powder
1 t cumin seeds
1 t black mustard seeds
2 t freshly ground coriander
4 cups vegetable stock or water
1 cup nonfat yogurt
salt and freshly ground pepper
cilantro or parsley for garnish
Put the cauliflower and onion in a large saucepan with the oil and 3-4 T of water.
Heat till bubbling, then cover the saucepan and turn the heat down.
Cook the mixture for about 10 minutes.
Add the ginger, garlic and spices and stir occasionally for about 2 minutes.
Add the stock (or water) and season with salt and pepper.
Bring the mixture to a boil, then cover and simmer for about 20 minutes.
Once cooled, puree the liquid to a coarse texture.
Stir in the yogurt and simmer for 2-3 minutes.
Garnish with cilantro or parsley before serving.
Opinion?

Pretty good! We skipped using any potatoes, so the soup was not quite as creamy as we liked, but it ended up being much lighter - which was a good thing. Next time we make this, I think I want it chunky, not pureed - I'm a big fan of cauliflower chunks :)


***

One fine evening, we were hankering for desi flavours, but nothing too heavy or intense. After poking around some, we decided to go for a light soup-like version of a sambar - we skipped several of the traditional sambar seasonings, even the tamarind and instead settled for the earthy flavour of freshly ground coriander. And the sweet-tart Meyer lemon totally completed the flavours of this soup!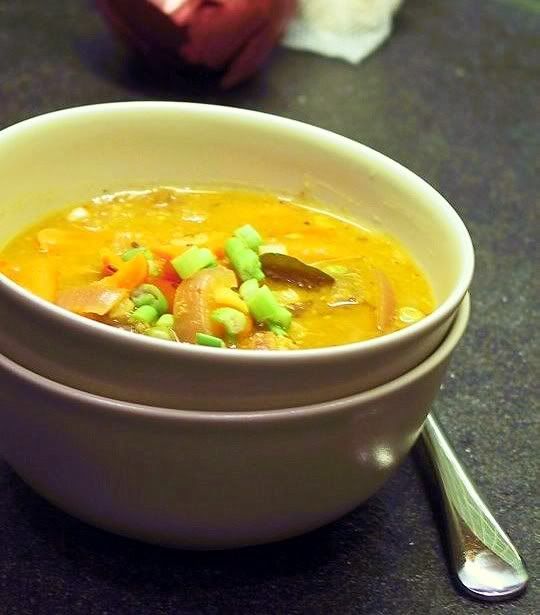 Servings: 4
1 cup red lentils (masoor dal)
2 scallions
3 cloves of garlic - crushed
1" ginger - grated
1 red onion - sliced long
2 carrots - sliced long
1/2 red bell pepper - sliced long
1 cup fresh (or frozen) peas
1 T freshly ground coriander
juice of 1 Meyer lemon
2 bay leaves
1 T olive oil
1 t cayenne pepper
salt
Wash the lentils and put it in a saucepan with 3 cups of water.
Cook covered on low for about 15 minutes till the lentils are cooked, but not mushed up.
In the meantime, heat the oil in a saucepan and saute the onions, ginger and garlic along with the bay leaves.
Chop the whites of the scallions finely and add them to the saucepan.
Add the carrots, bell pepper and peas and saute for 4-5 minutes.
Add the cooked lentils along with the spices and seasonings.
Simmer covered for another 4-5 minutes.
Once the soup is off the stove, stir in the lemon juice and check the seasonings.
Garnish with the chopped scallion greens before serving.
Opinion?
Simple and tasty- the perfect quick fix soup that makes for a lighter version of comfort flavours. And Autumn made a fabulous veggie roast - parsnips, carrots and potatoes from her PO box - the perfect complement to this soup.
***

Groundnuts - also known as earth nuts, goober peas (That's right!!!), peanuts ... Mmm! I can't imagine a life without these - they're ubiquitous in tropical foods, especially in stews and sauces. I love natural peanut butter over the commercial one which contains salt, sugar and several additives. This soup, often known as a Groundnut Stew, is a great showcase of tropical flavours - we replaced the potato with a turnip and skipped the okra - I'm sure traditionalists will cringe at that, but it takes a *lot* to make me eat okra :)
We adapted this soup from Jay Solomon's recipe in A Taste of the Tropics - a fabulous book, replete with mouthwatering Pacific and Caribbean recipes. Another favourite book of his is the truly brilliant Great Bowls of Fire.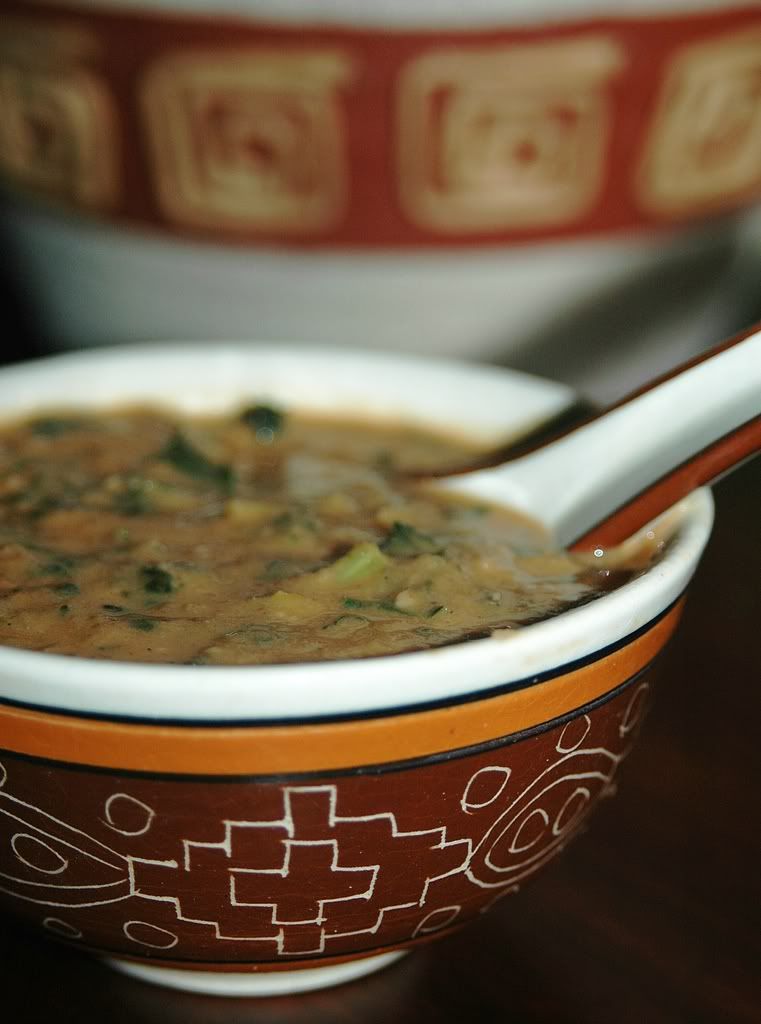 Servings: 4
2 t safflower oil
1 medium sized onion - diced
2 cloves garlic - minced
1 T minced fresh ginger
1 cup of turnip - peeled and diced
5 cups water
5 T unsweetened chunky peanut butter
1/4 cup crushed tomatoes
2 cups shredded kale
2 t dried thyme
2 t ground cumin
1 t freshly ground black pepper
salt to taste
cilantro to garnish
Heat the olive oil in a stockpot and saute the onions, ginger and garlic.
Add the turnip and water and cook for 10-12 minutes till the turnip is softened.
Throw in the peanut butter, kale, crushed tomatoes and seasonings and bring to a simmer, stirring frequently.
If the peanut butter clumps together, whisk it to blend it into the soup.
Remove from the heat and run a blender through the soup to make a coarse mixture.
Garnish with cilantro before serving.
Opinion?
*wow*! This is seriously one of my favourite soups now. I can't wait to try the chunkier stew version. *drool*! I might even throw in the okra next time around. Cyn, if you're reading this, you better tell me more about variations I can try here - I'm seriously hooked! :)