"Mediterranean Street Food" - how can one not fall in love with this book? *sigh* As I turn the pages, I'm totally mired in nostalgia as I'm taken back to the souks of Fez, the bustling streets of Cairo, Monastiraki Square in Athens ... *sigh*. And then I start dreaming of wandering around Istanbul, sitting on a beach in Sicily and visiting the multitude of mediterranean destinations that I haven't been to yet! Damn this travel bug.

Anissa Helou is a master of weaving stories around street food - and who can resist that? Her book is a treasure trove of travel encounters, local foods, interactions with berbers and irresistable recipes of local foods that she samples as she hops from tea cart to sandwich stand to candy stall. Sure sounds like a good life, doesn't it?

I flipped the pages of this book, sighing as I read the blurbs, I could almost smell the foods that she was talking about!

*growl*

That was my belly! Guess it was time to find something to cook instead of dreaming of all the fabulous street food I could be noshing on.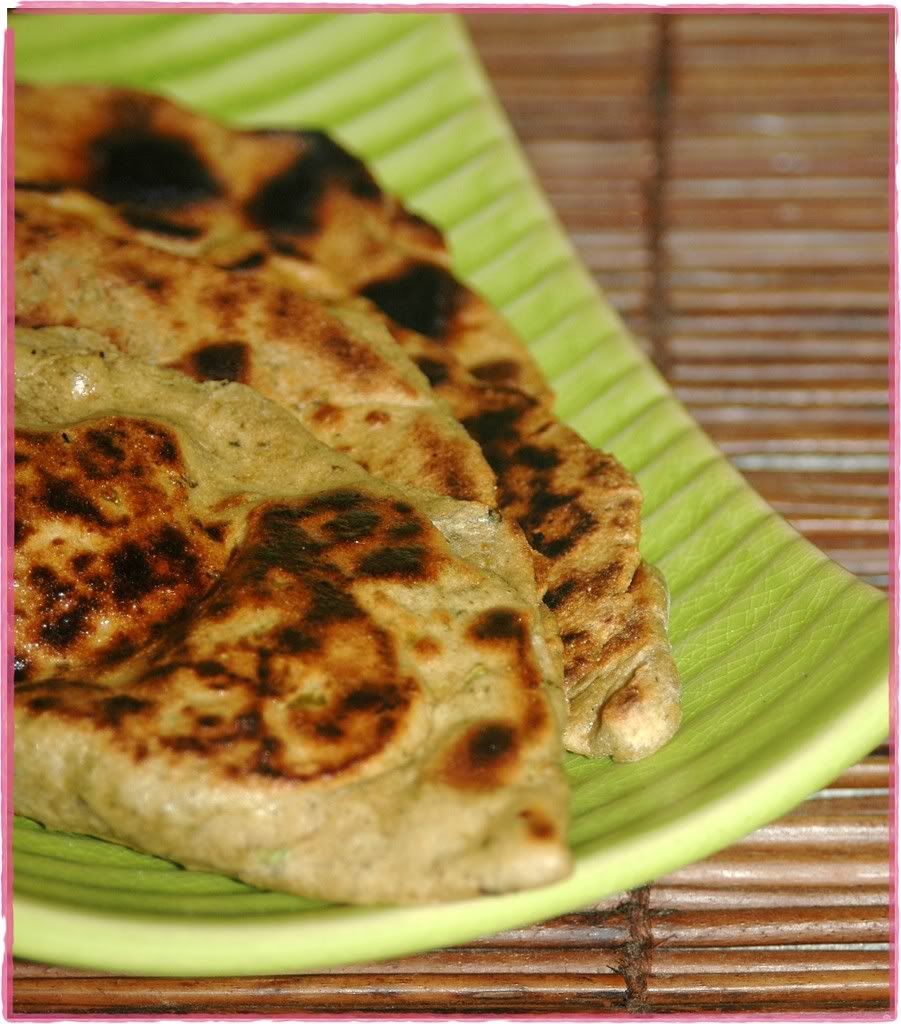 Saj Borek.

That's where my eyes landed. Hmm ... this sounded like a cross between a calzone and a stuffed paratha. Saj Boreks are a specialty of Anatolia - the Asiatic area of what is modern Turkey (called Asia Minor in ancient times).

The traditional dough for saj borek uses a variety of flours - bread flour, all-purpose and whole wheat. The pastries work with a plethora of fillings - ground meat, potatoes, spinach and feta.
I didn't feel like a plain cheese filling or something as heavy as potatoes, so I went with a broccoli filling instead. That might just be one of the best things I've done all week!

:)



Saj Borek with Broccoli and Cheese
Yummy savoury street food
Servings: 8-10
For the dough:
3 cups whole wheat flour
1 t salt
1 t chilli powder
1/2 cup buttermilk
warm water for kneading
For the filling:
1 cup crumbled feta cheese
3 T flat-leaf parsley
2 medium heads of broccoli - chopped
1 T harissa
To finish:
1-2 T butter - melted
Sift the flour into a large mixing bowl, add the salt, chilli powder and buttermilk.
Start kneading the dough, adding warm water as needed.
Knead for 5-10 minutes till a smooth, firm dough is formed.
Cover with a damp paper towel or cloth and let the dough sit for about 30 minutes.
In the meantime, run the broccoli and parsley through a food processor to make a coarse crumble.
Add the crumbled feta cheese along with the harissa (you could use hot sauce or red pepper flakes if you don't have harissa).
Flour the work surface and a rolling pin.
Take a ball of dough and roll it out as thinly as possible, flouring it all the time till a 12" diameter circle is formed.
Sprinkle a handful of the broccoli-cheese mixture over the lower half of the dough.
Fold the plain side of the dough over the filling to make a half circle.
Heat a nonstick griddle over medium heat.
Place the filled dough on the hot griddle and cook for a couple of minutes on one side.
Flip the pastry over and cook the other side for another 1-2 minutes.
Both side should end up crispy and somewhat golden.
Transfer the pastry to a plate, brush with melted butter and serve.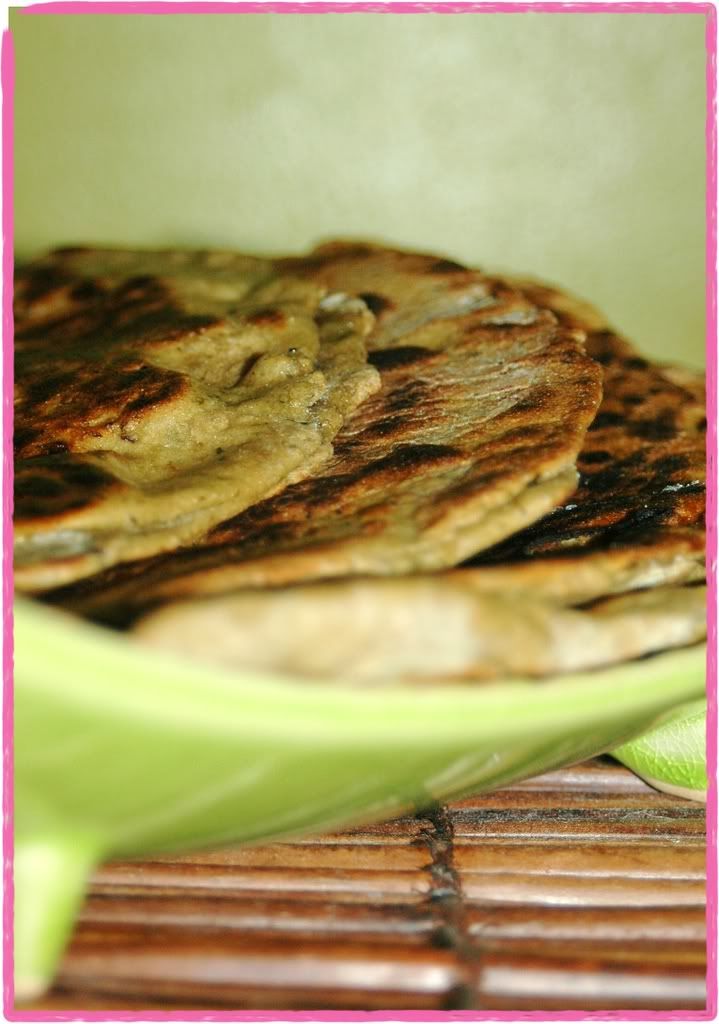 Opinion?
O.M.G.! I love Anissa Helou. I love her recipes. I love her books. I *just* ordered one more. More than anything, I love boreks. Is that plural version even right? Do I even care? All I know is that I want many a borek in my life :)

And this broccoli filling rocks! As much as I want to try out other fillings, I could just eat this forever and be satisfied!
Seriously, how can something so simple taste so fabulous?