No, I did not know the full name of that soup. Like most other people, all I call it is Vegetarian Tom Yum. I just looked up the name so I could increase my coolness factor tenfold :)

I've often felt like writers' block is nonexistent when it comes to talking about food. Except for today. I read Mele Cotte's post about her Cooking to Combat Cancer event a few days ago and finally figured out a recipe I wanted to try out in honour of it. But attempting to write about it has been insanely difficult. As I've sat here typing/editing/erasing sentences over and over, I've can't stop thinking of people I've encountered who have battled the disease - some survived, others didn't, in all cases the disease seemed to take a toll on everybody involved. And, in all cases, the indomitable strength displayed by everybody involved is just phenomenal. The will to live, to battle it out, the will to stand by friends or family - it makes for amazing stories of humanity.


****

Mushrooms - apparently, they're a powerfood when it comes to foods that fight cancer.
All wild mushrooms ostensibly contain the complete natural range of trace ingredients (72+).
Several mushrooms contain polysaccharides, especially Lentinan - that help build immunity. They also contain lectin, which attacks cancerous cells and prevents them from multiplying.
Mushrooms that contain thioproline can stimulate the production of interferon in the body.
Extracts from mushrooms have been successfully tested in recent years as an adjunct to chemotherapy.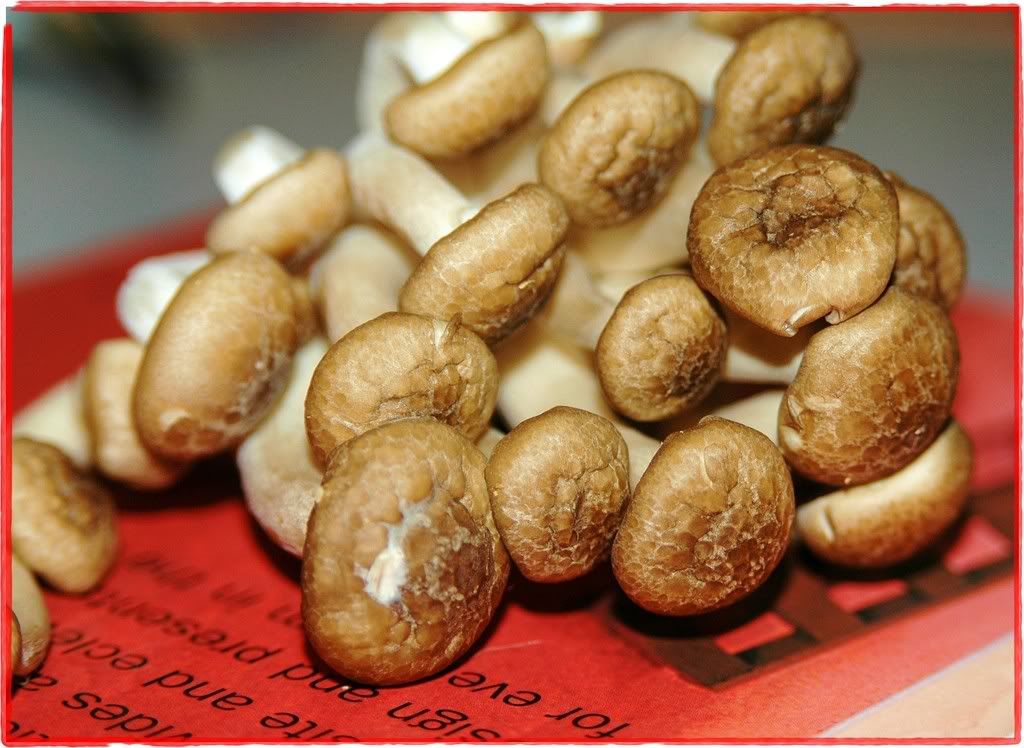 Feeling empowered by all this new found knowledge, I marched off to a couple of stores determined to find atleast one mushroom variety that I wasn't familiar with! Well, that's a pretty easy task - there are probably a zillion that I've never eaten before :) The booty for the day ended up being a pretty fun stash:
Enoki

- These insanely cute looking mushrooms have a delicate fruity flavour and are usually served raw.
Clamshell

- Apparently, these have a taste evocative of shellfish (I wouldn't know anything about that!). They're best when blanched or cooked.
Brown Beech

- Also known as hon-shimeji mushrooms, these are highly esteemed in Japan. These are often grown on wood, especially beech trees hence the common name beech mushroom.
Crimini

- Probably the most familiar of all - apparently, these are portabellos that are harvested real young! They tend to retain their firmness with cooking and work great in sauces and soups.
End-of-Botany-Lesson :)
****

So, in spite of the disappointing adventure with drunken noodles last week, the craving for thai flavours has not mellowed in any way. Tom Yum flavours are always so light and comforting, and with the mushroom booty on hand, how could one resist trying out this soup?
TYHM is the vegetarian version of Thailand's most popular soup - spicy and sour, it is usually served scalding hot in a pot with a fire underneath - very exciting! :) Well, we didn't quite go for that ultra traditional effect, though the spice in the soup more than made up for the flames! :)
The original recipe was for a clear soup with just mushrooms and tomatoes. I went for a couple of variations - some shallots, a slew of grated carrot and a few spoons of coconut milk. Also, we ground the thai chillies so the spice blended in a little more - which it totally did, the last batch of bird's eye chillies from Uwajimaya pack a whopper!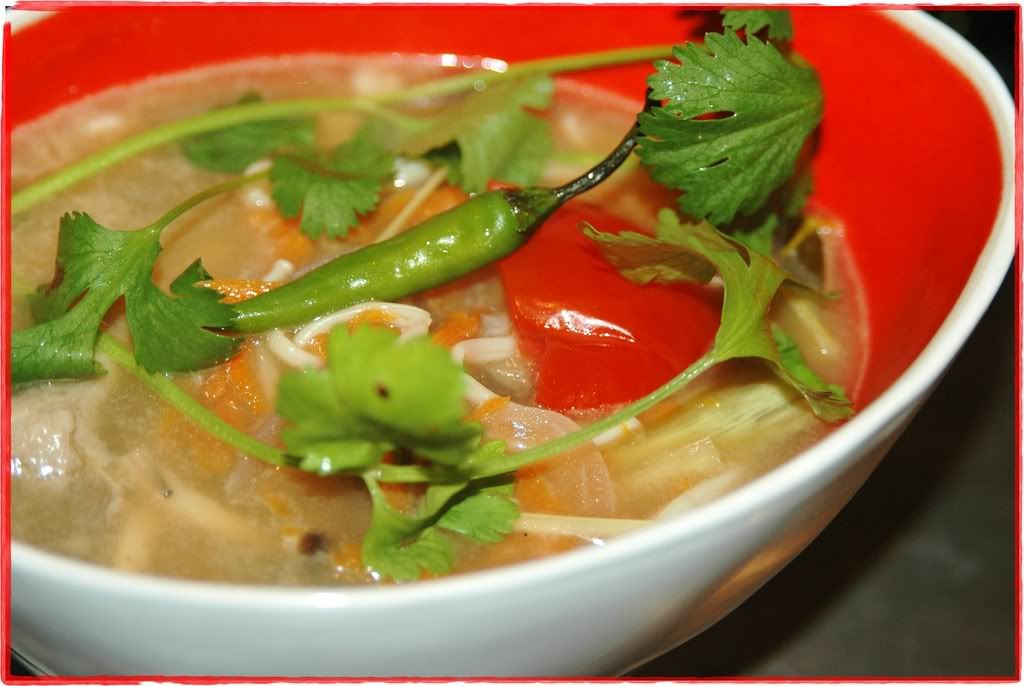 Tom Yum Het Mangsawirat
Oodles of mushroom goodness!
Servings: 4 cups/2 bowls
2 small shallots - sliced long and thin
3 cups water
1 lemongrass stalk - cut into 4" pieces and smashed
4-6 whole torn lime leaves
3 slices galangal (about 1 t)
8-10 crimini mushrooms - sliced
4 small thai chillies (Prik Kee Nuu Suan)
2 cups of mixed mushrooms (enoki, brown beech, clamshell)
1 medium carrot - grated
1 tomato - cut into eighths, lengthwise
3 T coconut milk
2 T white soy sauce
1 t sugar
3 T lime juice
1-2 stems cilantro
1 t sesame oil
Heat the oil in a saucepan and saute the shallots till lightly browned.
Add the water along with the crimini mushrooms and boil covered on medium-high (6-8 minutes).
Once the mushrooms are completely cooked and soft, remove them from the water.
[We only want the "mushroom stock" flavour from the crimini - I have a couple of ideas on what to do with the cooked crimini, I'll try to post about it in the next week.]


Crush the lemongrass in a mortar and add it to the water. You could alternatively just shred/separate the lemongrass if you don't want to deal with fishing out small pieces from your soup later :)
Add the torn lime leaves along with the galangal.
Turn up the heat and bring to a boil, for about 5 minutes - to release the flavours of the herbs. The water should be murky brown/green when done.
Add the mushrooms and ground chilli paste. Boil for 2 minutes till the mushrooms are just starting to get soft.
Add the tomatoes along with the coconut milk and cook for another minute.
Take the soup off the heat and stir in the soy sauce and sugar. Add the lime juice just before serving - you want to hold off on this till the end since lime juice loses its tartness when boiled.
Check the flavours before serving - tom yum is traditionally served *hot* and is insanely spicy and sour!
Transfer into bowls and garnish with sprigs of cilantro.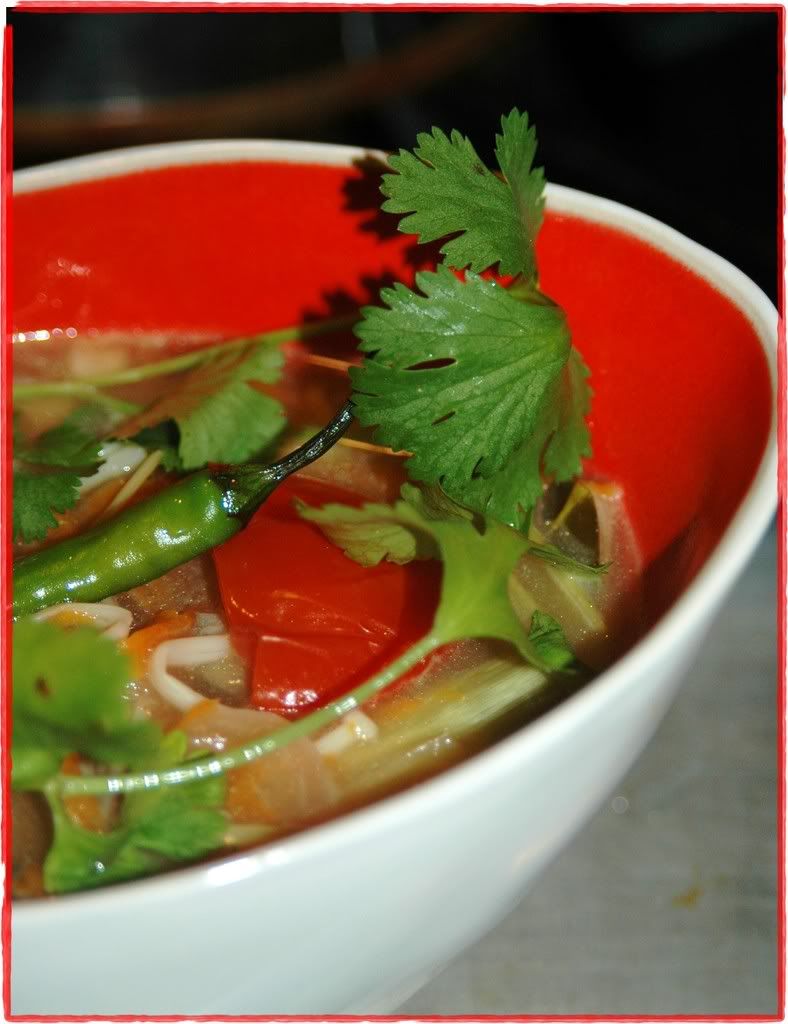 ****

Opinion?
Yum! This was exactly what I wanted tonight. Simple, flavourful, elegant, insanely spicy. If someone threw me into a giant bowl of tom yum, I could just swim around and drink it forever!
I'm sending this to Chris for her awesome event - Cooking to Combat Cancer - Stay strong and healthy, Chris!

This is a shout-out to all those incredibly brave survivors and fighters out there - we raise a toast to your strength and hold many good thoughts for you as we revel in this simple and healthy meal.