Pad Kee Mao.

Three magic words that can make me skip around in circles. Easily my favourite Thai food, I'm pretty much the informal PKM taster of the city. In fact, there are so many joints that dish up a killer PKM that I've hardly felt the need for attempting a recreation at home.

Until today. We had this hankering for chef-fin' it out. We wanted to be the masters of our own Pad Kee Mao destiny. For some reason, hitting Typhoon or Thin Pan just did not seem enough. So, we embarked on this PKM journey. It was our first time working with those crazy wide rice noodles. When we first saw this dense package in the refrigerated section of Uwajimaya, we weren't quite sure if that was what we wanted - where were the ribbons or pieces of noodles? This just looked like a giant brick! Well, guess we'd have to figure it out. We loaded up on thai basil, a slew of vegetables and sauces and got to work! :)

The insanely delicious drunken noodles is a multi-step dish - with a fascinating assortment of sauces and spice - tamari, soy sauce, oyster sauce, white soy sauce (or fish sauce), red chillies, thai bird chillies, the list goes on!

So, we have to talk about our pitfalls upfront here. For some bizarre reason, we decided to try some additional seasoning here and went for a spoon of chili bean paste. *bad* idea. Don't even try it. I mean, this might work well with other szechuan dishes, but it is not a thai flavour by any means. And the bean bits add a weird flavour to drunken noodles. So, don't do it. Don't.

(Which is why I've excluded it from the recipe.)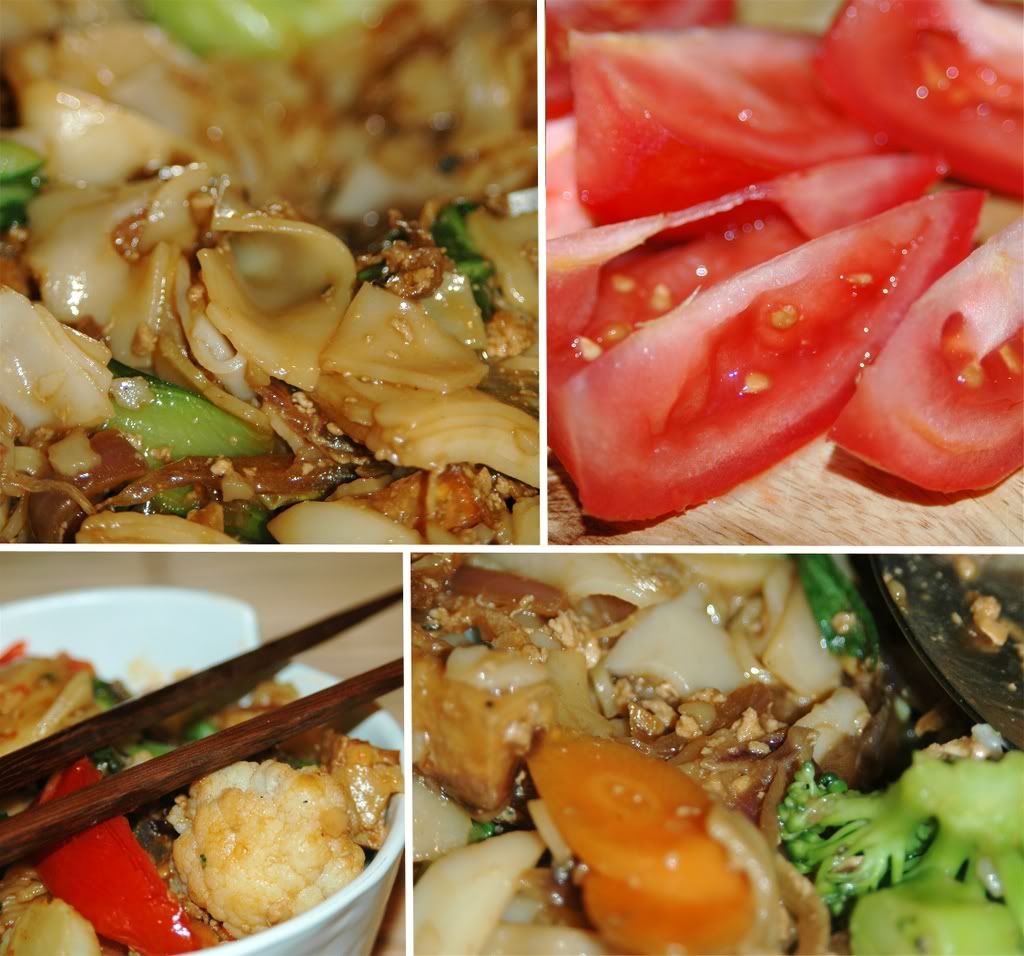 Servings: 4
7-8 oz wide rice noodles (sen-yai)
1/2 cup firm tofu - cubed
3 cloves garlic - finely chopped
1 small onion - sliced long
3 T white rice vinegar
3 T white soy sauce (See-yew Khaaw)
4 T palm sugar
3 T lime juice
2 T tamari
4-5 T vegetarian oyster sauce
2 T ground dried red chillies
2 green jalapenos - finely chopped
1 small thai chilli - chopped (Prik Kee Nuu Suan)
7-8 broccoli florets
7-8 cauliflower florets
2 small carrots - sliced
1 tomato - cut into eighths
1 baby bok choy - chopped
1 cup fresh thai basil leaves
2 T peanut oil
1/2 cup egg whites
Soak sen-yai noodles in water for 15 mins. Place soaking sen-yai noodles on the stove and bring to very slow boil, removing the sen-yai noodles while they are still firm (after about 10 minutes). Drain with cold water and set aside.
Spray the tofu chunks with oil spray and stick them under a broiler till browned.
Blanch the broccoli, cauliflower and carrots in a pot of boiling water for 3-4 minutes till al dente.
Heat the oil in a wok and saute the garlic till it starts to brown.
Throw in the onions along with the jalapenos and saute briefly.
Add the scrambled egg whites and saute a bit longer.
Now throw in the rice vinegar, dried chillies, lime juice, sugar and white soy sauce
Turn the heat to high and let the sauce thicken.
Once the sauce reduces, add the thai basil leaves along with bok choy, oyster sauce and tamari.
Saute for a couple more minutes before adding the blanched vegetables.
Add the cooked noodles and tofu and saute for 4-5 minutes on medium heat. Keep tossing the ingredients to mix the sauce completely with the noodles and vegetables.
Top with the tomatoes and cilantro before serving. Maybe even garnish with sliced green onions or chopped garlic or jalapenos.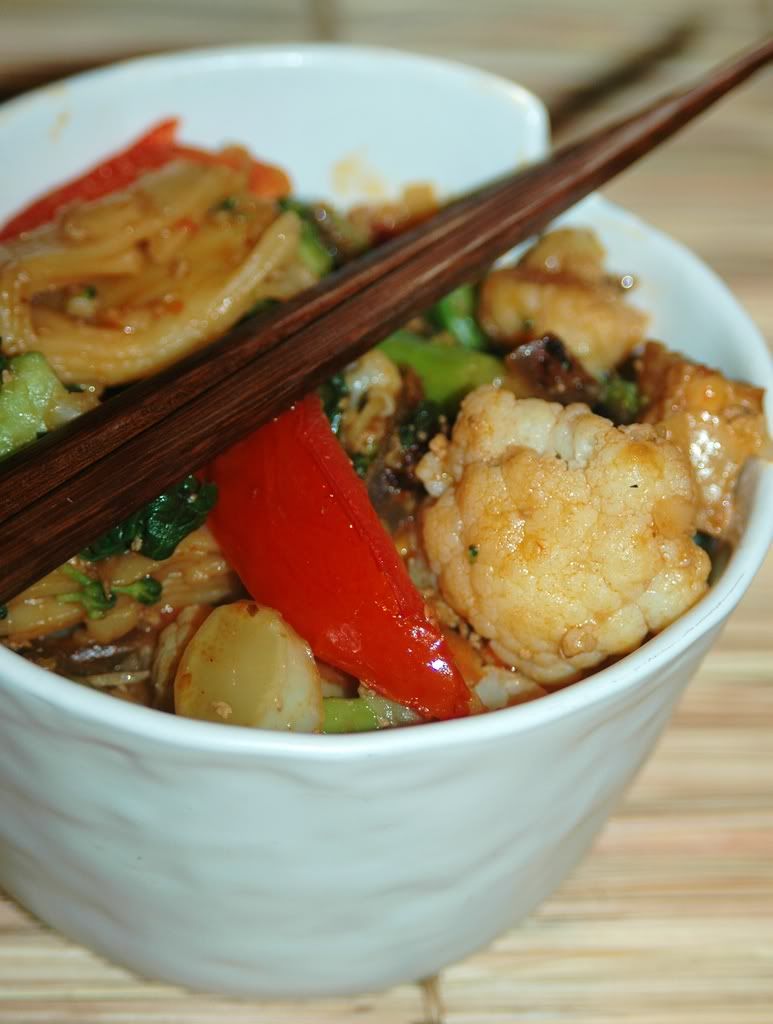 Opinion?
*mediocre*. Firstly, we killed the drunken high by adding that damn chili bean paste. That was a serious mistake. It'll never happen again! But the main issue here was that we're so damn stuffed from the flu that plagued us for the past week that our sense of smell is still on vacation. And that in turn is still greatly hampering our taste buds. *grr*. Even a nice dose of spicy thai chillies couldn't quite fix it! Another thing we did, as odd as it may sound - we used too many vegetables! Next time around, we're only going with broccoli and some carrots, no cauliflower - that's a bit of an overkill in our PKM.
So, we didn't end up being the Iron Chef of PKM. We barely got drunk on our noodles! But we learned our lessons. And the PKM flame burns bright now - we're itching to try it again :)