Estelle Costanza: Where have you been? You were supposed to fix the stove! I've been waiting for hours!
Frank Costanza: I fell on some Fusilli!

Estelle Costanza
: Fusilli?

Frank Costanza
: You know, the corkscrew pasta. It was a Fusilli Jerry. It got stuck in me. Had to go to the proctologist.
~

Seinfeld

, Episode:

The Fusilli Jerry
****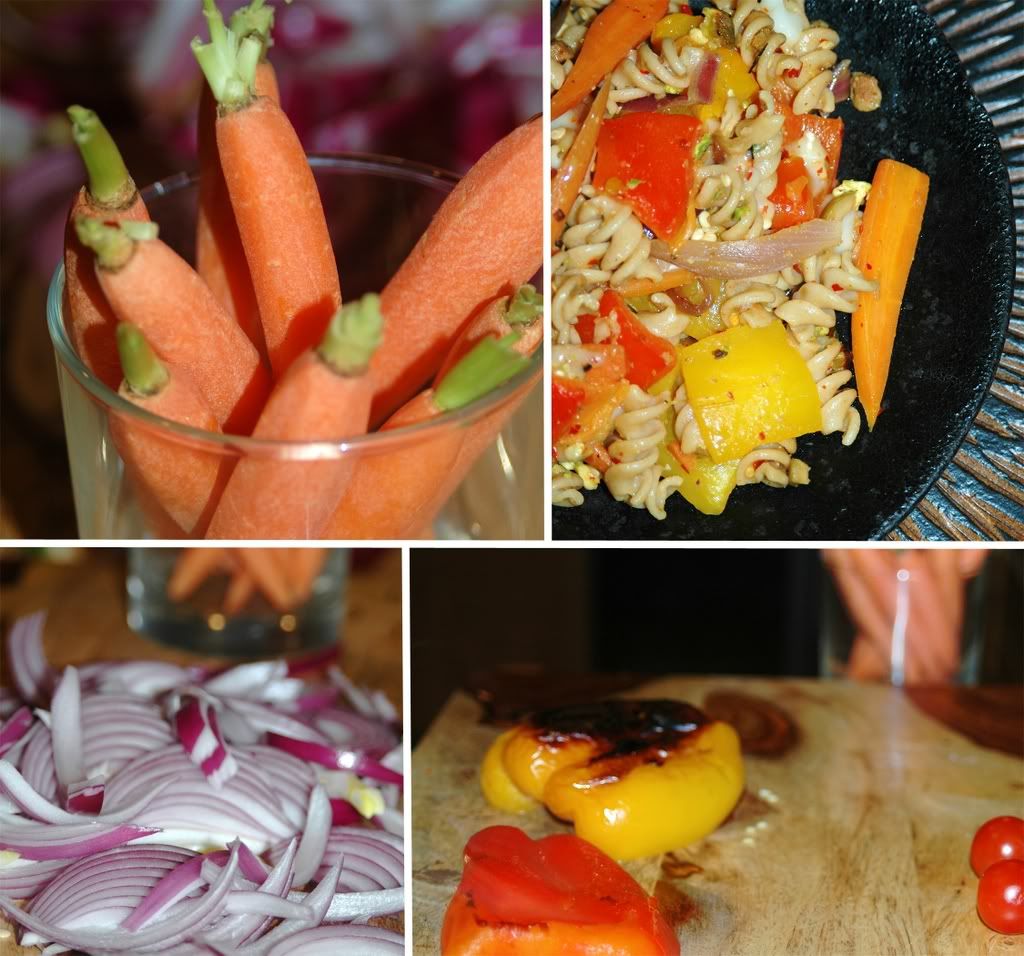 Could I ever cook fusilli with a straight face after watching this? :) Guess not! As long as I can keep cooking and eating fusilli, I'm happy - straight face, screwy face, who cares! :)
This was one of those meals thrown together when we were craving healthy carbs - we had whole wheat fusilli on hand, a slew of bell peppers waiting to be worked with ... some onions, garlic, a slew of juicy baby carrots ... let's get the meal on!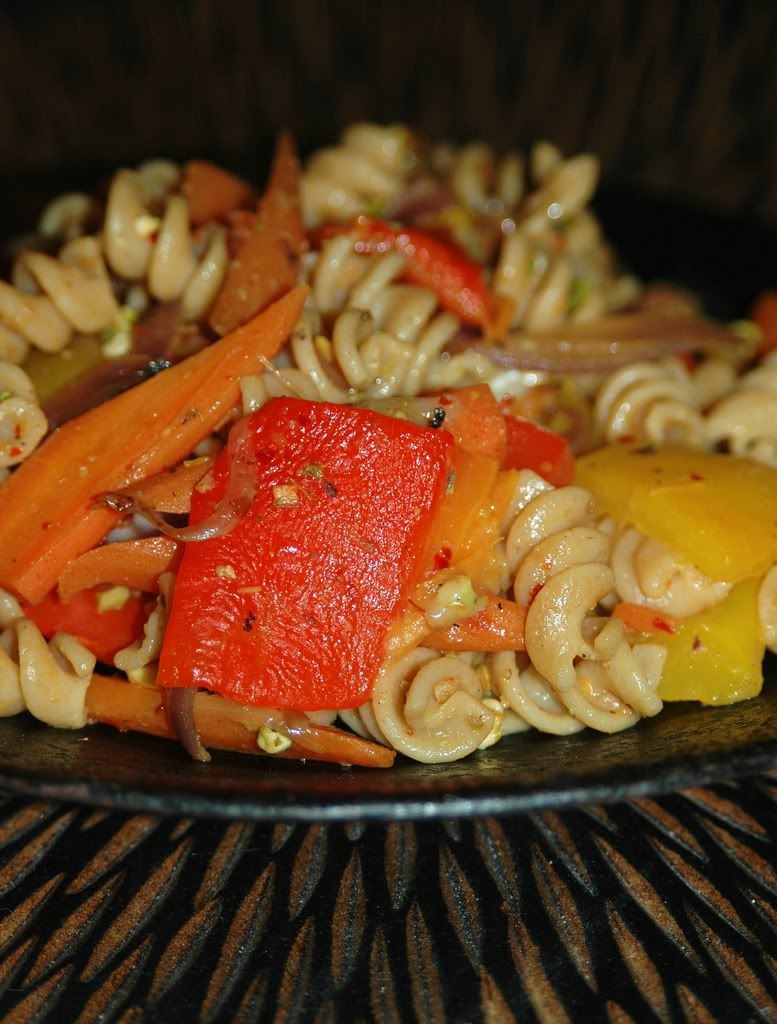 Fusilli with Peppers, Carrots and Onions
Damn, that corkscrew pasta tastes good! :)
Servings: 4
1 lb red and yellow bell peppers
3 T olive oil
1 large red onion - thinly sliced
8-10 baby carrots - cut into long chunks
4 cloves garlic - minced
1 lb whole wheat fusilli
salt, freshly ground black pepper
freshly grated Parmesan cheese
3 T finely chopped fresh parsley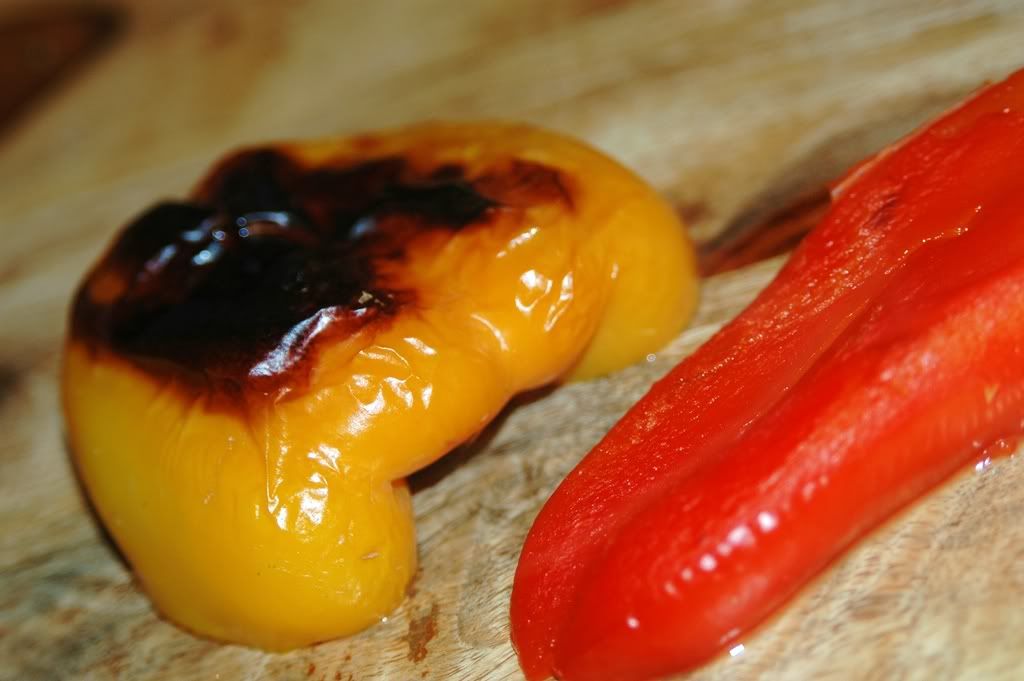 Place the peppers under a hot broiler and turn occasionally until they're blackened on all sides. Turn off the broiler and let the peppers sit for 5-10 minutes.
Peel the peppers, cut them into chunks and remove the stems. Most recipes ask for the seeds to be discarded, but we like the pungent zing of the seeds, so we usually incorporate them in our recipes.
Bring a large pot of water to a boil. Add salt and the pasta to the boiling water and cook until the pasta is just al dente.
Heat the oil in a large frying pan. Add the onions and cook over moderate heat till translucent (about 5-8 minutes).
Stir in the garlic and cook for another couple of minutes.
Now, add the carrot chunks and saute for 3-4 minutes.
Throw in the peppers and mix together gently.
Stir in about 3-4 T of the pasta water and continue to stir.
Season with salt and pepper, and stir in the parsley.
Drain the pasta and tip it into the pan with the vegetables.
Cook over moderate heat for 2-3 minutes, stirring constantly to mix the pasta into the sauce.
Serve topped with Parmesan.
****

Those who forget the pasta are condemned to reheat it.


~Author Unknown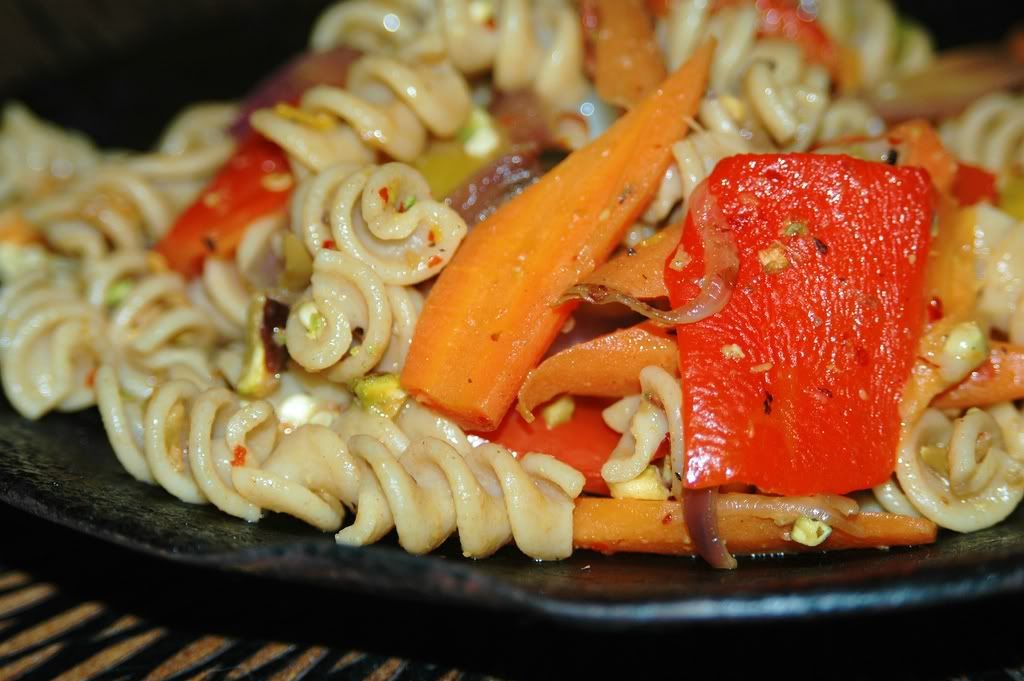 Opinion?
Simple, flavourful, insanely quick! And honestly, being condemned to reheat the pasta sounds like a pretty good option to me :)
A certified candidate for
Ruth's
Presto Pasta Nights
!