We chanced upon some kumquats at Uwajimaya a few days ago. And I couldn't hold my curiosity any longer. So, we bought a bunch of them even as we kept wondering what we'd do with them! I'd eaten them raw a couple of times and liked them as long as they were perfectly ripe and juicy (except for the damn seeds which are bitter and sometimes a weird blue in colour!)

And I realized earlier today that these crazy cute fruits are the theme for April's round of AFAM. Hmm ... we'd come full circle. Now, we had to come up with a recipe for these crazy cute citrus fruits! I poked around on the web - the most interesting recipes I came up with were Elise's salsa, Sig's cocktail and a few relish ideas on CookingLight, all of which sounded delicious :) But I was hoping for an idea for a main dish for dinner. Hmm ...

Anyway, I love this whole AFAM idea. By the time we end up working with a fruit, we've read so much about it, I feel like I have a new best friend :) Before today, we'd seen kumquats, tasted them, we knew they belonged to the citrus family ... that's about it. And now, I'm a minor font of information!


Kumquats are not part of the citrus family, but are related to it and belong to the genus Fortunella. The slow growing trees produce 80-100 fruits a year.

Kumquats readily hybridize with citrus fruits to produce limequats and orangequats - hmm ... these could be the makings of a comic series!

Kumquats make for a great martini garnish and can be macerated in vodka or any clear spirit.

Candied kumquats are pretty popular in China.

Back to our recipe search ... after much dithering, we finally decided to experiment with a daal recipe! Simple lentil flavours can never be wrong, right? :) And we're huge fans of raw mango daal - the tartness is so overwhelmingly delicious. Maybe we would enjoy the flavour of kumquats too!



Sweet'n'Tangy Kumquat Daal
Little bits of juicy goodness



Servings: 4-6



1/3 red onion - diced
20+ cherry tomatoes
4 thai green chillies
20 kumquats - sliced and deseeded
1 cup whole moong daal
1 cup masoor daal
1 T sesame oil
1 t cumin seeds
1 t mustard seeds
1 t urad daal
1 t turmeric powder
salt to taste
Chopped cilantro for garnish

Rinse the moong and masoor daal and cook with 4 cups of water either in a pressure cooker or on the stove.
Heat the oil in a wok, add the mustard, cumin and urad daal and let them splutter.
Add the green chillies and onions and saute till the onions start to brown (4-5 minutes).
Throw in the kumquats and tomatoes along with the turmeric and saute for another 4-5 minutes.
Add 1/2 cup of water and simmer for 2-3 minutes.
Add the cooked lentils, season with salt and simmer for 1-2 minutes for the flavours to blend.
Garnish with chopped cilantro.



Opinion?



Wooo Hoo Hoo! Love it! Those crazy little kumquats rock! The daal just oozed with this sweet+tangy citrus flavour. And the sauteed kumquats softened up and tasted *so* juicy and chewy. Yay! Happy :)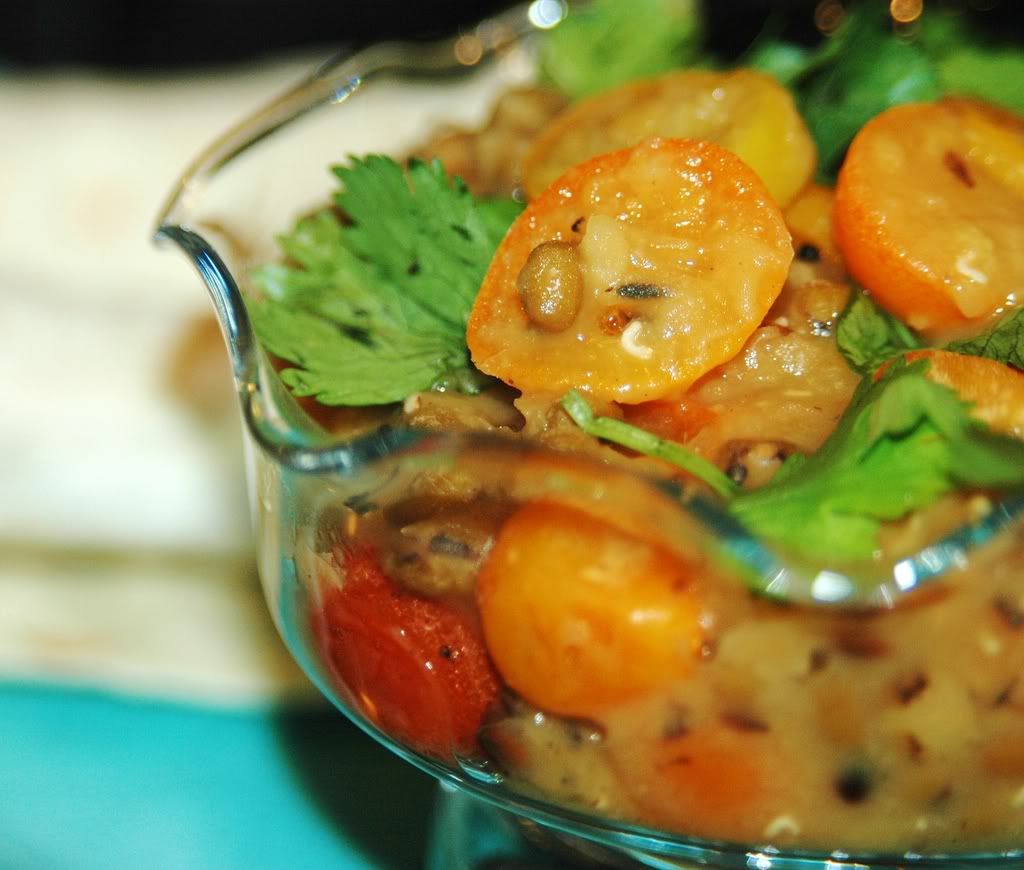 Off this goes to Coffee and Vanilla who is hosting this month's edition of AFAM (Maheshwari's brainchild). Thanks to both of them for organizing this fruit fest!

And we're so hooked onto these fruits, we already have a couple of other ideas for working with them! Expect to see a post about this in the next week or two!